'The paramedics, the police officers and the firefighters are very grateful for you and your quick thinking'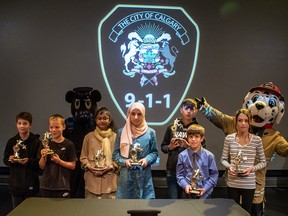 Article content
When Hayley TIbeau, 13, heard a fire alarm going off at a neighbour's house in Chestermere last year, she immediately took action.
Article content
"We heard a smoke alarm and we knocked on the door and nobody was home," Hayley said. "And I went home. I called my mom and she told me to call 911. So I did."
Article content
She made sure she had the address for first responders, who attended to find it was — luckily for everyone — a faulty alarm.
Hayley was one of seven youth from Calgary and the surrounding area who received 911 Heroes Awards at the Telus Spark on Friday. The youth were lauded for keeping cool under pressure, and playing an important role in the chain of first response.
Hayley said it was her first time calling 911, but having now done it once, she feels better prepared if she ever has to call again.
"I never called 911 before so I was a little nervous," she said. "I was really wondering what was going on and I was just hoping everyone was okay."
Article content
Each award winner was nominated by the emergency communications officer (ECO) who took their calls.
Calgary 911 Deputy Chief Glenda Sahlen said the kids who received awards were able to answer difficult questions under pressure, and often provide important details that helped first responders.
"Obviously someone has taken the time to teach these children when to call 911, and how to call 911," said Sahlen. "The calmness and the compassion that these kids showed, we don't see that from everybody."
She said the calmer a caller is, the faster officers can get the information they need and get help on the scene.
Three of this year's winners acted as translators on 911 calls. Mohamad Kazmuoz, 10, translated for his parents after their car was stolen in the night. He helped officers complete the stolen vehicle report and passed on important information to his parents about what they should do next.
Article content
Reem Abo Sheffa, 14, helped her dad report a hit-and-run outside their home by translating for the ECO. She made sure nobody was injured and relayed information about the vehicles involved.
Ramiza Ahmed, 11, called 911 after she and her mom were in a vehicle collision. She helped translate for her mom, and helped steer first responders to the correct address by providing the name of a nearby business.
Ben Donegan, 10, called 911 after a rollover vehicle collision. Ben stayed on the line with 911 while his mom, who is a nurse, tended to the crash victims. He helped get them to the right location, and provided information about a person trapped in their vehicle.
Pilot project diverts hundreds of 911 calls to mental health, addictions experts

'You made things safer': Five quick-thinking youth honored at 911 awards

Ontario 911 caller saves lives of unconscious teens in vehicle with engine running
Friends Jaxon Erickson, 11 and Dylan Okeefe, 12, saw a man who had started a grass fire and was acting strangely in Irricana. The pair were able to provide an exact location to the 911 ECO so firefighters could get to the scene quickly and deal with the fire, as well as provide assistance to the man.
Article content
Along with receiving a trophy, each award winner and their family enjoyed a lunch at Telus Spark and free access to the facility for the rest of the day.
During the ceremony, snippets of the 911 calls were played for the audience. Calgary Emergency Management Agency Chief Sue Henry told the youth that she hoped each of them would consider working as first responders when the time comes to pick a career.
"The paramedics, the police officers and the firefighters are very grateful for you and your quick thinking and heroic actions," she said. "You did everything you could to help."
brthomas@postmedia.com
Twitter: @brodie_thomas