"He may have been hurting our tank a little bit with the season he was having," Habs fan Brian McRae says. "So I'm okay with the fact that he's out."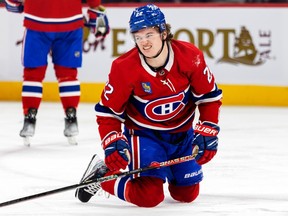 Article content
Canadiens fans were understandably bummed out Saturday to learn the team had lost Cole Caufield for the rest of the season.
Article content
But a few days after news that the team's top sniper was set to undergo shoulder surgery, Habs supporters were in a surprisingly upbeat mood at McLean's Pub prior to the Canadiens' 4-2 loss to the Bruins Tuesday.
Article content
"Are you committed to excellence?" asked Jeff Moulton, who hails from St. Albans, Vt., where he played on the same high school hockey team as former Canadiens star John LeClair. "Are you willing to be there for others? And can you be trusted? Those are the three great questions you look for in any person, let alone any player, and those three questions can obviously be answered 'yes, yes and yes' when it comes to Cole Caufield.
"And a loss like that isn't just a loss on ice," Moulton added. "It's a character loss, too. I guess it's a good thing in the sense that we're such a young team this year and Marty St. Louis, who I also got to know through (the University of Vermont where St. Louis played hockey). … And it's exciting to see him there (embracing) the youth and everything that's exciting about the Montreal Canadiens. I think when you see a guy like Cole Caufield not be in the lineup today, it takes a little bit of wind out of your sails."
Article content
Moulton hit on the right word, "character." Caufield has it big time and so does this Canadiens team. The young man from Wisconsin has an incredible smile that lights up a room — and a hockey rink. He clearly loves coming to work every day.
He also appears to be the most talented goal-scorer to join the ranks of the Habs since, well, sort of forever. As Mark King, who came all the way from St. John's, NL, to catch Tuesday's game, said sarcastically about the last time the team had a scoring star: "It's been a minute."
You might have to go all the way back to the late 1980s and early '90s, when Stéphane Richer had 50- and 51-goal seasons for the Canadiens, to find a Hab who could put the puck in the back of the net with as much ease as Caufield. He had 26 goals in 46 games this season and was on pace to score just under 50 goals, which is simply astonishing for a player in his second season. It's all the more amazing when you recall that he scored only one goal in 30 games under the "guidance" of former head coach Dominique Ducharme. He then went on to score 22 goals in 37 games last season with St. Louis coaching.
Article content
But, as St. Louis so rightly put it recently, Caufield doesn't just bring goals to the equation.
"The most important thing that Cole brings is not his goals, it's his enthusiasm," said St. Louis. "And that collectively is what we need to replace him with."
And that's exactly what St. Louis's team has shown since Caufield went down. They won against the Toronto Maple Leafs in inspirational fashion Saturday night, coming back from a 2-0 deficit to win 3-2 in overtime. Even better, it was a couple of players who have spent much of the season with the Laval Rocket who got the job done, with Rafaël Harvey-Pinard scoring a gritty goal to tie the game and Rem Pitlick sealing the deal in overtime. That's called character.
And the same spirit was very much alive and well Tuesday, when the Habs turned in a stellar effort against the Bruins, far and away the best team in the league. It was 2-2 with less than three minutes to go when Québécois star center Patrice Bergeron snapped home the winning goal for Boston. Those were two character games.
Article content
Some think a team without Caufield is a plus for the Canadiens' future because by losing more games, which is likely, they move one step closer to potentially nabbing the No. 1 overall draft pick this spring, which presumably will be Connor Bedard.
"It was unfortunate because he was having an outstanding season," said Brian McRae, in town from Peterborough, Ont. — Bob Gainey's hometown — to see the game. "He may have been hurting our tank a little bit with the season he was having. So I'm okay with the fact that he's out. Unfortunately, it's because of an injury. I'm on Team Tank. I want Connor Bedard."
Others underline that it's a setback for Caufield, but the 22-year-old winger clearly still has a bright future.
"I think it's a big loss to the Canadiens," said Ashley MacArthur, who traveled from her home in Cape Breton to see the Montreal-Boston game. "But he has great potential. He's a young star."
Article content
He's also likely to sign a new deal soon with the Canadiens. With Caufield eligible to become a restricted free agent this summer if he doesn't re-sign during the year, negotiations have already begun with his agent, Pat Brisson. Here's betting the team locks him up for the long term, as they did with close pal and linemate Nick Suzuki. And that, by the way, would be a great thing.
bkelly@postmedia.com
In the Habs Room: 'Closer to where we want to be,' St. Louis says after loss to Bruins

About Last Night: Habs hold their own against league's best

Stu Cowan: Jim Montgomery's dominant Bruins buck NHL salary cap