Contribute to the Gazette's West Island/Off-Island community calendar by email at wicomcal@postmedia.com.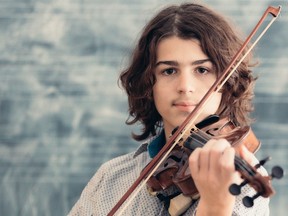 Article content
Music
Léandre Gaucher, a 14-year-old violinist and brain cancer survivor, will perform with classical musicians to raise money for kids with cancer at the Montreal Children's Hospital through Sarah's Fund for Cedars. The concert takes place Feb. 11, 7 p.m., at Valois United Church, 70 Belmont Ave., Pointe-Claire. For more info, visit the Concert for Kids with Cancer Facebook page. To purchase tickets, visit www.brownpapertickets.com/event/5657188.
Article content
American Dream is a free pass through a musical and visual journey, Feb. 12, 3 p.m., at Stewart Hall, 176 Lakeshore Rd., Pointe-Claire. Featuring pianist Enzo De Rosa and soprano Isabelle Metwalli, accompanied by a projection of scenes from legendary films such as Singing in the Rain and West Side Story. Free, but reservation required. For more info, call 514-630-1220, ext. 1774.
Classical Grand Concert, with conductor Daniela Candillari, Feb. 9, 8 p.m., at St-Joachim Church, 2 Ste-Anne Ave., Pointe-Claire. Tickets are $22 (or $16 for students/seniors) available in person at the Stewart Hall Cultural Centre, 176 Lakeshore Rd., Pointe-Claire. For more info, call 514 630-1220, ext. 1774.
Lakeshore Chamber Music Society presents the Morin Trio (Gerald Morin, cello, Stephanie Morin, flute, Sylvia Bruns, piano) on Jan. 27, 7:30 p.m., Union Church, 24 Maple St, Ste-Anne-de-Bellevue. The trio will open the new year with solos, duos and trios of the 19th, 20th and 21st centuries composed by Christine Donkin (Canadian), Katherine Hoover (American), Frederick Delius (English), Heitor Villa-Lobos (Brazilian) and Louise Farrenc (French). Admission is $20 at the door, or $10 for students and free for 16 and under. For more info, visit www.lakeshorechamebermusic.org.
Vox Aeterna presents a fundraising concert for Festival de la Voix with Canadian opera singers Claire de Sévigné and Danielle MacMillan, who team up with pianist Stéphane Mayer, to present an evening of Mozart, Strauss, Donizetti, and others, on March 19 (new date) at 3 p.m. at St. Columba-by-the-Lake Church, 11 Rodney Ave., Pointe-Claire. Admission is $100 per person (includes tax receipt and gift). For more info, call 514-758-3641 or email info@festivaldelavoix.com.
Acappella Sounds Chorus, a female-voiced chorus, meets every Thursday at 7:15 p.m. at Christ Church Beaurepaire, 455 Church St., Beaconsfield. Come and discover your voice part, sing high or sing low, we have a place for you. For more information, visit www.acappellasoundschorus.ca or email info@acappellasoundschorus.ca.
Article content
Cantabile Chorale is a mixed-voice choir in the West Island. For more information, visit www.cantabilechorale.com or call 514 795 8507.
Chorale Philomela Singers, directed by Margo Keenan, are a bilingual West Island community choir with a varied and entertaining repertoire. Rehearsals are on Wednesday evenings in Ste-Anne-de-Bellevue. For more info, email chorale.philomela@gmail.com or visit facebook.com/choralephilomela.
West Island New Horizons Band hold rehearsals in Dollard-des-Ormeaux. We are a woodwind and percussion ensemble that offers the opportunity to (re)learn a musical instrument and play with other musicians in a band. The music is easy to learn in a fun and friendly environment. No experience necessary. Please come join us. We have a small inventory of instruments to rent if you don't have one. For more info, call 514-234-5410 or visit  www.westislandnh.com.
Exhibitions
Stewart Hall Art Gallery presents the exhibition Et dis moi : why is the past tense always longer? until March 12, 176̶ Lakeshore Rd., Pointe-Claire. Curated by Maude Hénaire, the exhibition features works by Raymonde April, Olivia Boudreau, Marie-Michelle Deschamps, Nicolas Fleming, Alexandre Guay, Margot Klingender, Dominique Rivard, Michael Snow and Lan "Florence" Yee.
Article content
ETC.
Hudson War Memorial Library
, 60 Elm St. in Hudson, is holding a book sale on the following dates: Feb 6, Feb. 9-11, and Feb. 16-18. Featured are a large selection of cook books, fiction and non-fiction, children's books. Numerous antiquarian and collectible books at 75 per cent off their catalogued value. For more info, call
450-458-4814.
Beaconsfield Newcomers Club organizes activities for women, including monthly general meetings to socialize, and hosts special interest clubs such as reading, cooking, dining, walking, crafts, photography and health and wellness. If you are new to the West Island and interested in meeting diverse women from around the world, learn more at beaconsfieldnewcomersclub.weebly.com or contact us at bncmembers@gmail.com.
Article content
Lakeshore Camera Club welcomes photographers of all levels who wish to learn and exchange ideas with others who share their interest in photography. First established in 1957, the club meets Mondays until June at 8 p.m. Attend either online or in-person at Stewart Hall, 176 Lakeshore Dr., in Pointe-Claire. Presentations by professional photographers, workshops, field trips, and many more activities constitute a typical
Boutique 24 sells gently used clothes, household items, books, toys and jewelry every Thursday from 11:30 a.m/-3:30 p.m. at Union Church, 24 Maple Ave, Ste-Anne-de-Bellevue. Parking on Maple opposite Macdonald High School.
Boutique/gift shop organized by the Lakeshore Hospital Auxiliary is open Monday-Friday from 9:30 to 3:30 p.m. (ground floor of the hospital). Proceeds go towards purchasing hospital equipment and providing bursaries to staff for education. Call 514-630-2119.
Thrift Shops for NOVA offer clothing for the whole family, footwear, books, household items, jewelry, furniture, etc. All proceeds go to Nova West-Island. The Plaza Pointe-Claire store, 321 St-Jean Blvd. (514-697-8457) is open Tuesday-Sunday from 10 a.m. to 4 p.m. Ste-Anne Thrift shop, 43 Ste-Anne St. in Ste-Anne-de-Bellevue (514-457-1642), the Thrift shop Bookstore (next door), 43 Ste-Anne St. in Ste-Anne-de-Bellevue are open Tuesday-Sunday from 10 a.m. to 4 p.m. and the Furniture and Used Book Thrift Shop (514-694-8417), 449 Beaconsfield Blvd. in Beaconsfield are open Tuesday-Saturday from 10 a.m. to 4 p.m. Kirkland store located at 3268 Jean Yves St. (514-697-6692), Tuesday-Saturday from 10 a.m. to 4 p.m. Donations welcome. For more info, visit thriftshopsfornova.com.
Thrift Shop held by the West Island Assistance Fund is open Monday to Friday from 10 a.m. to 4 p.m. at 21 Commercial Centre in Roxboro. Call 514-683-0456.
Thrift Shop/The Bunker is open every Saturday from 9 a.m. to noon at the War Memorial Library, 60 Elm St., Hudson. Call 450-458-4814
Article content
Self-help and support
ABOVAS – An essential accompaniment towards health, is a non-profit organization that offers accompanied transport for West Island residents going to medical appointments on the Island of Montreal. If you need assistance and would like to use our service, contact us for more details. If you have a few hours to offer, access to a car and would like to volunteer, call 514-694-3838, email info@abovas.com or visit abovas.com.
Alzheimer Groups Inc. (AGI)
offers therapeutic programs to individuals living with Alzheimer's disease and other dementias. They provide support services to families and professional care partners, focusing on the best practices in dementia care, while sensitizing the community through education and awareness. Email
info@agiteam.org
or call 514-485-7233.
Article content
Compassionate Friends is a self-help international group for bereaved parents of children. Call the Montreal chapter at 438-257-0881.
Friends for Mental Health is a local non-profit organization that offers support and other resources to those close to a person living with a mental health issue. They offer counselling, support groups and training to people who support a loved one living with a mental health issue. For more information, call 514-636-6885 or email info@asmfmh.org.
Gamblers Anonymous provides support to anyone suffering from the destructive pattern of compulsive gambling. Call 514-484-6666 or visit Web@gamontreal.ca.
Literacy Unlimited,
a community organization dedicated to empowering adults through improved literacy, offers free, confidential, one-on-one tutoring for adults in reading, writing and basic computer skills. Call 514-694-0007 or visit
literacyunlimited.ca
.
Article content
Low Vision Self-Help Association holds in-person monthly meetings on Wednesdays from 1:15 to 3:30 p.m. at Briarwood Presbyterian Church, 70 Beaconsfield Blvd., Beaconsfield. For info, call 514-694-2965 or visit www.LowVisionSelfHelpAssociation.weebly.com.
Overeaters Anonymous, a 12-step recovery group for compulsive overeaters, anorexics and bulimics. No weigh-ins, dues or fees. Zoom or phone meetings are being held during the pandemic. Call 514-488-1812 or visit oamontrealenglish.org/meetings.
West Island Committee Against Elder Abuse notes several helplines are available. If anyone reading this feels that someone is managing their finances without their permission, is trying to isolate them from others, or touches or makes them feel uncomfortable in ways they don't like or is neglecting them, call: Elder Abuse Help Line 1-888-489-2287; Info Social 811; CLSC Pierrefonds 514-626-2572; CLSC Lac St-Louis 514-697-4110; CLSC Dorval-Lachine 514-639-0650; Canadian Anti-Fraud 1-888-495-8501.
Article content
West Island Women's Shelter is a non-profit organization that helps women and children who are victims of domestic violence through the provision of shelter, accompaniment and psychological support. For more information, visit wiws.ca.
Seniors
Men's duckpin bowling every Monday from 1 to 3 p.m. at Valois bowling alley. Cost: $10. For more information, call Bill at 514-684-9323.
Senior Men's Contract Bridge Club meets every Tuesday from 1 to 4 p.m. at the Edwin-Crawford Residence, 35 Maywood Ave., Pointe Claire. Cost $5. No partner or commitment required. Call 514-435-4215.