I will work to preserve the rural nature of our community to ensure its status as something other than just an Ottawa suburb.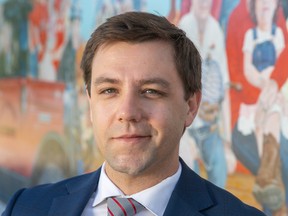 Article content
The Citizen invited candidates in the Oct. 24 municipal election to share their thoughts:
Article content
I am a lifelong, proud resident who is now raising a third-generation West Carleton resident. Saying that I love West Carleton is an understatement. I believe a city councilor's job is to represent the voices from our ward. Representatives are there to hear what people are concerned about and to take those concerns to the council table. As a rural ward, we have concerns unique to our citizens and we require a strong voice to represent those concerns. As city councillor, I will work to preserve the rural nature of our community to ensure its status as something other than just a suburb of Ottawa.
Article content
Our community is presented with a number of challenges. In the conversations I have had with many constituents, I continually hear about road repair, housing, internet access and ambulance services. I have had personal experiences with each of these issues and have always yearned for an opportunity to help find a better way forward.
Article content
I believe that development is necessary for our area and I will work to develop around a central green space while strving to keep mature trees and agricultural lands intact. Our roads need repair. A quick glance at the City of Ottawa website will show the paltry number of planned road repair and construction projects in our ward. As a population of commuters, we need better plans for repairs, with more oversight regarding procurement and planning.
Like much of the city, our ward struggles with ambulance services and coming up with new solutions should be a focus and concern as the city experienced 801 "level zero" days in the first six months of 2022. For any who have waited too long for an ambulance, this simply needs to be addressed.
Article content
Internet is a necessity nowadays. Too many people in Ward 5 have unreliable and expensive internet that prevents them from working or educating their children from home. We have been left with stalled projects, empty promises and silence from the parties involved. More information about projects and a recognition of how essential reliable access to the internet can be, is something the rural residents of this city have longed for.
I believe deeply in the democratic process and after a few years of divisive politics at other levels, I have been very encouraged with the engagement I have received from the public. The conversations I have had about the course of my campaign have shown me that local issues matter to people and that there are many more issues that unite us than there are that divide us. If elected I would like to continue that engagement through town halls and public forums to increase consultation opportunities for the residents of Ward 5.
A good representative accomplishes little on their own and it would be the honor of a lifetime to be elected to work with the residents of Ward 5 to improve our community. You can learn more at www.clarkekelly.ca