Vancouver won't build its way out of its housing crisis, says John Shepherd, as more unaffordable condos and apartments won't get people off the streets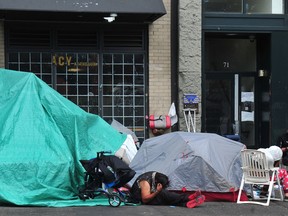 Article content
Clearing an encampment of tents is a case of treating the symptoms, not the disease. A drive through the East End in the early evening uncovered dozens of tents scatted in parks and along city streets. Hundreds of people were visibly homeless and emergency vehicles regularly sped to the next drug overdose.
Article content
The issue is not merely homelessness. It is a broken housing market that constructing a few hundred, low-end apartments won't fix. The issue of unaffordability (relative to what people earn) is a train that left the station two decades ago.
Article content
So let's say you work in Vancouver with the highest rental rates in the country, let's say $2,200 per month for a one-bedroom apartment. A full-time minimum wage job won't even cover the cost of rent. Well, what do you do? As you need an address, you can rent a post office box or work out a deal with a landlord, paying for a nice-looking address.
Where do you sleep? You can rent a share of an apartment and hot bunk with a bunch of co-workers, sleep on a friend's couch, set up a tent or live out of your car, near some public washrooms to clean up each morning. Better, you buy a used RV or sleeper van and park at different locations each night, like strip-mall parking lots and on city streets.
Article content
Vancouver is not going to build its way out of its housing crisis. More unaffordable condos and apartments won't get people off the street. More public housing would help. However, we are talking about tens of thousands of apartments, tens of billions of public funds, and a decade to catch up.
Workers need safe, affordable places to live. Creative, practical solutions are needed. Perhaps Vancouver may convert some of its parks, as a temporary measure, into serviced campgrounds and trailer parks. Treat them like condo developments, with either managers or volunteer boards, and police them properly to ensure healthy, safe environments.
Charge the tenants affordable rents, creating a new revenue source for the city, at a time when businesses are leaving the downtown core. Within months, thousands of units of affordable housing suddenly become available for local workers.
Article content
Trailer parks may not be the answer. Sending police to tear down "tent cities" is decidedly not the solution.
John Shepherd, Richmond
Linda Lovelace was trafficked into pornography
Re: Vancouver theater Rio's screening of Deep Throat draws backlash
I want to thank Cheryl Chan for her coverage on Rio Theater's promotion of a rape film. I did want to state some important facts against the claims from the filmmakers' children that are in the article.
Being coerced into sexual activity is by definition human trafficking, and Linda trafficked into pornography.
The statement printed that "Lovelace had made many contradictory statements" and "her story is a complicated one" is literally victim blaming and denial that ignores the impact of trauma and coercion. This statement is intentional to discredit a victim's testimony and experience.
Article content
"People who witnessed the filming said there was no sexual violence in the making of the film and she did not appear to be coerced" — Coercion is not something you can "see" or that is obvious to the untrained eye. Force is not just physical. Manipulation is nuanced.
"We're very against censorship, and I personally believe that more good comes from speaking openly about things than bad" — so we are defining not showing someone's rape as "censorship"?
It takes an average of seven times to exit exploitation. Most victims go back to their exploitation due to trauma and triggers (such as their rape being repeatedly shown). Just because she went back to porn does not mean this film was not of her rape.
Tiana Sharifi, founder, Sexual Exploitation Education
Vancouver says 'progress' being made in finding shelter for homeless people living in DTES tent city

Vancouver theater Rio's screening of Deep Throat draws backlash

Concerns flare about Vancouver tent city scaring away tourism from local businesses
---
Letters to the editor should be sent to sunletters@vancouversun.com.
---
More news, fewer ads, faster load time: Get unlimited, ad-lite access to The Vancouver Sun, the Province, National Post and 13 other Canadian news sites for just $14/month or $140/year. Subscribe now through The Vancouver Sun or The Province.