Chefs Deseree Lo and Vish Mayekar put their culinary skills to the test on latest season of Top Chef Canada.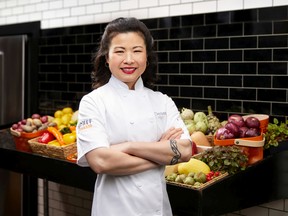 Reviews and recommendations are unbiased and products are independently selected. Postmedia may earn an affiliate commission from purchases made through links on this page.
Article content
Chef Deseree Lo's competitive streak dates back to childhood.
Article content
"Growing up — and even until this day — I have always been very competitive," the Vancouver-based culinary talent says. "In school, in sports, and at work."
Article content
So, when the opportunity to audition for the 10th season of Top Chef Canada arose, it didn't take much for her to decide to test her skills in the television cooking competition.
"I saw the sign. It's now or never," Lo, who is the Chef de Cuisine at Marine Drive Golf Club in Vancouver, says. "It definitely sparked and reignited the fire and the desire to show Canada and myself that I can cook, handle the heat, and excel under pressure."
A similar competitive drive is what prompted fellow B.C.-based Chef Vaishnav 'Vish' Mayekar to join the pressure-cooker competition.
Article content
"I have always been a competitive person," Mayekar, who is the head chef at both Pepinos and Caffe La Tana in Vancouver, says. "I've taken part in cooking competitions while in culinary college back home in India and also whilst studying at Niagara College in Ontario.
"Trying to push myself and always experimenting with new ingredients has always been my thing."
Mayekar will push the boundaries of that experimentation and experience during the season of Top Chef Canada X, which debuts Sept. 26 at 10 p.m. on Food Network Canada.
"I just have always wanted to prove it to myself that I can do it," Mayekar says of his preference for turning up the heat in the cooking competition.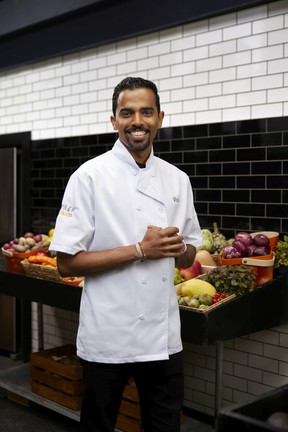 The two B.C. chefs will be joined by nine other culinary talents from across Canada vying for the top title this season. Vancouver foodie Mijune Pak returns this season as a judge, alongside chef David Zilber, chef and cookbook author Eden Grinshpan, chef Mark McEwan, restaurateur Janet Zuccarini, and food journalist Chris Nuttall-Smith.
Article content
Growing up in India, Mayekar furthered his culinary expertise working in professional kitchens in the U.S., France and finally Canada. That experience, he says, shows up in his dishes.
"There are a lot of different influences in my cooking style," Mayekar explains. "To describe what my cooking style is, in short, it's diverse, it's confident, yet still true to my motherland. I have always wanted to be a well-rounded chef and, so far, that's where my cooking style is leading me to — a knowledge of a variety of cuisines and not just one."
Lo describes her cooking style as "rustic, free-styling and nostalgic," pulling inspiration from a wide array of influences. In lieu of following recipes, the professional chef prefers to, "just cook from my heart and experiences."
Article content
"People always remember the food they eat when they are happy and content, like from their fond childhood memories or on vacation," Lo says. "That is how I want people to feel when they eat my food."
While the show is just now set to air for viewers, the competition has been ongoing for the chefs. The experience of shooting, Lo says, has been a memorable one.
"Top Chef Canada is more than just a cooking competition," she says. "I have met lifelong friends and made connections that I otherwise would not have had the opportunities to do so.
"I knew I had signed up for a cooking competition, but it was beyond what I imagined, physically and mentally. I have really rediscovered and reassured myself through this process: what I want and don't want, and what I can and cannot tolerate in life."
Article content
It's a sentiment that Mayekar easily echoed.
"It was an absolutely amazing experience, something that I'll remember for the rest of my life," Mayekar says of the time on the show. "I've made some incredible friends through the show and also grown a whole lot just through this experience as a person and as a cook."
The experience, Lo underscores, has reignited a passion that has inspired herself — and will hopefully do the same for viewers as they watch the chef competition heat up this season.
"If you truly believe in yourself, keep pushing and never give up, you will succeed," Lo summarizes of her takeaway from Top Chef Canada. "The struggle is real, but nothing comes easy. You won't appreciate the process if victory and success are just handed to you.
Article content
"Mind over matter. Always. Just keep doing you and the rest will follow."
---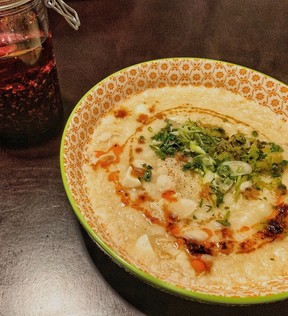 Chicken Congee with Salted Duck Eggs
Created by: Chef Deseree Lo
"Congee is the ultimate comfort food for me! I can eat it every day for breakfast, lunch or dinner. I love food that can be simple and delicious on its own but can also become luxurious and scrumptious by adding ingredients and building flavours. You can eat congee plain, with side dishes, or make it a composed dish by adding meats, seafood, fresh or preserved vegetables."
1 cup (250 mL) uncooked white rice (
12 oz (340 g) raw boneless, skinless chicken thigh (or as much as you want)
12 cups (3 L) water for uncooked rice (10 cups for cooked rice)
1/2 piece whole unpeeled ginger, smashed
Article content
2 tbsp (30 mL) salt
1/4 cup (60 mL) canola oil
2 cooked salted duck eggs (you can find them in any Asian markets)
2 pieces green onions
1/4 oz (7 g) ginger, peeled and thinly sliced
Chopped cilantro, to taste (optional)
Chopped preserved mustard greens, to taste (optional)
Ground white pepper, to taste
Chili oil (optional)
Chicken Marinade
1 tbsp (15 mL) cornstarch
1 tsp (5 mL) ground white pepper
1 tbsp (15 mL) soy sauce
1 tbsp (15 mL) water
1 tbsp (15 mL) canola oil
Chef's note: You can for sure use cooked rice. This is one of the reasons why we eat congee is to use up any leftovers.
Wash your rice! Please wash any rice before cooking for cleanliness, to remove any dirt, chemicals, bugs, contaminants. Trust me, just wash the rice.
Article content
In a medium or large bowl, wash the rice with water, swirl/mix with your hand, drain the water and repeat about 3-4 times or until the water runs almost clear in a medium or large bowl. Drain and set aside.
Boil the water for congee and prepare the proteins. Add the water into a medium-size stock pot and bring to a boil. In the meantime, cut the chicken thighs into thin strips and put into a mixing bowl. Add cornstarch and ground white pepper and mix with hand or chopsticks.
Add soy sauce and water, mix and then add the canola oil. Massage the chicken for about 2 minutes to fully incorporate. Work it! Refrigerate until needed. Peel and cut the salted duck eggs into quarters and set aside.
Cook congee and prepare the garnishes. Add the rice to the boiling water and stir immediately to avoid sticking. Cover with lid and bring the water back to a boil again. Do not stir until the water boils, this prevents the rice from sticking and also removing the lid will let the steam out and thus take longer for the water to come back to a boil.
Article content
Once the water is boiling, lower to medium heat, remove the lid and add the unpeeled ginger, salt and canola oil. Stir and cover the pot with lid again and let the congee boil for at least 30 minutes or until the rice is "broken" and the congee has thickened. Add the salted duck eggs and cook for another 5-10 minutes. When the congee base is ready, stir with a wooden spoon or preferably with a whisk to break up any large chunk of rice and also to make the congee more "emulsified". Keep whisking until the congee is silky-smooth.
While the congee is cooking, chop the green onions, cilantro and pickled mustard greens (optional) and thinly slice the ginger. Set aside until needed.
To cook the chicken, turn the heat up to high heat while the congee is still cooking. Add the marinated chicken into the pot, 1/3 at a time to avoid clumping. You can take the chicken out from the refrigerator 10 minutes before the congee is ready to temper. Keep stirring as you add the chicken to ensure even and thorough cooking. Bring the congee back to a boil and cook for about 30 seconds. Check the chicken for doneness. Add the sliced ginger and a pinch of salt, if needed, since the salted duck eggs will add saltiness.
Article content
Remove from heat and now we are ready to serve! Serve family style in the pot or individually in a bowl. Garnish with the chopped greens, some more ground white pepper and chili oil. It's perfect.
Serves four.
---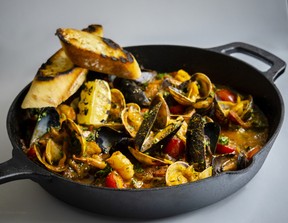 Mussels & Clams in Spicy Chorizo Sauce
Created by: Chef Vish Mayekar
"This recipe reflects on my love for seafood, something that is meant to be shared and eaten in a group and a great representation of how I like to stay true to each ingredient that is used in a recipe and mainly the star of the dish — in this case, the mussels & clams."
1/2 lb (226 g) mussels
1/2 lb (226 g) clams
5 1/2 oz (150 g) baby shrimp (optional)
2 oz (58 g) shallots
5-6 cloves garlic
1 small bunch scallions
1 bulb fennel
4 Roma tomatoes
5-6 cherry tomatoes, halved
Article content
1/4 lb (114 g) chorizo sausage
1/4 cup (60 mL) fish stock
1 tbsp + 1 tsp (20 mL) white wine
1 1/2 tbsp (25 mL) olive oil
1 oz (30 g) butter
3/4 tsp (4 mL) smoked paprika
3/4 oz (20 g) flat leaf parsley
2 lemons
Salt to taste
Prep the clams and the mussels by running them under cold water for at least 30 minutes and debeard the mussels.
Finely chop the shallots, garlic, fennel and set aside. Chop the tomatoes into medium cubes and set aside.
Take a thick-bottom pan, deep enough that will fit all the clams and mussels and add olive oil to it. Once warm add shallots, garlic and sauté for a couple minutes on medium heat making sure it doesn't burn. Take the chorizo meat out of the casing and add it to the pan making sure the meat is broken into smaller chunks. Add the cubed tomatoes. Continue to sauté for another couple minutes.
Article content
Add the cleaned clams and mussels to the pot and mix in the chopped fennel and smoked paprika. Add the shrimp at this stage if using it. Deglaze the pan after one minute with white wine and place a lid on the pot. While the clams and mussels are steaming, finely chop the parsley and cut the scallions.
After 5 minutes of steaming — make sure all the clams and mussels have opened up — add fish stock to the pot and season with salt. Add the cherry tomatoes and squeeze one whole lemon in it. Mix in the scallions and butter at this stage for extra richness. You can opt out of the butter if trying to keep it dairy free. Finish cooking for 6-7 minutes. Garnish with parsley and serve with grilled sourdough or focaccia and some lemon wedges.
Serves two. 
Aharris@postmedia.com