Friday, Sept. 23: You can write to us at letters@ottawacitizen.com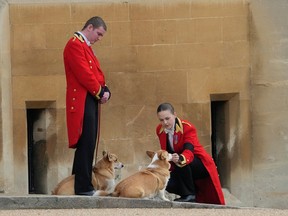 Article content
A corgi recognized by the Queen
Article content
My daughter and her husband Steve had welcomed pups, as well as mature and full-bodied canines, as a member of their home over the years. With the death of their pet Murphy last year, they were able to acquire a corgi, a pup of only eight weeks, and named him Stewart (Stewy for short).
Article content
Steve recognized that this breed would probably require somewhat more specialized care than the former series of "thankful to have a home" rescue dogs and decided to obtain any advice they could get from specialized owners or breeders. His immediate choice was Queen Elizabeth in view of her care and attention to many corgis and their descendants over the years.
His request for advice was mailed to the attention of Queen Elizabeth, Buckingham Palace. The letter was then forwarded to the Queen at Windsor Castle and opened by the Queen's lady-in-waiting.
Article content
A few weeks later, Steve received a letter in response signed by the Queen's lady-in-waiting, saying that while the Queen could not respond personally, she "hopes you and your wife continue to enjoy your much-loved pet's loyalty and companionship for many years." Her Majesty was also pleased with the "delightful photographs" Steve had enclosed.
Needless to say, that letter is now framed on Steve's wall.
Lew Trecarten, Ottawa
Be wary of candidates' zoning promises
Re: Should Ottawa stick with single-family residential zoning? Mayoral candidates set out varying visions, Sept. 16.
I live in a modest single-family home in Ottawa. Our neighborhood and many like it have been the backbone of Ottawa society for more than a century. Some of the current mayoral candidates, would, if elected, place a ban on R1 zone construction in our city.
Article content
The complete lack of understanding by candidates about what housing residents want is evident in this election. No one dreams of spending their life savings to raise their children in a multi-unit three-storey building, or riding elevators to a tiny high-rise apartment.
High-density housing separates people from nature and deprives us of any meaningful measure of personal space. One only need witness a toddler discovering the simple pleasure of a blow-up splash pool surrounded by a little grass to walk barefoot in. Seeing the sunlight on her face as she sits in the cool water taking in the sights of a small yard. Insects here, a visiting bird over there. Her first experience with nature gained by planting a flower in the earth, rather than in a plastic container on a sterile windowsill.
Crowded living conditions diminish us all. Vote wisely.
Christopher Critch, Ottawa