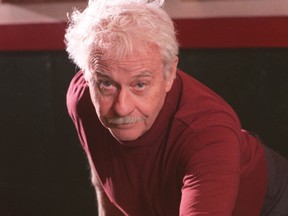 Reviews and recommendations are unbiased and products are independently selected. Postmedia may earn an affiliate commission from purchases made through links on this page.
Article content
There is a certain irony to the fact that WO Mitchell's debut novel, Who Has Seen the Wind, earned him such a large advance payment that he went on a spending spree and a night on the town with his wife, Merna.
Article content
His classic 1947 novel is renowned for presenting an earnest picture of rustic prairie life during the Depression. But when Mitchell landed a deal to have the novel published in digest form for the American magazine Ladies' Home Journal for $5,000, he went to town.
Article content
Literally.
Mitchell and Merna traveled from their home in High River to Calgary. They bought a grand piano and an evening gown for Merna. They then hit the Palliser Hotel for dinner and dancing. Oscar Peterson was on piano. It all makes for a scene that couldn't be more different from the ones Mitchell created for his most famous novel.
"It's such a fabulous story," says Shaun Hunter, a historian and author of Calgary Through the Eyes of Writers who wrote about the Mitchells' night out in a recent posting for the Read Alberta website. "He wasn't a dancer. But he danced that night. He danced all night."
Article content
In 1946, $5,000 was a princely sum equivalent to $75,000 today, Hunter says. Mitchell had quit his job as a teacher and principal to devote himself full time to writing in High River. So until this windfall, the couple had been living hand-to-mouth. Who Has Seen the Wind changed everything. Ladies Home Journal had an incredible four million subscribers. The book would eventually be released by American publisher Little, Brown. It was an auspicious start for a book that would become a Canadian classic, inspired generations of writers and would be required reading for generations of school children.
It's also a book that seems reef for rediscovery. Enter Freehand Books, Calgary's acclaimed independent publisher of literary fiction and non-fiction. Earlier this month, it released a handsome 75th-anniversary edition of the book, complete with illustrations by Alberta-born artist William Kurelek and with a new foreword by writer and poet Frances Itani and afterwards by Mitchell's son Orm and daughter-in-law Barbara .
Article content
It's a good fit.
While Who Has Seen the Wind is based on Mitchell's memories growing up in rural Saskatchewan, it is often regarded as an Alberta novel. For one, it was written here. Some of the more eccentric characters that populate the story are believed to have been inspired by real people in Castor, where Mitchell served as a teacher and principal. The author, who died in 1998, has long been associated with the city's literary scene. The City of Calgary WO Mitchell Book Prize has been handed out to a local author annually since 1996. There is a school named after the author in the city's northwest. Mitchell's fund reside at the University of Calgary Library's Special Collections, including fan mail and scrapbooks that his mother lovingly cobbled together of the reviews and other press coverage for Who Has Seen the Wind. On Nov. 29, when the 75th edition of Who Has Seen the Wind is launched at the Central Library, the Writers' Guild of Alberta will announce the establishment of The WO Mitchell Scholarship Fund, a permanent endowment that will support emerging writers in the WGA's mentorship program.
Article content
So Hunter says it feels as if Freehand is bringing the book back to Alberta. She originally read Mitchell's tale as a young Albertan CanLit student out of a sense of obligation. But she revisited it last summer.
"I was blown away by it, actually," she says. "It really stood up. I guess I wasn't really interested in lyrical passages about the Prairies when I was in my early 20s. I was trying to get away from the Prairies. But those passages really hit me this time. Then there was just all the small-town machinations and the little boy asking really big questions."
Kelsey Attard, managing editor of Freehand Books, says she has heard similar stories. Because so many children and teens were assigned the book in school, it may not always be remembered fondly. But book lovers who return to the book tend to get more out of it as adults. Attard somehow managed to make it through school without ever having read it. But she read the book for the first time before publishing it and, like Hunter, was amazed at how timeless it is and how authentic the voices of young Brian O'Connal, the book's protagonist, and his friends still seem to this day.
Article content
"I have children who are that age," Attard says. "This voice is just right. The kids, when they are talking, sound like children: How they talk around in circles when they are talking about something and the adults aren't quite sure what they are talking about. It sounds right and it's amazing to see that hasn't changed in 75 years."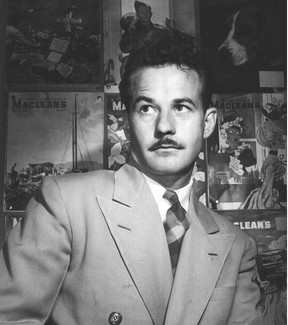 Mitchell would go on to have an impressive career as a novelist, playwright and writing instructor. He had other novels, of course. For a certain generation of CBC watchers and listeners, Mitchell may be equally remembered for Jake and the Kid, a series of short stories that were the basis of a radio series and two television adaptations. But it's hard to argue that he ever outdid Who Has Seen the Wind. In 1999, Quill and Quire ranked it seventh in its list of Top 40 Canadian Novels of the 20th century. Renowned Globe and Mail literary critic William Arthur Deacon proclaimed it "One of the finest Canadian novels ever written," upon its release.
Article content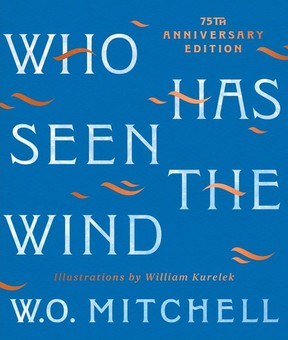 In her 1998 obituary of Mitchell in MacLean's magazine, Calgary-based author Sharon Butala wrote that if Mitchell had written Who Has Seen the Wind "last instead of first, we would mention his name solemnly in the company of the world's great writers."
George Melnyk, literary historian, retired University of Calgary professor and author of the two-volume Literary History of Alberta, says while Who Has Seen the Wind is set in Saskatchewan, it kicked off a new era for Alberta literature.
"He was the beginning of a trend of writing about Canada and being based in Alberta," he says. "It was something that was new in fiction: There was a story to be told from here. It eventually involved people a few years later like Rudy Wiebe and Robert Kroetsch. It was a new school of writing that we developed in the late '40s and into the '50s that represented us looking at ourselves and telling our own stories."
Melnyk says Mitchell's debut novel represents a "Prairie populism that came out of our rural tradition, the agricultural society."
"His folksiness, his sense of humor is part of that," Melnyk says. "That's what he represents to me."
The 75th edition of Who Has Seen the Wind will be launched at the Central Library on Nov. 29 at 7 p.m