Samuel Hahnemann was wrong about his treatment having a physiological effect, but there are reasons not to dismiss him as a misguided simpleton.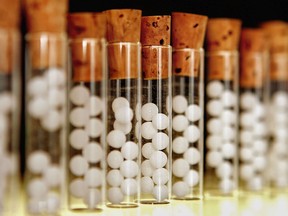 Article content
I use a lot of visuals in my presentations since as they say, a picture is worth a thousand words. These days the "go-to-source" is the internet, so that is exactly where I went when I was looking for a picture of the grave of Samuel Hahnemann, the founder of homeopathy. Curiously, one of the pictures that came up was of a coffee mug with the portrait of Hahnemann. Why was that curious? Because in 1803 Hahnemann published his Treatise on the Effect of Coffee in which he claimed that coffee was the cause of impotence, sterility, rickets, stammering, melancholy, malicious envy and insomnia. He was at least right about insomnia.
Article content
Seven years before his attack on coffee, Hahnemann had introduced the famous dictum "like cures like" in his Essay on a New Principle for Ascertaining the Curative Power of Drugs. At the time, powdered cinchona bark was used as a treatment for malaria but there was always a question of how much to use. Hahnemann, acting as his own guinea pig, took increasing doses to see how much a patient could safely take. As he increased the dose, he began to experience the symptoms of malaria. At that moment, the concept of homeopathy was born. If a patient had an illness, the cure was a substance that, if given to a healthy person, produced symptoms similar to that experienced by the sick person. To many, that seemed reasonable, given that Hahnemann cited Edward Jenner's use of vaccination with cowpox to prevent smallpox. Indeed, injection of a small dose of cowpox produced symptoms similar to smallpox and offered protection against that dreaded disease.
Article content
However, controversy was stirred when Hahnemann suggested that doses so small that they would produce no symptoms would still be effective in treating disease. His dilutions were so extreme that it seemed inconceivable that they could have any therapeutic effect, but Hahnemann had a rationale. He claimed that the diluted preparations retained their therapeutic power if after each dilution, the solution was violently shaken. This "potentization" resulted in a "dematerialized spiritual force" that produced a cure. Even at the time, when science was still on a shaky footing, this was deemed to be nonsense by physicians. Hahnemann was further mocked when he went on to claim that nearly all chronic diseases were caused by scabies.
Article content
Today, the scientific view of homeopathy is that non-existent molecules cannot cure existing disease, but homeopaths can offer some comfort to patients by triggering a placebo response. Also, the conditions for which patients consult homeopaths are generally ones that are transient and disappear spontaneously or are cyclical. If taking a homeopathic "remedy" is followed by remission, the remedy gets the credit.
Given that I have forged a career on separating sense from nonsense, you might think that I would be keen to dismiss Samuel Hahnemann as a misguided simpleton. Not so. We have to remember that at the time orthodox medicine did not have much to offer beyond bloodletting, purging, and potentially toxic substances such as mercury, strychnine or opium. Hahnemann had concluded that such practices just tortured patients and he looked for kinder, gentler treatments. While he was wrong about his homeopathic treatment having a physiological effect, he did offer patients an alternative to the brutal medical practices of the times. Little wonder that patients were happier to take a sugar pill infused with a solution that contained nothing than to be purged or be drained of their blood.
Article content
There is yet another reason that I have a special regard for Hahnemann, and it has nothing to do with his medical practice. In 1788, before he hatched his "like cures like" scheme, he wrote an article that began thus: "I do not know whether I am mistaken, but it seems that one can obtain more truths, important to Humanity, from Chemistry than from any other Science." At the time, Hahnemann was a struggling physician and was more active as a chemist than as a doctor. He had become enamored of chemistry while studying medicine at the University of Leipzig, where he had taken a course in experimental chemistry from noted physician and chemist Johann Gottfried Leonhardi.
In the article that began with his exaltation of chemistry, Hahnemann described his experiments to develop a test for lead and iron in wine. Lead was sometimes added to wine to act as a preservative as well as to increase sweetness, while iron ended up in wine from nails in casks. Lead was known to be poisonous, but the problem was that the current test for lead, based on adding a solution of arsenious sulphide to produce a dark precipitate of lead sulphide, also gave a positive result for innocuous iron. Hahnemann discovered that an acidified solution of hydrogen sulphide added to wine yielded a precipitate with lead, but not with iron.
Article content
To acquire the chemicals he needed, Hahnemann visited the local pharmacy. There was an added inducement for frequent visits since he fell in love with the pharmacist's stepdaughter whom he went on to marry. They were married for 48 years and had 11 children. Five years after her death, Hahnemann, at the age of 80, took the plunge again with Marie Mélanie d'Hervilly, who was 40 years his junior and had come to consult him about her health. She convinced him to move to Paris where he developed a large following and was consulted by patients from around the world. She followed in her husband's footsteps and became the first female homeopath, but was not welcomed by the homeopathic community. There were accusations of delaying publication of Hahnemann's final work as she held out for a more lucrative offer.
Article content
Hahnemann adored his wife Speaking of whom he would trust to carry on his work, he proclaimed "I have long sought a man and have found him in my wife." His expressed desire was that they be buried alongside each other, and indeed they do lie together at Père Lachaise Cemetery in Paris. In 1900, the International Homeopathic Congress erected a beautiful granite monument on the gravesite, but nowhere is there a mention of Melanie Hahnemann, Samuel's beloved wife who helped propel him to fame and fortune. Neither is there any mention of his contributions to chemistry.
Now you see why I was looking for the picture of Hahnemann's grave. As far as the coffee mug with a portrait of Hahnemann goes, needless to say, I ordered it.
joe.schwarcz@mcgill.ca
Joe Schwarcz is director of McGill University's Office for Science & Society (mcgill.ca/oss). He hosts The Dr. Joe Show on CJAD Radio 800 AM every Sunday from 3 to 4 pm
The Right Chemistry: Purdue Pharma's OxyContin

The Right Chemistry: The mandrake mystique, from Genesis to Harry Potter

The Right Chemistry: How diethylene glycol became notorious