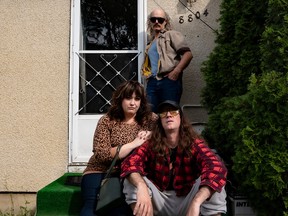 Reviews and recommendations are unbiased and products are independently selected. Postmedia may earn an affiliate commission from purchases made through links on this page.
Article content
At this point in Dave Lawrence's career, his devotion to the character of Terry Cahill is pretty well-established.
Article content
Lawrence has been embodying the beloved Calgary headbanger on stage, screen and social media in some form since he was 15 when he introduced the character on the stage of Loose Moose Theater in the early 1990s. He later found cult success in the 2002 faux documentary FUBAR opposite fellow Calgarian Paul Spence's mustachioed alter-ego Dean "Deaner" Murdoch, kicking off a long-running franchise that has stretched into various platforms.
Article content
But Lawrence recently took a significant step to further cement his connection to Terry: He grew out his hair.
For years, Lawrence relied on wigs or hair extensions sewn into his baseball cap when morphing into Terry. But this was occasionally problematic. When making in-character appearances at Calgary Flames games, for instance, he would have to remove the hat during the national anthem and reveal his closely cropped coif to disillusioned fans.
Article content
"I've done some wakeboarding and different things with Terry, skateboards and outdoor activities," says Lawrence. "It just made sense to have long hair. It made it less stressful that my wig isn't going to fall off while I'm doing something."
With FUBAR, the line between Dave and Terry has always been blurry. Unlike some actors who feel some resentment about being too closely associated with their most famous character, Lawrence has embraced his alter-ego even if he doesn't share all of his less-commendable attributes.
In 2019, it took over the FUBAR brand from Spence and director Michael Dowse. While he says the split was amicable, he admits he doesn't foresee a time when Terry and the Deaner will reunite, although the Quebec-based Spence does maintain a social media presence as the character.
Article content
Lawrence has been embarking on a solo career since 2019, albeit with some interesting cohorts.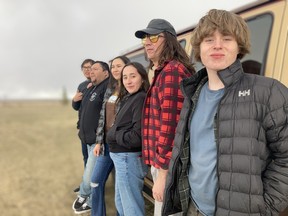 Currently, he can be seen in TNT FUBAR, a new Calgary-shot mockumentary series streaming on Swearnet.com, the comedy network anchored by fellow Canuck sensations The Trailer Park Boys. In 2019, Lawrence played Terry in Trailer Park Boys: Jail, which found the sad-sack Calgarian in a Nova Scotia prison with Julian (John Paul Tremblay) and Ricky (Robb Wells). That network also ran a series of vignettes called On the Road with Terry Cahill, which showed how poor Terry ended up incarcerated after a cross-country road trip. Since then, Swearnet has snapped up a bunch of Lawrence's independent Terry-related content on YouTube to run on the network and encouraged him to create new content.
Article content
"It's confusing," Lawrence jokes. "I know what's going on but even I'm confused by it. But what they are doing is trying to establish Terry a bit more as one of the characters within the Trailer Park Boys."
"I think they see me as 'Oh, Dave can crank out stuff and we don't have to supervise,' " Lawrence adds. "I did a bunch of those jail shorts. So the fans are starting to think 'OK, Terry is in here somewhere.' So TNT FUBAR is a new show. They are not in it. They are not really involved. But I think it's to bring Terry into the wheelhouse."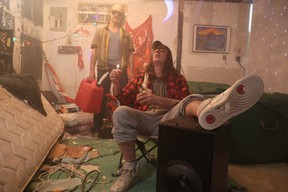 TNT FUBAR finds Terry back home in Calgary, where he remains chronically underemployed and still prone to heavy drinking and partying despite being considerably longer in the tooth since we first met him two decades ago. He is joined by cousin Shank (played by fellow Loose Moose alumni North Darling), who was first introduced to the FUBAR universe in the Montreal-shot 2017 series FUBAR Age of Computer. Shank is an unhinged conspiracy nut who rents out his shabby basement to Terry. We are also reintroduced to Terry's wife Trish (played by Terra Hazelton), who first appeared in the 2010 feature-film sequel FUBAR: Gods of Blunder. Trish believes she is on the road to self-improvement and thinks the best path forward is to get a divorce from Terry. However, when they find out a divorce costs money due to the lawyers and such, they hatch a scheme to get back custody of their now teenage son Deano (played by Luke Lambert) and reap the child-tax benefits.
Article content
"The idea of ​​these bangers being crappy parents just seemed like a lot of fun," Lawrence says.
Other plot points include Trish getting involved in a multi-level marketing scheme and Terry, through a misunderstanding of the word 'manager', becoming involved in professional wrestling. That allowed Lawrence to enlist iconic wrestler Bret Hart to play himself in the series, which also features other members of the Hart family.
"Bret Hart is in it quite a bit and he is very funny," Lawrence says. "It was awesome to work with such an experienced performer. Because he's a wrestler, you don't always think he's an entertainer or a performer, but he is."
Hart has appeared in previous YouTube shorts with Lawrence, who has a habit of attracting some impressive star power to his projects. One of the episodes of On the Road with Terry Cahill featured Emmy-winning actor Bob Odenkirk of Better Call Saul and Breaking Bad, a master improviser who seemed to have a ball playing himself opposite a clueless Terry.
Article content
The continuing adventures of Terry Cahill suggest there is no end in sight for the character. Of course, despite the new hairdo, Lawrence is not all that similar to Terry in real life. He is a father-of-two whose wife, Immanuela, writes and directs episodes of TNT FUBAR. But he admits there are plenty of fans who assume the two are one and the same, which can lead to some strange encounters.
"Sometimes I wish I could just go and be Terry and not worry about taxes or anything and just go hang out in people's backyards and drink beer," Lawrence says. "It's like 'Come camping with us, we just bought an RV!' I'm not really Terry, so I always have to say no. People are like 'We're having a wedding. We'll pay for your bus and all the beer you want.' Terry would do that, but there's no way I'm doing that. I've been invited to so many weddings and so many events like demolition derbies. The emails are constantly coming in and the fans are thinking I'm the same spirit as my character, who will just say yes and do stuff for a case of beer. They are usually really fun to do, but it's not feasible. I get booked for gigs and they'll say 'Will you do it for $200?' The offers are always so low because they think Terry will take the bus and do anything for a lot of beer."
TNT FUBAR is now on Swearnet.com.