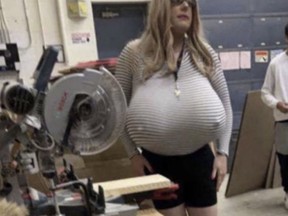 Article content
It took a week, longer than it should have, but the Ford government at Queen's Park has finally spoken up about the Oakville teacher whose style of dress has caused such consternation.
Article content
If you haven't seen the photos or videos yet, I'm talking about the transgendered teacher at Oakville Trafalgar High School with the extremely large fake breast and protruding nipples.
Article content
Videos and photos of the teacher surfaced last week and since then, the Halton District School Board has stood by the teacher, at times refusing to answer questions.
"The HDSB recognizes the rights of students, staff, parents/guardians and community members to equitable treatment without discrimination based upon gender identity and gender expression," the board has said.
Nothing in that statement should stop the board from telling this teacher that strapping on ridiculously-sized fake breasts and pulling a tight shirt overtop of them so that the nipples are showing is wrong and needs to stop. That's what sensible people would do.
Article content
This isn't about trans rights, this is about dressing professionally in the workplace. Students are required to follow a dress code which this teacher's outfit clearly violates.
When this story broke last week, bureaucrats within the Ministry of Education reached out to bureaucrats in the Halton District School Board. Those conversations went nowhere with the board maintaining that this is a human rights issue and gender identity, and gender expression, are protected by the Ontario Human Rights Code.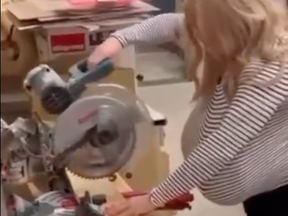 Falling down a rabbit hole
This is how far down the rabbit hole we have gone, highly-educated bureaucrats charged with educating your children are defending this style of dress as a human rights issue.
It's hard to describe how large these fake breasts are, how protruding the nipples are without seeing the photos. Often paired with a tight shirt and pair of bike shorts, this is not a style of dress that any employer I know would find acceptable.
Article content
Nor should the board, or failing the board, the Ministry of Education.
On Friday morning, Education Minister Stephen Lecce wrote a letter to the Ontario College of Teachers raising this issue from a professional standards point of view.
"In this province, in our schools, we celebrate our differences and we also believe that there must be the highest standards of professionalism when in front of our kids," Lecce told reporters Friday.
"And on that basis, I've asked the Ontario College of Teachers to review and to consider strengthening those provisions with respect to professional conduct, which we think would be in the interest of all kids in Ontario."
Students, parents and the Ministry of Education have all complained to the Halton District School Board and they have rejected all comers and have now resorted to claiming this is a personnel matter and therefore something they will not comment on.
Article content
A group of a few hundred people gathered in protest outside the high school on Friday with many of them chanting, "Just say no."
The crowd was rowdy and boisterous, no doubt there will be some level of anger from this crowd, maybe even some comments that will be deemed offensive.
It didn't have to come to this, not if the school and the board had handled this professionally and explained to the teacher that the giant prosthetics and style of dress were unprofessional and unacceptable. Again, it's not about trans rights, those can be respected while still demanding and enforcing a professional and appropriate workplace and classroom experience.
Lecce was right to ask the College of Teachers to address this issue but if the board continues to refuse to act, he and the Ford government will have to do something more to address this issue.
billey@postmedia.com