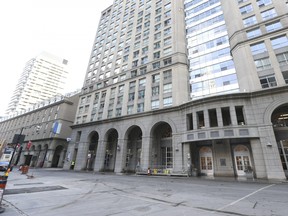 Article content
With each passing day, an infamous city-run shelter on The Esplanade is being emptied of residents as the closing date for the temporary homeless housing center approaches.
Article content
Local condo owners, tenants, and businesses owners are breathing sighs of relief.
Article content
"I moved February of 2021, which is right when it started," said Naomi Sklar as she walked her dog Elliot this week. "It was actually going to be one of the reasons why we didn't sign our lease, but we didn't think it would be as bad as it actually was."
"I've seen a lot of naked people – like taking as— in the middle of the street. Just not pleasant. A lot of drug use, which I know happens, but I feel like you kind of lose the empathy you would have for people struggling when it's happening in your backyard."
Residents of The Esplanade are loath to voice their concerns about the streetscape since the homeless shelter opened in the Novatel hotel.
Article content
Sklar said she has worried about it all.
"Safety, noise, there's poop on the ground all the time, tonnes of garbage and things that you don't want on your street," she said. "So I'm looking forward to having this come to an end."
Another woman, Jennifer, who was out walking her dog, Wesley, agreed.
"My feelings are not positive," she said.
"It can get a little dodgy sometimes later a night. There have been a lot of cops around though. You see a lot of boarded up windows these days."
She has rented on The Esplanade for about a year.
As of Nov. 22, roughly 74 residents remained in the city-run shelter across from a row of upscale eateries, bars, condos and apartments.
"We have to give the keys back to the landlord at the end of December and that has to be with all our furniture, all of our office things out of there, and the building cleaned up," said Patricia Mueller, Homes First CEO, which manages the shelter.
Article content
"We're aiming for Dec. 6 for our clients," she said. "And we're working hard to meet that deadline."
Two residents from inside the shelter shared video they say shows people being escorted out with their belongings. According to the residents, that happens almost nightly.
There were 251 residents in October when the shelter halted admissions.
Homes First said of the 74 people left, 49 are being moved into some form of housing. The rest may be moved into other hotel programs.
Four have gone to long-term health care. Nineteen have been reunited with family or relocated to other provinces.
"We have plans in place for every client," Mueller said.
Those living in the shelter say they feel like they are being rushed out and into uncertainty, but they don't describe their experience there in glowing terms.
Article content
"It's just disgusting. It's like living in a graveyard," said Steve, a shelter resident on and off for the last year-and-a-half. "People robbing each other, breaking into each other's rooms, rape, it's all there."
He left the building a number of times for his own safety.
"I keep leaving because I'm trying to recover from an opiate addiction, so I keep on leaving the hotels because I can't stand being around here at all," Steve said.
WARMINGTON: The Esplanade 'war zone' has no clear ending in sight

SOLUTION OR PROBLEM?: Residents says neighborhood a shadow of former self due to Esplanade emergency shelter

LILLEY: City's woke intentions change neighborhood for the worse, leave residents unsettled

LEVY: Novotel homeless hotel to cost $8.1 million over 10 months
Article content
The end of what some residents describe as nightmare came suddenly.
Thirteen days before the municipal vote, the city announced the shelter's eventual closing.
"The use of the shelter hotels was always intended to be temporary," a city statement said last week.
"The property owner at 45 The Esplanade has confirmed they will resume hotel operations in 2023," the city said. "As such, the city must hand the property back to the owner by the lease end date."
As more shelter residents came to grips with their move, a crew was power-washing the sidewalks and the entrance of the building.
All involved – locals and shelter residents – acknowledged the tension that bristled along the street and in the neighbourhood.
"I know that our clients aren't always the most stellar in the behavior," Mueller said. "But I think having a shelter results in it becoming the epicenter of blame, which is not always valid. And I sometimes feel people are judged because they don't look a certain way."
Article content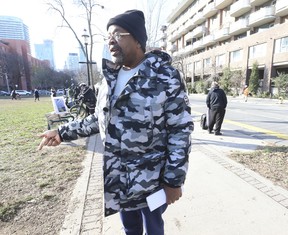 A man named Devon – at the old Novotel for the last three months with his autistic son Mathew – also spoke of the rising tension and increase in petty crime.
"I'm really sorry for what happened," he said. "You're going to find the good with the bad wherever you go,"
Devon is not sure where he and his son will end up after Dec. 6.
"They're not splitting us up," he said.
Steve seemed happy to be escaping the building.
"I'm planning to live in a tent because I don't think I'm going to find housing. And I'm not willing to go to another shelter," he said.
"I'm no good to my dog ​​dead. And if I go to a shelter I relapse and I die," Steve added.
slaurie@postmedia.com
Twitter: @_ScottLaurie