Article content
A road rage complaint east of Calgary led police to a cache of prohibited and illegally-stored firearms in the city.
Article content
Strathmore RCMP say on Sept. 10, they received a report of a handgun being brandished at the occupants of another vehicle on Hwy. 1 east of Calgary.
Article content
"Twelve were classified as restricted, 10 were classified as prohibited, and a number of prohibited devices such as magazines capable of holding more than the permitted number of rounds were seized," said RCMP.
"The majority of restricted or prohibited firearms were not registered."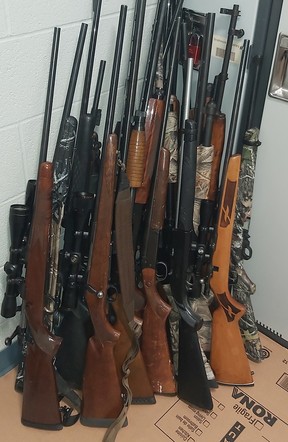 Trevor Hauck, 51, of Calgary, is charged with pointing a firearm, unsafe storage of a firearm, carrying a concealed weapon, using a firearm in the commission of an offence, possession of a prohibited weapon knowing it's unauthorized and unauthorized possession of a prohibited device.
He's been released on conditions and will appear in court at a later date, say RCMP, who added more charges are likely.
They say the complainants did the right thing in retreating and reporting an incident that could have easily escalated.
It is fortunate nobody was harmed … of paramount importance was the driving factor in the immediate response and subsequent search of the residence to prevent further offenses," said Staff Sgt. Mark Wielgosz.
"The charges and disposition of the seized firearms from this point will be decided by the courts."
BKaufmann@postmedia.com
Twitter: @BillKaufmannjrn