I want to be a champion of inclusion for all francophone, anglophone, Indigenous and newcomer communities in Rideau-Vanier.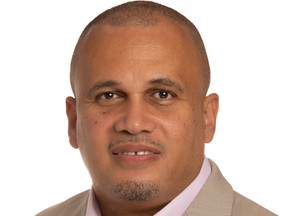 Article content
The Citizen invited candidates in the Oct. 24 municipal election to share their thoughts:
Article content
Patrick Auguste has been involved in community work and projects in the three sectors of LowerTown, Sandy Hill and Vanier for almost 15 years.
Article content
He has a Masters in Business Administration, he's a lecturer at the University of Ottawa and a trainer of federal civil servants. Patrick's daily experience in Rideau-Vanier have allowed him to observe and experience the cultural vitality and diversity of this area. He wants to be a champion of inclusion for all francophone, anglophone, Indigenous and newcomer communities in Rideau-Vanier.
For Patrick, the many businesses of Rideau-Vanier make this area convenient and original due to the accessibility of useful products and services for everyone as well as providing jobs for our youth. He's committed to encourage, protect and further develop this civic economic presence. The vulnerable population of Rideau-Vanier — such as the youth, the elderly, the poorest among us and the homeless — have many challenges. Acting against the rising cost of housing and for more quality affordable housing close to service centers are his main priorities, while insisting on a better distribution citywide of shelters, drug addiction supports and help centers for vulnerable populations in order to combat the tendency to concentrate this issue in Rideau-Vanier.
Article content
Here is a message from Patrick to the people of his ward:
My fellow residents of Rideau-Vanier, here are what I will fight for if you elect me as your next councilor in October:
• A safe environment for our families, promoting and directing intergenerational activities by promoting play areas and green spaces.
• A real prevention of violence with more presence of community police and programs including inclusion and participation of all social groups in the economic, cultural and social life involving more and increase capacity of the community centers.
• More affordable and quality housing for newcomers and vulnerable populations, along with local support services which reduce the rate of homelessness and the relocation of the elderly outside Rideau Vanier.
Article content
• The non-concentration of shelters and drug addiction centers in Rideau-Vanier to make the city better distribute the services to vulnerable population throughout Ottawa.
• Support for the well-being of the businesses along the main streets, providing solutions to their constraints and a climate of exchanges, boosting a dynamic ecosystem providing employment and making the residents proud.
• A social and cultural vitality enhancing the local historical heritage, enriched by adding the contribution of new immigrants to diversity, empowering the tourist experience.
To learn more about Patrick Auguste and/or to contact Patrick's team, please visit his website at www.patrickauguste.ca.
Together for a healthy and strong community!
How and where to vote in the 2022 Ottawa municipal election

Here are the candidates for the 2022 Ottawa municipal election