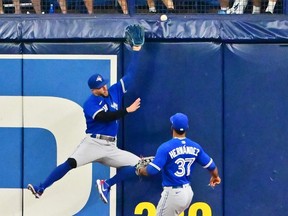 Article content
ST. PETERSBURG, Fla. — It is a time for scoreboard watching, magic numbers leading to playoff positioning and complicated travel and competitive itineraries hanging in the balance.
Article content
And the suddenly sliding Blue Jays are making the prospects considerably difficult on themselves as the 2022 MLB season reaches the critical stages.
Article content
After another Tropicana Field catastrophe on Friday night, the Jays are no longer in possession of the top wild card spot in the American League.
And following a disheartening 10-6 loss to the pesky Tampa Bay Rays, the once-again careening – and often under-achieving Toronto team – has dropped four of its past five.
Article content
How low will it go? We're about to find out if the Jays can dig out from one of their more maddening bouts of poor play of the season. A game that they almost literally threw away on Friday night before a crowd of 17,407 at the Trop, certainly won't inspire much confidence in that regard.
Article content
While falling out of a playoff spot altogether is a serious long shot, the Jays are turning ice cold at an inopportune time – and are starting to pay the price for it.
As a result, things are getting far more troubling than necessary as the latest downturn has caused the consequences to start piling up. A 13-4 stretch that showed signs of rounding into form has given way to a 1-4 bout of incompetence that is leaving a mark.
With their second win in as many nights, the Rays pulled even with the Jays in the wild card race but have now clinched the season series (10-7) to move ahead of their division rival based on the tiebreak criteria.
The Seattle Mariners, who were playing the Royals in KC on Friday, moved to within a game of the Jays and Rays. Suddenly the prospects of hosting a best-of-three wild card series at the Rogers Center don't look nearly as enticing as they did as recently as a week ago.
Article content
In a back-and-forth night in which both teams went through a raft of pitchers, the Rays broke a 6-6 tie in the eighth when pinch runner Taylor Walls tore home from third on a shallow sac fly to right by David Peralta.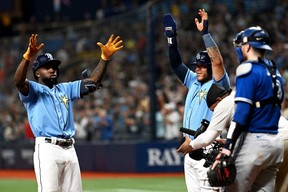 The Rays started off that winning rally when Jays reliever Yimi Garcia issued a leadoff walk to Ji-Man Choi, who was replaced on the bases by Walls. A Miles Mastrobuoni single sent speedy Walls to third and suddenly a typical Rays rally was in play.
And then the type of sloppiness that has haunted the Jays recently essentially sealed it for the Rays. A harmless ground ball from Harold Ramirez that should have ended the inning instead snuck under the glove of Jays shortstop Bo Bichette. The error resulted in an instant insurance run and the Rays added two more before they were done to finish off a four-run inning to blow it wide open.
Article content
MAGIC TIME?
The Jays entered Friday's game with a magic number of eight – any combination of Toronto wins and Baltimore losses – as the most likely scenario to clinch a playoff spot.
And with another loss, they were unable to reduce that number for a third consecutive day.
Blue Jays adjust schedule to have Manoah armed and ready for post-season

Blue Jays' wild-card lead tightens after another poor Jose Berrios outing

Teoscar Hernandez injury revelations not that big a deal for Blue Jays
The Jays have higher aspirations than that, however, although suddenly would be best served to pay attention to the O's, who have won two in a row against the AL-leading Astros and now find themselves 5.5 games in arrears of the Jays.
Article content
"I think that we've put ourselves in a good position going forward, but it's definitely interesting how things change 24 hours at a time," Jays manager John Schneider said before his team's latest flop at the Trop. "But you're definitely scoreboard watching and you're trying to win every series at the same time.
"We're fortunate that if we take care of our own self, we should be in a good spot."
That doesn't mean there are many soft spots remaining on the schedule, however.
After two more against the Rays here this weekend, the Jays return home for three against the Yankees, a series that could be loaded with mayhem. Not only will the Aaron Judge home run history chase descend on the Rogers Centre, but there's a reasonable possibility that the Bronx Bombers could clinch an AL East title while in Toronto.
Article content
"If you can just keep the singular focus of trying to win every series, that's a good thing," Schneider said. "It's definitely every game matters."
GAME ON
Jays starter Mitch White gave up a pair of runs in the first inning but settled down to give his team a decent outing of four innings in which he allowed three runs on five hits … White's exit triggered a procession of four Jays relievers and the suddenly struggling Toronto bullpen surrendered seven runs … Offensively, the biggest blast of the night was a three-run homer by the Rays' Randy Arozarena in the fifth that gave the home squad a 6-4 lead at the time.