Vancouver Mayor Ken Sim said his ABC party would scrap the 25-cent fee per disposable cup unless there was proof it was reducing waste.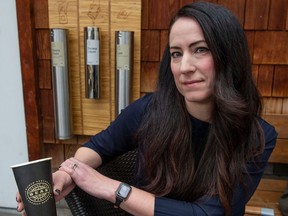 Article content
A plan by Vancouver's ABC-majority council to scrap the city's controversial single-use cup fee is drawing mixed reaction: supporters of the move say the fee is unnecessarily "punitive" for consumers and small businesses, while critics say it's a "tragedy" and backward thinking at a time the city's landfills are awash with disposable cups.
Article content
The debate has left both sides asking how best to deal with the cups, which with sleeves and containers make up 22 per cent of "large litter" (10 cms or bigger) on Vancouver streets, according to Recycle BC.
Article content
"What we've heard from the business community and residents is that the cup fee just ain't working, that it's punitive," Vancouver Mayor Ken Sim said in a state of the city address to the Greater Vancouver Board of Trade this week.
Sim said council would be open to other suggestions to reduce the estimated 82 million disposal cups that are trashed each year in Vancouver. And if not, he said the fee will end, echoing what Counc. Rebecca Bligh said last week of fees being gone before summer.
Any business dispensing a drink in a disposable cup in Vancouver since Jan. 1, 2022, has been required to charge 25 cents, post signage and itemize the charge on receipts. The eatery keeps the fee because the city doesn't have the authority to collect a tax and businesses are encouraged but not obligated to provide alternatives, like glassware or reusable share cups.
Article content
Cody Irwin, who founded ShareWares, one of two main cup-share companies that together have signed up about 100 companies in the past year, said it's a "tragedy" the city is bailing before it's had a chance to change behaviour.
Irwin said he's in talks with companies, including a large corporation he can't name because the deal isn't final, and summer festivals interested offering share cups.
"We're almost there, just months away," from increasing the number of business partners, he said.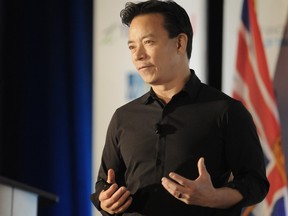 Without the pressure of a fee, has said the momentum building toward wide acceptance of reusables for Vancouver and other cities will be lost. Businesses without a cup-share option have to count and disclose the number of disposable cups used before renewing their 2023 business license
Article content
"This is going to set us back a decade" in waste reduction," Irwin said. "Vancouver could be the leader in circular economy, the most sustaining city in the world."
"Every other city in Canada is looking at us," Irwin said. "This could be the catalyst for change … that could ripple out everywhere. But just to cut the head right off without giving it a chance, it would be a huge shame."
If Vancouver scraps its fee, companies already onside for cup sharing or considering it could bail and other companies and cities might all abandon their plans, too.
"Let's just say if the fee is scrapped and I think they (ABC council members) have the numbers to vote against it, I would say our members would be happy with that," said Greg Wilson of the BC branch of the Retail Council of Canada.
Article content
Small businesses find it time-consuming and costly to comply with the bylaw, he said, and he called it a stick instead of a carrot to get more retailers to change the way they serve drinks.
The RCC is calling for policy that encourage businesses to reduce the number of plastic cups, plastic-lined cups and plastic lids, some of which is difficult to recycle or ends up in the landfill because cups are often tossed into recycling bins with other trash.
"We need more consistency of those recycling bins and collecting systems," he said. "It's easiest if sorting is done at the recycling receptacles."
"I can appreciate it was a pretty unpopular fee," Vancouver Counc said. Pete Fry, who was among councilors who voted for the fee based on engineering staff's recommendation.
Article content
And he said the city could have better explained to consumers that the cost of the cup before the fee was imposed was already included in the price and this policy allowed individuals to avoid paying it by bringing their own cup. Some cafes and restaurants offer consumers a discount for bringing their own cup and some continue to offer both deductions.
The province may have to add a provincewide deposit on cups like the one imposed on drink bottles and cans and other containers.
Jennifer Henry, who founded Perk Eco, a cup recycling company, said there was no evidence the fee significantly reduced cup waste and the answer is recycling more of the disposables.
Her fledgling company, which has 14 cafes signed up, offers a recycling system for cups and lids that ensure they are emptied and stacked in a tube installed in restaurants and recycled and don't end up in the landfill.
Article content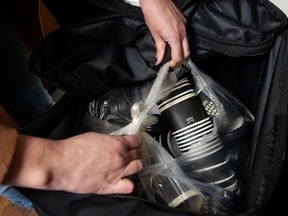 According to the Vancouver city website, "Recycle BC accepts polycoat paper cups in its household recycling program, but many businesses do not accept them because their waste collection companies struggle to access recycling markets."
That's because they're more difficult to recycle because of the plastic lining and because the cups are usually contaminated when they're tossed into bins, even those clearly marked for cups, because other trash and liquids are mixed in, said Henry.
Perk Eco charges a suggested 25-cent fee per cup and she said most cafes use that fee for the recycling costs and break even so the system is revenue- and cost-neutral.
Perk Eco collects the stacks of cups and lids and either recycles them or ships them for recycling in a carbon-offset process.
Article content
"The fee is attached to a meaningful reduction in landfill," she said.
Henry, who is also a member of the Society Promoting Environmental Conservation, said she supports Vancouver's goal of reducing the number of disposals dispensed by restaurants but said a UK study in 2018 that included a CDN 10 cent fee per cup at London Starbucks increased the number of people who brought in their own cups to almost six per cent of purchases, from less than three per cent.
She said the cafes she has signed up, including the Bean Around the World cafe in West Vancouver, an early adopter of the Perk Eco method, found in the past year, there had been a four per cent drop in disposals.
Vancouver's 25¢ fee on disposable cups has raked in millions, but no one can say if it's cutting trash volumes

Customers bring own cups or 'share' one to avoid new Vancouver fee for disposables

When it comes to disposable cups, old habits die hard: Study
---
Support our journalism: Our in-depth journalism is possible thanks to the support of our subscribers. For just $3.50 a week, you can get unlimited, ad-lite access to The Vancouver Sun, The Province, National Post and 13 other Canadian news sites. Support us by subscribing today: The Vancouver Sun | TheProvince.