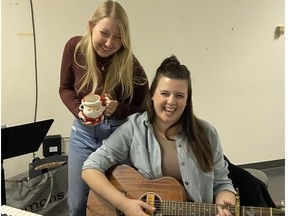 Reviews and recommendations are unbiased and products are independently selected. Postmedia may earn an affiliate commission from purchases made through links on this page.
Article content
Elves don't just make toys and candy, bake cookies and tend to reindeer. Sometimes they write musical comedies.
Article content
Lunchbox Theatre's holiday musical, Home for the Holidays, which runs in the Vertigo Studio Theater from Nov. 29 to Dec. 18, was written by Cayley Wreggitt and Alixandra Cowman who met three years ago when they were playing elves at Market Mall's Santaland.
Article content
"I wrote the play five years ago at university when I was taking Clem Martini's writing course. The assignment was to set the play in a place where people can bond under weird circumstances. I chose an airport at Christmas where the flights are canceled because of a storm and where four strangers try to make an impromptu Christmas," says Wreggitt.
She has stranded her four strangers at the Orlando airport. They are all headed to Calgary where a storm has closed that airport. Other people were able to fly to their destinations but not these four unhappy passengers.
Article content
"It's really late at night and nothing in the airport is open, so they have to scrounge to find a Christmas tree and that's not easy in Orlando. They're also on the hunt for Christmas lights and Christmas presents."
The impromptu quartet consists of the ever-enthusiastic Ella, the grinchy Nick, an absentminded grandmother named Maureen and a businesswoman named Noor.
"People who've read the play and actors in the workshops we had kept telling me that there's a lot of me in Ella," says Wreggitt, who admits "my fiancé can be a bit grinchy but also loveable so maybe that was the inspiration for Nick.
"There's a lot of my grandmother in Maureen, especially her forgetfulness, and Noor is a compilation of many people I've met who seem fixed on their job."
Article content
Every feel-good musical needs some conflict and Wreggitt say that's the role Nick plays.
"Nick isn't on board with this whole idea of ​​creating an impromptu family. The other three have to try to get him on board, and to find out why he is so reluctant."
Wreggitt says she was familiar with Cowman's music when they met and felt "Alix could bring something really special to my script. I hadn't originally envisioned Home for the Holidays as a musical, but I knew Alix could help me make it into one."
Cowman says she jumped on the project "because Cayley was so flattering. I couldn't say no, and I'd always wanted to write a musical.
Cowman says she's been writing songs since she was a kid which is what brought her to the Rosebud School of Arts to study music and theatre. Last season, she starred in Alberta Theater Projects' Alberta Kitchen Party and in Rosebud's Songs for a New World.
Article content
Cowman has written 10 songs for Home for the Holidays, most of which are Christmas-themed such as Christmas Miracle, Home for the Holidays, We Need a Tree, I Don't Understand Christmas and Secret Shoppers.
"Because this was Cayley's and my first attempt at writing a musical, it's been a baptism by fire, but we've had incredible support and encouragement from Lunchbox Theatre's Stage One and Stage Two workshops."
One of the duo's mentors was Lunchbox's artistic director Bronwyn Steinberg, who is directing this world premiere and who cast Emily Dallas as Ella, Eric Wigston as Nick, Valerie Pearson as Maureen and Sepidar Yeganeh Farid as Noor.
Home for the Holidays runs in the Vertigo Studio Theater at the base of the Calgary Tower with preview performances on Nov. 29 and 30 and an official opening on Dec. 1. Tickets range in price from $21 to $31 and can be purchased in advance at lunchboxtheatre.com.