Quebec unions worry a lack of sick days could lead to employees working even if they are ill.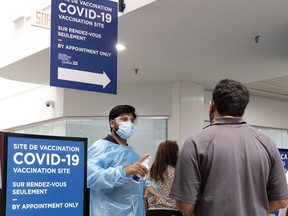 Article content
Quebec's three main union alliances are calling upon the provincial government to create a bank of 10 additional COVID-19 sick days for those employees unable to work from home because of the nature of their job.
Article content
The Fédération des travailleurs et travailleuses du Québec (FTQ), Confédération des syndicats nationaux (CSN) and the Centrale des syndicats du Québec (CSQ) said in a statement Thursday that the existing number of sick days available to workers in the health, education and daycare sectors is insufficient. The unions worry the lack of additional sick time could lead to employees working even if they are ill with COVID-19 because their jobs do not allow them to work from home.
Article content
Citing recent statements by Health Minister Christian Dubé that employees should do their best not to transmit respiratory viruses, the unions note that in order for workers to follow that advice, they should be given working conditions that allow them to do so.
Article content
The unions argue that the surge in the case counts of viral infections have cut into the existing number of sick days afforded employees and some members infected with COVID-19 have admitted to going in to work so they will not be penalized.
The labor alliances point out that the federal government has already allowed its employees an additional 10 sick days by amending the Canada Labor Code, a move that goes into effect Dec. 1 and prevents workers from having to decide whether to stay home when sick or lose a day's pay.
The FTQ, CSN and CSQ say they represent about 1.14 million workers in Quebec's public and private sectors.
Hanes: Isn't protecting our children a good reason to wear masks again?

Quebecers urged to mask up against holiday season 'virus cocktail'

Opinion: Paid sick leave is a powerful public health tool