'LGBTIQ+ communities won't be held down — we will organize, fight for our rights, and heal together.'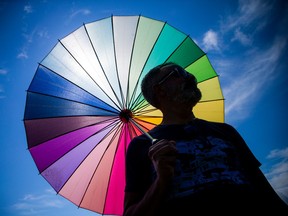 Article content
Sunday Nov. 20 was the annual trans day of remembrance. A day to remember and honor the lives stolen by violent anti-trans bigots. When it was first instituted, in 1999, the young adult now accused of killing five people and injuring 17 more at an LGBTQ club in Colorado Springs hadn't yet been born. It's time to stamp down this violence.
Article content
I am pleased that our new mayor, Mark Sutcliffe, attended a vigil Sunday night at the Canadian Tribute to Human Rights monument. As huh tweeted, "gender-based violence has no place in our society." Capital Pride hosted a separate vigil for community members Thursday night.
Article content
Since 1999, according to activists, anti-trans violence has killed 300 people, with 2021 being the worst year on record. Newly elected Somerset Coun. Ariel Troster noted on Twitter how "sad and enraging" it was that reading out the names of last year's victims at Sunday's vigil took an hour.
As a long-time queer activist, she's used to nasty comments online. But it has been much worse in the last six months to a year. She has noticed a "significant change in the tenor of comments" in that period, she told me. In particular, there has been a worrying uptick in the number of accounts spreading hateful messages about LGBTQ people "grooming" children for nefarious purposes. Such comments are "designed to incite anger and violence," she says.
Article content
The "grooming" accusation is far from innocent. It is a dog whistle, designed to radicalize bigots into more violent action. Not that every person who utters this kind of wild slur engages in physical violence. Of course not. But every person who engages in anti-LGBTQ physical violence starts with the verbal kind.
Many of you will remember QAnon's hysterical conspiracy theory according to which Hillary Clinton was capturing young children to be used as sex slaves and hiding them in the basement of a Washington pizzeria. It caused a man to drive from North Carolina and open fire at the pizzeria — which by the way has no basement — to save children who not only weren't prisoners but weren't in the non-existent basement either. (Short pause here to say that if we care to protect children from adult sexual predators, we could start by prosecuting the documented cases of rape and sexual abuse committed by some Christian clergy.)
Article content
Anyway Troster, noticing that Ottawa-based Shopify was allowing "Stop grooming our kids" merchandise on its platform, challenged founder and CEO Tobi Lütke to take it down, given that it's hate speech that contributes to radicalizing people up to and including physical violence.
Shopify declined to take down the e-store. It's upsetting and disappointing. This rhetoric contributes to queer people being targeted for physical violence and death. It's hate speech. It has no business on any platform. Take it down.
I'm done pretending we can ignore this sludge. Hate speech — targeting queer people or anyone else — needs to be confronted and denormalized. It must be challenged at every turn and I, for one, will never not speak up.
Article content
I'm not alone. On Wednesday and Thursday, 150 activists from around the world descended on Sussex Drive to join a Dignity Network conference to discuss how Canada can be a leader in this space.
"Across the world, from Uganda to Canada and beyond, homophobia and transphobia are hurting our communities," says Pepe Onzeima of Sexual Minorities Uganda. "But we are devoted to changing this by healing our communities, building the supports we need, and ensuring our rights and safety are upheld."
In the face of rising homophobic and transphobic hate, adds Dignity Network's executive director Doug Kerr, "LGBTIQ+ communities won't be held down — we will organize, fight for our rights, and heal together."
Fight for everyone's human rights, starting with the right to live your life without fear of violence. Silence enables bigots, hatred and violent attacks. Speak up, please. So we can stop counting dead bodies and celebrate live ones.
Bridget Pellerin is an Ottawa writer.
Suleman and McLaren: To help sick children, give their caregivers paid sick days

Hameed and Saeed: End the detention of immigrants in Ontario jails