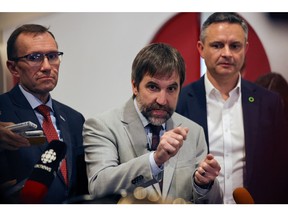 Article content
Although COP27 ended with an implementation plan that did not include a statement to phase out oil and gas, Environment and Climate Change Minister Steven Guilbeault was criticized for not backing the call to phase out fossil fuels. However, he didn't need to: Guilbeault said that with "a record level time to develop regulations" Ottawa will have a solid emissions cap for oil and gas production by the end of next year. Here we argue that this regulatory approach would have material implications for the Canadian economy and our energy security.
Article content
Ottawas July 2022 discussion paper offers two equally unacceptable options: a cap and trade system for the oil and gas sector or modifications to the current carbon pricing regime to selectively target oil and gas production: "In order to ensure that the desired emissions reductions from the oil and gas sector occur , it would be necessary to not permit, the trading of surplus credits … between oil and gas and other sectors."
Article content
So much for "net" zero! Clearly, it is Ottawa's goal to achieve an absolute reduction in Canadian oil and gas production — one that would result in diminished Canadian security and higher energy costs.
A recently MAY study ran three scenarios against the cap and trade policy option outlining the economic loss from a narrow cap and trade system that doesn't allow trading. The results ranged from a "$44.8-billion reduction in revenues for the oil and gas industry just for the year 2030. In Scenario 1, the reduction would be over $79 billion."
Article content
The authors also note: "Considerable additional economic losses could occur before 2030, depending on the speed at which the cap is lowered." The proposed cap, aimed at maintaining levels achieved in 2019, would require a reduction of 42 per cent in GHG intensity or, should this not be achieved by 2030, a reduction in production of 42 per cent.
The study also concluded that these policies would actually impair Canada's chances of achieving carbon neutrality by 2050, coming at a time when Canadian federalism has been steadily alienated with provinces turning to the courts for relief from federal regulatory policies that encroach on provincial constitutional jurisdictions. Recall also that the emissions cap would add to Ottawa's existing, significant GHG regulatory burden — measures that include the carbon pricing program, the Clean Fuel Standard and new methane regulations.
Article content
Then there is the very real issue of national and global energy security. Canada is embarking on policies that ignore Europe's energy policy mistakes and risks repeating them. The proposed emissions cap would contribute to energy scarcity and take responsibly produced Canadian oil and gas off the market.
Western economies have been forced, at great cost, to secure alternative energy supplies and turn to hostile and potentially hostile nations like Russia, Iran or China for their energy needs, while developing nations are seeking secure, reliable energy to facilitate their economic growth for their own energy futures. Ash one energy expert points out "if you don't have energy security, you don't have national security. Energy security is geopolitical leverage."
Article content
While some argue for accelerated investment into renewable energy, others note that the sources for essential materials are increasingly controlled by China, the world's largest manufacturer of these energy systems. Because Canada is a net exporter of oil and gas, reducing production would effectively swap energy independence and responsible production to become more dependent on China, which some have said is exploiting developing nations for the raw and infrastructure materials used for renewables.
Meanwhile, China, Venezuela, Russia, Iran and India collectively represent well over half of global emissions, which are still rising, as Canada attempts to strangle its emissions and production. By comparison, the US and Mexico are seizing the opportunity to access Canadian hydrocarbon resources through existing pipeline networks for export. In addition to burgeoning US export capacity, five Mexican LNG export projects proposed to export two billion cubic feet per day (bcf/d) are coming online in 2024-2027 just at a time when China has signed a 27-year LNG deal with Qatar for an annual 194.8 billion cubic feet of LNG while Canada continues to drop the energy export ball.
Article content
Goldy Hyder, president of the Business Council of Canada, recently commented that "India, South Korea and Japan need natural gas and the absence of Canada's liquefied natural gas projects from the (recently announced federal Asia) Strategy was a 'big miss.'"
While Ottawa continues to focus on the gross amount of Canadian greenhouse gas emissions, one has to question if capping our emissions will have a material effect on global temperatures. Even the PBO says no.
In light of this experience and evidence, Canadians should be counseling Ottawa to carefully reconsider its planned attempt to cap oil and gas emissions.
Ron Wallace is an executive fellow of the Canadian Global Affairs Institute and the Canada West Foundation. Tammy Nemeth is a UK-based strategic energy analyst.