Voters must not let his opposition to Bill 96 obscure what he and his Conservative Party of Quebec stand for.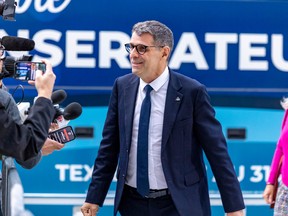 Article content
For those concerned Quebec could be at risk of the same polarization, disinformation, and dangerous rhetoric that is harming democracies in other jurisdictions, the current election has not been a cause for optimism.
Article content
First, Coalition Avenir Québec Leader François Legault was forced to apologize for comments he made linking immigration with extremism and violence. That was followed by another apology to the husband of Joyce Echaquan for stating in the first leaders debate that racism at the Joliette hospital was "settled." That same debate was marred by the use of the N-word by PQ leader Paul St-Pierre Plamondon, with Québec solidaire co-spokesperson Gabriel Nadeau-Dubois weakly accepting Plamondon's dare to repeat it.
Article content
For anglophones, allophones and Indigenous communities, such rhetoric is likely to increase anxiety, particularly against the backdrop of the CAQ government's passing of Bill 96 and Bill 21 in their last term.
Article content
As imperfect as it may be, the Quebec Liberal Party is alone among the established parties in at least recognizing the threats to minority rights.
Into this political environment enters the upstart Conservative Party of Quebec (PCQ) and its leader, Éric Duhaime. Duhaime has been aggressively courting anglophone voters, in particular citing his opposition to Bill 96, part of what he calls his defense of "individual freedoms"
Freedom has become a popular political talking point throughout Canada in recent months, owing to opposition to COVID-19 public health protections. Duhaime himself has been at the forefront of this opposition, referring to measures which included vaccine requirements and masks in public places as "health extremism."
Article content
Risking the lives and well-being of others — including seniors and those with underlying health issues — so as not to cause inconvenience is a curious issue to champion if you seek to position yourself as a defender of minority rights. Yet this is not the only contradiction.
The former "poubelle" radio host and contributor to alt-right Rebel Media, Duhaime has a troubling history of insulting those who are different. He has disparaged the Black community, denied the existence of system racism, claimed women's advocacy organizations are "discriminatory", and referred to someone leaving a severed pig's head outside the Islamic Cultural Center in Quebec City — the same mosque that was the site of a hate-motivated mass shooting just months later — as a "joke".
Article content
Duhaime, who has campaigned against "censorship in Quebec," is not alone on this. A significant number of his party's candidates have spread medical misinformation and conspiracy theories online. Such disinformation may have harmful effects on public health and safety.
Beyond the rhetoric, the stated policy positions and platform of the PCQ are cause for alarm. Immigrants to Quebec should be accepted based on their "civilizational compatibility." School funding would be directed by parent "choice," without mention of guaranteed public funding for minority language education. Regulations — the important details in ensuring safety and fairness in health care, the labor market and the environment, among others — "may be necessary as guidelines"; in other words, not necessarily enforced by law.
Article content
The PCQ's connections to online organizations that have aggressively amplified its messages, the ties between those groups and oil and gas industry sources outside of Quebec, and the PCQ's position on climate change — the only party to refuse to commit to emission reductions in a legendary province for citizen marches on the issue — casts further doubt on its populist claims.
A society that truly cares about the rights of all its members promotes a discourse of respect and reason, not cruelty and conspiracy, believes modest sacrifices from the strong are necessary to protect the weak, and works to foster hope and equality, not to sow distrust and division.
On election day, anglophone Quebecers should reject the offers of Duhaime and the PCQ.
Christopher Holcroft is a Montreal-based writer. He can be reached at christopherholcroft@hotmail.ca.
Duhaime calls for strategic vote to get him elected in Chauveau riding

How far right is Conservative Leader Eric Duhaime? His past offers clues