Notley and Premier Jason Kenney both made speeches to the Alberta Municipalities convention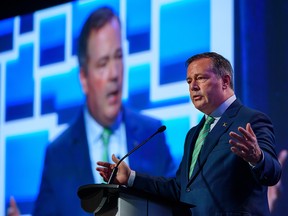 Article content
The leaders of Alberta's two largest provincial political parties made their final remarks to a full delegation of municipal leaders Friday before next year's general election is held.
Article content
Alberta Municipalities held their 2022 Convention and Trade Show in Calgary this week, wrapping Friday with remarks from NDP leader Rachel Notley and Premier Jason Kenney. The 2022 conference is the final iteration prior to the 2023 provincial election.
Article content
Notley said if her party was elected to government, it would scrap any and all plans to replace the RCMP with a provincial police force — an initiative being considered by the current UCP government but has been officially opposed by Alberta Municipalities — while also outlining an NDP government would create a formula that would propose a predictable funding model for municipalities.
"I am not going to blow up the RCMP," said Notley to a round of applause from the more than 1,000 delegates in attendance. "Let me be clear, I won't do another study. I won't think about it, I won't delay it and I won't say one thing now and do another thing after the election. I simply won't do it because it was never a good idea."
Article content
Meanwhile, outgoing Premier Jason Kenney spoke to the crowd about the recovery of the provincial economy following the COVID-19 pandemic. He outlined a number of multimillion-dollar investments being made in the province, such as De Havilland announcing this week it would build a manufacturing plant east of Calgary.
He said the best way for municipal leaders to work with the province to address their needs is to come to the table with solutions, not just complaints.
"We need to work to find practical solutions, workable, affordable solutions to the very real public policy challenges that we face and I generally found that to be the case while working with you," said Kenney. "I know that there are frustrations with our government, but I think most of you also understand that we had to get our finances in order."
Article content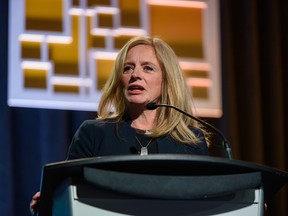 Kenney recommended that whoever is chosen as the next leader of the UCP should ensure they are able to travel across the province and get back to meeting with municipal leaders, something he said was lost during the pandemic. He received a standing ovation upon the conclusion of his speech.
Cathy Heron, president of Alberta Municipalities and the mayor of St. Albert, said the full convention was a busy few days where over 20 resolutions were passed on everything from transportation to infrastructure costs. She said the message her members sent to leadership hopefuls was that local governments want to be seen as partners with the province.
She said there is a lot of uncertainty at the moment between municipal governments and the province around infrastructure funding, policing costs and uncertainty about who will be leading the government.
Article content
"There were 1,100 delegates here representing 192 different municipalities. I do believe we've made our best effort to let the leadership in the province know what we need to hear from them and what our values ​​are and what we're looking for in solutions" said Heron.
'No thank you': Rural mayors ramp up opposition to UCP's proposed provincial police force

UCP government continues to promote the idea of ​​provincial police force
Heron said municipalities would like to use part of the current provincial surplus to address a drop in infrastructure funding that is set to come in place. She would also like to see a funding formula that would see local governments have their funding increase when provincial coffers grow and shrink when provincial revenue slows.
She said Alberta Municipalities will be looking to meet with the new leader of the UCP shortly after they take their new position and noted the organization's leadership group is meeting shortly before Albertans are to head to the ballot box.
"We'll probably take full advantage of that getting both parties and both leaders in front of us and we'll get our issues in front of them right before an election," Heron said.
dshort@postmedia.com