It targets Holocaust denial, stereotyping through conspiracy theories and calls for people to be killed based on their Jewish identity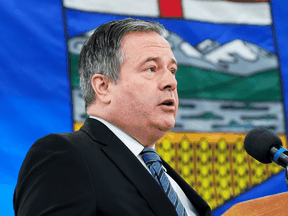 Article content
Alberta will adopt an international definition of antisemitism that's drawn criticism from human rights organizations and academics but is supported by various governments and international agencies.
Article content
On Friday, the Alberta government said it's adopting the International Holocaust Remembrance Alliance's definition of antisemitism in a bid to combat hatred against Jews that Premier Jason Kenney and the Jewish community say has risen in recent years.
Article content
"Antisemitism is the most pernicious and durable form of hatred in human history," said Kenney, adding 14 per cent of hate crimes in Canada target Jews, who make up less than two per cent of the population.
"Today, we continue to see a spirit of antisemitism manifest itself around the world, including Alberta."
The document, which defines antisemitism as "a certain perception of Jews, which may be expressed as hatred toward Jews. Rhetorical and physical manifestations … are directed toward Jewish or non-Jewish individuals and or their property, toward Jewish institutions and religious facilities."
Article content
It targets Holocaust denial, stereotyping through conspiracy theories and calls for people to be killed based on their Jewish identity.
"The Alberta government believes it's important to use every tool at our disposal to join the fight against this deeply rooted hatred," said Kenney.
Provincial officials say the definition will affect government policy, including education and law enforcement, and Justice Minister Tyler Shandro said the next step is to discuss its implications with municipal governments.
Several Alberta and national Jewish leaders lauded the province's ratification of the definition as vital in clarifying what antisemitism is in the face of widespread racism.
"This is urgently needed … we can't fight it if we can't define it," said B'nai Brith Canada CEO Michael Mostyn.
Article content
The Edmonton Jewish community doesn't feel safe when gathering and the IHRA document adds a sense of security, said Stacey Leavitt-Wright, CEO of the Jewish Federation of Edmonton.
"The definition provides concrete, comprehensive examples of both historical and contemporary antisemitism," she said.
They noted the definition has been adopted by the Canadian government and Ontario, Quebec and New Brunswick and is supported by the EU, UN and 35 other countries.
Disagreements over Israel, antisemitism definition threaten to divide federal NDP ahead of convention

'A disturbing new normal': How Jewish Canadians are reacting to spate of antisemitic violence
Much of the IHRA definition includes certain criticisms of Israel, such as calling that state a racist endeavour, its contemporary policies Nazism or other ways of condemning the Jewish state not used against other countries.
Article content
While the document states criticism of Israel similar to that brought against other countries doesn't amount to antisemitism, critics contend it would suppress condemnation of that country's policies and practices towards Palestinians that they say are racially based, particularly in the areas occupied militarily by Israel .
"We believe criticism of Israel and its illegal occupation of Palestine is not antisemitic and we also believe Israel is an apartheid state," said Calgarian Miriam Meir, a member of the group Independent Jewish Voices, adding she lived in Israel and the West Bank for 15 years.
Another critic said she fears the definition, which she called "very interpretive," will lead to a crackdown on pro-Palestinian campaigns such as those calling for boycotts and divestment of Israel designed to force that country to end its occupation and oppression.
Article content
"People are in fear … it's a sort of censorship … it's really focused on (protecting) the state of Israel," said Annette Lengyel of the group Justice For Palestinians.
She also said the definition was adopted by the provincial government without any kind of debate "and is not democratic."
Kenney rejected those notions, saying he doesn't agree with everything Israel does, "so that criticism isn't antisemitic."
In 2019, Calgary's city council enshrined an annual Holocaust Day of Remembrance but excluded any mention of the IHRA definition of antisemitism after considerable debate about its potential impacts on freedom of speech.
The announcement comes a day after the UCP government said it was embarking on a study to gauge the impact and scope of all types of hate crimes in Alberta.
Article content
The $250,000 effort will be carried out by the Organization for Prevention of Violence and the Alberta Hate Crimes Committee with a plan to issue a report with recommendations on how to combat the scourge in early 2023.
But NDP justice critic Irfan Sabir called the plan a delaying tactic and a substitute for taking the kind of meaningful action that's already recognized.
"The UCP government has refused to take action to address rising racism and hate crimes in our communities. This study and engagement process are just more stall tactics by the UCP," Sabir said in a statement.
"The Alberta Anti-Racism Advisory Council made dozens of recommendations to the UCP government on ways to address racism. Instead of another study, the UCP needs to come forward with a plan on how they will implement these recommendations."
BKaufmann@postmedia.com
Twitter: @BillKaufmannjrn