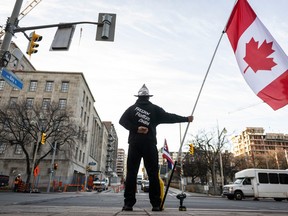 Article content
It wasn't the Russians, or the Chinese. And it certainly wasn't some criminal organization that stumped up those big bucks.
Article content
Nope, the folks who came up with the bulk of the cash supporting that now famous Freedom Convoy of Ottawa-bound truckers — unknowingly putting themselves in danger of having their personal bank accounts frozen — were ordinary Canadians.
Article content
For many Albertans, this is hardly a revelation. After all, whatever distress the truckers eventually caused the good people of Ottawa back in February when their street-blocking protest overstayed its welcome, the convoy was conceived and launched as a sincere grassroots protest against the frustrations of abiding by ever-changing COVID-19 regulations that put their livelihoods in jeopardy.
As such, it touched a lot of regular folk to deem this a cause worthy of a few bucks. If otherwise, the money that started arriving in to the truckers' GoFundMe account would have remained a trickle. Instead, it became a flood.
Article content
But at the federal level, how to explain such support? So, after first ignoring and then pooh-poohing the whole enterprise, the Liberal government and its media sidekick, the CBC, began questioning and subsequently denigrating these burgeoning donations.
Because this was actual cold hard cash being pledged, totally unlike those nebulous billions upon billions Trudeau's regime merrily conjured from the thin air that apparently surrounds Bank of Canada printing presses — before spraying it around to everyone with a pulse (and some even lacking that pre -requisite) who also possessed the singular ability to mark an X on a future ballot paper.
In short, the flood of individual donations was something politicians had trouble fathoming. To them this appeared revolutionary — people putting hands in their own pockets, not holding them out for a grant or loan?
Article content
Such sacrilege could not stand. Therefore any suggestion this was a popular response by Canadians in aid of fellow citizens must be challenged. Ah yes, perhaps the $10 million that flowed to the truckers before their GoFundMe account was shut down was actually an underhand operation, funded by foreigners aiming to destroy Canadian democracy itself.
Maybe, as our national broadcaster CBC suggested on air, it was "Russian actors" fueling things. (Some modern-day Anton Chekhov being their ring leader perhaps?)
Well, we finally got the truth last week, when Tory MP Larry Brock questioned GoFundMe general counsel Kim Wilford before the ongoing Public Order Emergency Commission probing Trudeau's use of the Emergencies Act to throttle the protest — the first time such legislation was invoked in its almost 40-year history.
Article content
When asked, Wilford agreed there was no evidence any donation arose from criminal activities — something the prime minister stated as fact to the House of Commons back in early February, after the truckers arrived in Ottawa.
Justin Trudeau also told MPs the convoy was receiving heavy financial backing from the US and around the world — roughly half the donated cash flowing from south of the border. That was total twaddle as well, though again, it would form part of the reasoning for invoking the Emergencies Act.
Instead, Wilford said almost 90 per cent of money pledged came from Canadians and of the entire 133,000 people who donated only 18,000 lived beyond our borders — 14,000 of them in the US and the rest, a mere 4,000, spread over 80 other countries, with less than a handful, at most, from Russia and seemingly none from China. As nefarious foreign plots go, this was a total non-starter. (Incidentally, the largest donation was for $30,000 and a Canadian made that as well.)
So, finally, we'll hear from the man himself. Yes, Trudeau is due to appear before the inquiry in the next few days to explain his government's actions.
Will we even hear the semblance of an apology for such legislative overreach or for telling tall tales in the House of Commons?
Well, the man loves an apology, of course. It'll be his political legacy, though strangely it's always other Canadians he conveniently saddles with blame. Will this time be different? Don't hold your breath.
Chris Nelson is a regular columnist for the Calgary Herald.