Davies was at the receiving end of a few heavy tackles in a 2-0 win against Qatar in Vienna on Friday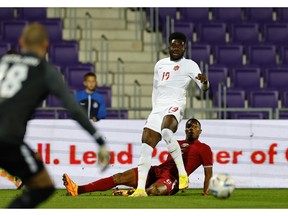 Reviews and recommendations are unbiased and products are independently selected. Postmedia may earn an affiliate commission from purchases made through links on this page.
Article content
VIENNA, Austria — Canadian men's national soccer team head coach John Herdman must hold his breath every time an opponent tackles star winger Alphonso Davies.
Article content
The rest of the country sure does.
Article content
Davies was at the receiving end of a few heavy tackles in a 2-0 win against Qatar here Friday and kept having to pick himself up.
Davies eventually limped off the field in the 60th minute after a hard challenge, but Herdman did not seem too concerned in the post-game media conference.
Article content
"He was due to come off in the 55th minute, so I was a bit frustrated he hadn't come off by the time he took that knock," Herdman said. "We're assessing him now; he seemed OK on the bench, he seemed OK after the game and he was in good spirits, so I don't think there is anything too worrisome yet."
Article content
Such is good news for Canada, who have two exhibition games remaining before kicking a ball at a men's World Cup tournament for the first time since 1986.
Canada will face Uruguay in Bratislava, Slovakia on Tuesday and then take on Japan in Dubai, UEA on Nov. 17, six days before its World Cup opener against Belgium.
Article content
Earlier in the game against Qatar, Davies was cracked on the ankle after flicking the ball to Jonathan David for Canada's second goal. Davies was slow to get up to join the rest of his team in celebration.
"We might have to wrap those players in cotton wool," Herdman told OneSoccer. "But at the same time, they're pretty tough."
By all indications Davies should be good to go against Uruguay, who represent Canada's best opponent since traveling to face Argentina in 2010, and being dismantled by Diego Maradona's men 5-0 in Buenos Aires.
Herdman will also have to make a decision on winger Tajon Buchanan, who is nursing a quad injury sustained in preseason with his Belgian side, Club Brugge. Buchanan is with the team, but did not play against Qatar.
Article content
"We had a feeling he might be available for this (international) window and Brugge did a good job of just holding him back and not risking him," Herdman said. "We've supported that as well. He probably could have been on the bench (Friday), but he's so important to this country, it's about doing the right him by him.
"He'll be part of the squad for Uruguay, he's expected to get minutes in that game, but we have to make sure it's the right moment and make sure that he gets through these last four games, but not risk him. I'm not prepared to do that. If I feel it's not the right time, we might just have to wait for Tajon for a bit longer."
STEP UP IN WEIGHT CLASS
Considering Qatar lost 3-0 to the Croatia Under-23 team Tuesday in Austria, perhaps it wasn't all that surprising Canada dominated the World Cup hosts Friday.
Article content
Yet, that will not be the case against Uruguay on Tuesday in Bratislava, Slovakia. The 15-time South American champions are the toughest opponent Canada has faced in over a decade and they'll be in a bad mood after losing 1-0 to Iran on Friday in Sankt Polten, Austria.
Uruguay gave up a goal with 11 minutes left, in a game they otherwise dominated. Uruguay had 64 per cent of the possession, outshot Iran 15-6 and had five corner kicks to none for its opponents.
"We're super excited," said Canada midfielder Samuel Piette. "Our main focus since we got here to camp was Qatar, because we take it one game at a time. But this is job done and moving forward it's going to be Uruguay and it's going to be a really tough test.
"They lost and so they're going to come out pretty hard. We know this is a physical team that likes to battle, so we'll prepare physically to face them physically, but we will be tactically ready as well."
Article content
Uruguay's lineup Friday against Iran featured star striker Luis Suarez, who after an outstanding career in Europe has returned to play back home with Club Nacional de Football. When not biting opponents, Suarez is one of the best strikers in the world and has 68 international goals in 133 matches.
"That's what you play for, we have an opportunity to test ourselves against one of the top teams in the world," said Canada center back Steven Vitoria. "These are the opportunities that we look for and we're excited about it."
THROWING SHADE ON NIKE
After scoring Canada's second goal, David celebrated by covering up the Nike logo on his jersey, seemingly, as a protest for the team not getting a new uniform for the World Cup.
Article content
Canada is the only country of the 32 teams participating, who are not getting a new uniform design for the World Cup.
Nike has been Canada's official uniform supplier since 2018 and stated there was not enough time to develop a new look for the team once it officially qualified. Last week, when introducing 12 other new uniform designs, Nike said regarding Canada:
"The 2022 Canada kit will be the same the team has worn throughout the past year, as Canada Soccer is on a different kit development cycle. The kits are highlighted by Canada's traditional red and white color scheme and are accentuated by the Canadian Soccer crest, featuring the maple leaf, the nation's most widely recognized symbol."
Canada is expected to wear all three of its current jerseys (red, white, black) for its three Group F games in Qatar.