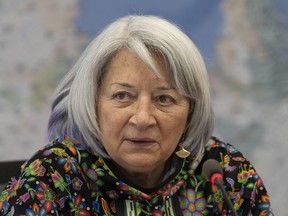 Article content
An in-flight catering bill of almost $100,000 from a 2020 trip to Dubai for Governor General Mary Simon and 30 others is raising eyebrows in Ottawa.
Article content
Global Affairs Canada has conceded that some of the costs on that catering tab are concerning.
Article content
The eight-day trip to Expo 2020 in Dubai involved a catering bill of $93,117.89 for the group.
The bill included "cost of food, non-alcoholic beverages and associated fees, including catering handling and delivery, storage, cleaning and disposal of international waste, airport taxes, administrative fees, security charges, and local taxes," according to the document obtained by Conservative MP Michael Barrett.
(Later, the bill was amended and the Department of National Defense, which handled the catering, said the real cost was closer to $80,000 for all 30 travelers for the eight days of flights.)
Earlier this week, MPs asked to see actual menus, as the average price of a meal worked out to $218 per person for every meal — breakfast, lunch and dinner.
Article content
According to Blacklock's Reporter, another Conservative MP, Pierre Paul-Hus, asked, "We'd like to know whether we are dealing with caviar and champagne. What kind of meals are we talking about here?"
RECOMMENDED VIDEO
MPs on the government operations and estimates committee were told Thursday by deputy secretary to the Office of the Governor General's secretary, Christine MacIntyre, that the meals were nothing special.
"The meals we were given are the types of meals you would get on a commercial flight," she said.
MacIntyre said the office was "extremely concerned" when the costs came to light and would make the required changes to ensure it doesn't happen in future.
In some cases, however, there are airports and cities where only a single caterer is available, and that gives the caterer a monopoly on costs, according to Commander of the Royal Canadian Air Force Lt.-Gen. Eric Kenny.
Article content
He told MPs about these extenuating circumstances, also explaining that catering costs in Qatar and the United Arab Emirates are quite high.
RECOMMENDED VIDEO
The catering bill was first reported in a National Post story that ran in June of this year.
"Did anybody look at the price and say, 'Oh my God, this is an astronomically high price for this small number of meals'?" asked Liberal MP Anthony Housefather, who wanted to know if any attempt was made to change the menu or negotiate the prices.
But as Kenny explained, in cases where only one caterer was available, there was no negotiation.
The federal government is working to make sure costs like this don't happen again.
Global Affairs Canada is setting up new guidelines for in-flight catering costs and some changes to catering protocol have already been made.
In the face of inflation, a health care collapse and the ongoing climate crisis, the amount of time MPs intend to devote to food and drink items consumed two years ago remains unknown.