Analysis: Vancouver Mayor Ken Sim envisions a Vancouver with "renewed swagger" — what does that mean?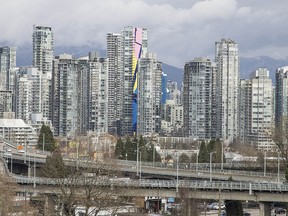 Article content
For one of his first major speeches as mayor of Vancouver, Ken Sim chose to zero in on swagger.
Article content
"I envision a Vancouver in the not-so-distant that is super-exciting again. A Vancouver with a renewed swagger," Sim told a packed Fairmont Hotel Vancouver ballroom at the Greater Vancouver Board of Trade's "state of the city" event Tuesday. "A Vancouver with a buzz about it, with an electric feeling in the air."
Article content
Later in the event, in a question-and-answer period, board of trade CEO Bridgitte Anderson raised Sim's use of the word "swagger." Sim replied that he got "a little grief" from his team, who he said "actually wanted to pull the word 'swagger' out of the presentation."
So it seems like it was important to the mayor to include swagger in his address Tuesday to hundreds of local business leaders. It raises a few questions: is swagger actually important? Even in a city grappling with multiple serious crises? What are we even talking about here? Are our swagger levels unacceptably low? Too high? And what can or should be done about it?
Article content
Swagger can have different definitions, and sometimes negative connotations. To some ears, it could denote arrogance or aggression. On Tuesday, Sim said swagger, in this context, means pride. He hopes that over the course of his four-year term that Vancouverites will be more proud of their city than they have been recently.
In recent years, Vancouver has slid down dozens of spots in the ranking of the world's best cities compiled annually by Resonance, a consultancy firm with offices in Vancouver, Montreal, New York and Singapore, providing advisory services in real estate, tourism and economic development .
In fact, for the first time in the eight years Resonance has compiled its "best cities" ranking, the 2023 report placed Calgary, in 65th, ahead of Vancouver, in 69th.
Article content
Vancouverites are rightly proud of how "livable" their city is, says Resonance CEO Chris Fair, who is based in Vancouver. Vancouver has stunning natural beauty, and is more safe and walkable than many similar-sized or larger cities.
However, Fair said, "oftentimes, people confuse livability with lovability."
Vibrancy, he said, is an increasingly important factor that helps attract people and investment to places like the cities Sim's speech mentioned by name: Miami, Austin, Tex., London, England, and Hong Kong (all of which outrank Vancouver in Resonance's list ).
"We've never been known as the most fun city. When you think about swagger, that's probably starting to catch up with us a little bit. We've rested on our livability laurels for too long and need to start to think about how we keep pace with the Miamis, the Austins, the Nashvilles of the world," Fair said.
Article content
"These cities have vibrant cultural scenes and are attracting talent, and startups are forming around that. There's an increasing convergence between the factors that make a city desirable to visit, that are also making it desirable to start and grow a business. I think that's probably where Vancouver hasn't changed so much, but the rest of the world has changed."
In Sim's vision of that economic and cultural vibrancy, the technology industry plays a big role. Coincidentally, Sim is expected to introduce a motion at a city council meeting next week that would direct staff to develop strategies to support "tech hubs and clusters" in the city.
To Charles Montgomery, an urbanist and internationally renowned Vancouver-based expert on happiness in cities, "a city with swagger" is "one that is bold and curious and adventurous enough to try new experiments to tackle its big challenges."
Article content
Vancouver's biggest challenges include social disconnection, housing affordability and inequality, said Montgomery, author of the 2014 book Happy City.
"We need to start taking risks again as a city," Montgomery said. "Cities around the world once looked to Vancouver for examples in urban innovation. Back in the 1980s and '90s, we proved that downtowns could be great places for living in a way they hadn't been for half a century. Cities from San Diego to Dubai copied the building style that came to be known as 'Vancouverism.' But now the world has changed. Cities everywhere are facing the urgent challenge of housing affordability, for example. I think it's time to show some swagger, as the mayor says. Let's launch new experiments that show the world new ways to solve the housing crisis."
Article content
Montgomery was encouraged to hear Sim signal in this week's speech an apparent openness to reviewing long-standing policies that have restricted real estate development in Vancouver, such as those governing shadows and views.
"I get the sense that his call for a city with more swagger is an invitation for people with big ideas to start trying new things. And it is a sign that this council might even be brave enough to support things we've never tried before to solve our most urgent crises," Montgomery said. "What I've loved about the messages from the mayor is he's encouraging staff to loosen up a little bit. That doesn't mean say yes to everything, but it means say yes to more things, and encourage developers to try new things."
Article content
Montgomery pointed to the new ABC-majority council's support for a motion introduced in December by OneCity Coun. Christine Boyle, intended to fast-track larger social housing developments. That approval, Montgomery said, was "a big deal."
Vancouver's previous mayor and council showed a desire to break from past orthodoxy and started making moves in new directions. In 2021, then-Mayor Kennedy Stewart said he wanted staff to present councils with more housing proposals, even ones that are offside with policies or not fully supported by staff. Last year, council gave some non-compliant proposals the go-ahead to proceed with applications.
But that mixed council, where no party had a majority, was sometimes fractious, and as an independent mayor Stewart himself expressed frustration he couldn't do more and move faster.
Article content
But ABC Vancouver's supermajority on council means Sim's party should be able to move faster and more decisively. It also means they bear more responsibility if things don't work out.
dfumano@postmedia.com
Dan Fumano: Businesses have high hopes, and expectations, for Vancouver's new mayor

Dan Fumano: 'Send a message': ABC majority council putting stamp on city priorities

Plex appeal: Vancouver eyeing six-unit housing in low-density neighbourhoods

Dan Fumano: Vancouver aims to turn Granville into a street that never sleeps
---
Support our journalism: Our in-depth journalism is possible thanks to the support of our subscribers. For just $3.50 a week, you can get unlimited, ad-lite access to The Vancouver Sun, The Province, National Post and 13 other Canadian news sites. Support us by subscribing today: The Vancouver Sun | TheProvince.