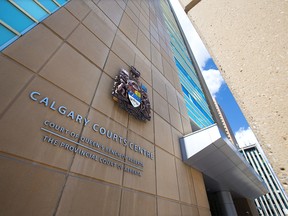 Article content
Days after skipping out on the jury's verdict in his manslaughter case, convicted killer Rylen Heavenfire was granted bail Friday on strict conditions.
Article content
Justice Michele Hollins agreed with defense counsel Steve Wojick that Heavenfire could be freed pending sentencing, despite his absence Monday evening when jurors found him guilty in the shooting death of his brother.
Article content
Wojick told Hollins his client had gone for a walk and lost track of time when he held up court for more than two hours while the parties waited for his return.
When he couldn't be located Hollins declared him an absconding accused and had the jury render its verdict in his absence.
The lawyer said following the decision, Heavenfire's sister and grandmother went looking for him and found him returning to the court.
But Crown prosecutor Vince Pingitore asked Hollins to detain Heavenfire, noting he didn't turn himself in immediately and had to be arrested at his grandmother's Tsuut'ina Nation home Tuesday afternoon.
Article content
More importantly, Pingitore noted, Heavenfire showed signs having been drinking heavily when he was picked up.
"A large concern for the Crown … is the accused is intoxicated (when arrested)," Pinitore said.
"He has blood-shot eyes, slurred speech (and) smells of vodka … That's a real concern," he said.
"He was apparently intoxicated the day after the jury verdict was rendered."
Jurors deliberated a little more than three hours on Monday before reaching a decision in the case, but then had to sit idle while the court waited for Heavenfire to show up.
It was a mix of alcohol and firearms which led to Heavenfire's legal jeopardy.
He had been hunting and drinking with his brother, Randen, in woods near their grandparent's home on the nation not far from Bragg Creek, with his brother's girlfriend and an uncle.
Article content
At some point the brother's got into an argument and Randen Heavenfire was shot once in the face with a shotgun blast from close range.
Hollins said Rylen Heavenfire could be freed on the same conditions of his original bail order which prohibited from contacting Randen's girlfriend, Gabrielle De Loof and prohibited from possessing any weapons, including firearm.
She also ordered him to post $1,000 cash, have his grandmother, Donna Rowan provide a surety of $3,000 and barred Heavenfire from consuming any alcohol or other intoxicants.
The case is back before Hollins on Oct. 19, for the Court of King's Bench judge to determine the facts on which the jury found Heavenfire guilty.
At Wojick's request she ordered a psychiatric risk assessment and a report into his Indigenous background.
KMartin@postmedia.com
On Twitter: @KMartinCourts