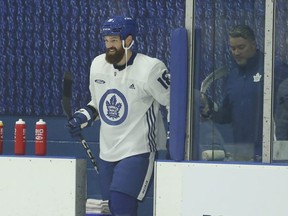 Article content
Getting NHL veterans and fans excited about exhibition games can be, well, excruciating.
Article content
Scans few will cherish the experience or even recall the scores seven months from now.
Article content
But for a team auditioning a batch of players such as the Maple Leafs, including the vital role in net and the hyper-competitive world of bottom six forwards, there's nothing meaningless for the staff in the next 15 days.
Article content
Seven games, starting with a unique Saturday doubleheader against the Ottawa Senators at Scotiabank Arena, will determine some jobs, allow grading of prospects, judge some experiments in the absence of injured players and set the general tone on a new year after another soul-crushing playoff exit.
Some gradual changes around the league in the deployment of pre-season lineups will add spice to Toronto's home-and-homes with Ottawa, Montreal and Detroit.
Article content
"Both teams need 40 guys (Saturday), so fair to say virtually everyone will be playing, NHL and AHL," coach Sheldon Keefe said of this weekend.
Having not yet seen Ottawa's set of lineups that were made public while the Leafs were on ice at Ford Performance Centre, Keefe could not confirm his own as of Friday afternoon. He did say new goaltender Ilya Samsonov would get the 7 pm start and go 40 minutes, same for Erik Kallgren in the 1 pm match. Dylan Ferguson and Keith Petruzzelli will back up, meaning ex-Senator Matt Murray will have to wait for a regular season assignment.
Lines that have stayed together in the first two days of camp feature Auston Matthews and Michael Bunting joined by left wing hopeful Calle Jarnkrok. Their regular right winger, Mitch Marner, has played with John Tavares and left winger Adam Gaudette, while William Nylander has two other Swedes on his line, Denis Malgin, with Pontus Holmberg at centre. Keefe has said not to read into the juggling as he tries to give the new guys the benefit of beginning camp alongside star power.
Article content
Injuries to Jake Muzzin, Timothy Liljegren and the absence of RFA Rasmus Sandin means new defensemen Victor Mete and Jordie Benn will be active throughout the pre-season schedule.
There used to be a set number of veterans that all teams had to dress so fans, especially season ticket holders stuck with paying full costs, would get bang for their buck.
That has evolved to many club general managers and coaches negotiating lineups in advance, so the host team can dress some crowd-pleasers and evaluate specific defense pairs and lines. The trade-off is watering down the road lineup.
One Leaf who can't wait for the opportunity is center Fraser Minten. This year's top pick for Kamloops of the WHL likely gets one of two matches Saturday, probably between bodyguards Wayne Simmonds and Kyle Clifford, before being returned to the WHL Kamloops Blazers.
Article content
It was full of questions Friday; how many people will show up at SBA (probably half to three-quarters full with a community youth ticket promo) and whether it will be televised for his parents (both are on Sportsnet).
"I'm sure it'll be sweet," Minten said. "If I get in, I'll be grateful for the chance at a higher level and take that back to junior."
He arrived a couple of weeks ago for the end-of-summer skates, soaking in The Show and has been in the same practice group as Matthews.
'You see Matthews, Tavares and think 'wow, how and I on the same ice as them?'."
For forward Alex Kerfoot, game action is the welcome signal to officially move on from last spring's first round defeat, perhaps the most galling of the six consecutive setbacks, getting Tampa Bay on the ropes in Game 6 before losing Game 7 at home.
Article content
"It obviously takes time to process a loss like that. You learn from those experiences, but you also learn to flush them away. Nothing you can do now.
"There's still a lot of belief in this group and we're excited as ever coming into this camp. Once you get through the tough stuff (conditioning skates and off-ice testing) you can focus on games."
Toronto faces an improved Atlantic Division that includes all the teams they face in exhibition. Alex DeBrincat and Claude Giroux, who headlined a busy summer of trades and free agency for Ottawa, are in the first game with Tim Stutzle. A veteran defense in the opener also includes two former Leafs, Nikita Zaitsev and Kristians Rubins.
Thomas Chabot and Brady Tkachuk are in the closer. Keefe and general manager Kyle Dubas hit on the double dip idea to both add an extra game on the same day and line up a day off on Sunday after a busy week. Keefe's staff and that of Marlies' head coach Greg Moore will share duties throughout the day.
All NHL teams will also have the option of staging a shootout at the end of exhibition games, regardless of the score.
lhornby@postmedia.com
Leaf's exhibition schedule
Saturday Sept. 24
Ottawa at Toronto (1 pm and 7 pm, Scotiabank Arena)
Wednesday Sept. 28
Montreal at Toronto (7 pm, Scotiabank Arena)
Friday Sept. 30
Toronto at Ottawa (7 p.m. Belleville CAA Arena)
Monday Oct. 3
Toronto at Montreal (7 pm, Bell Center)
Friday Oct. 7
Toronto at Detroit (7:30 pm, Little Caesars Arena)
Saturday Oct. 8
Detroit at Toronto (7 pm, Scotiabank Arena)
lhornby@postmedia.com