Laurie Campbell, director of client financial wellness for Bromwich and Smith, said even the small bump in the interest rate will ratchet up pressure on Albertans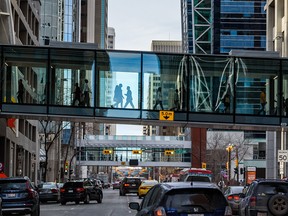 Article content
The Bank of Canada raised interest rates for the eighth time in 10 months on Wednesday, but it will be the last hike for the foreseeable future.
Article content
The central bank increased the overnight rate 25 basis points to 4.5 per cent, marking a 425 basis-point rise since last March. At the same time, the central bank said it would pause further increases to see how the economy reacts.
Article content
Trevor Tombe, an economics professor with the University of Calgary, said Wednesday's announcement was relatively minor, but Albertans are feeling the pinch from the cumulative effect of the increases.
Article content
"A quarter point relative to the four full percentage points that we had already increased is really just a small addition," he said. "But these rate increases are pretty dramatic. They're the most rapid increases in rates in a generation, and how they affect individuals will depend on a family's unique circumstances."
Article content
The Bank of Canada began increasing interest rates in an effort to counter spiking inflation, which hit 8.1 per cent year-over-year in June 2022. It currently sits at 6.3 per cent, with expectations it will fall to three per cent by the middle of this year and to two per cent in 2024.
Alberta economy still performing well
Article content
Despite the hikes, Alberta's economy has outperformed much of the rest of the country due to a resurgent oil and gas sector, a lower cost of living that has attracted record numbers of people to the province, and a diversified and growing jobs economy.
This has also helped bolster the Alberta real-estate market, while other provinces have seen major corrections in home values. In its annual forecast on Tuesday, the Calgary Real Estate Board said it expects a small contraction in benchmark values ​​of 0.58 per cent in 2023. Ann-Marie Lurie, the CREB's chief economist, said a small increase in the interest rate will have little effect on the market.
Article content
Desjardins, in its Alberta Economic Outlook released this week, said Alberta is set for a strong year compared to its provincial cousins, despite an expected recession nationally. The latest interest rate hike will not affect this forecast.
"The growth in Alberta will be relatively resilient, resilient relative to that of other provinces, given some of the offsets from other things like the energy sector and relatively little exposure to the housing market," said Marc Desormeaux, principal economist for Canadian economics.
Albertans facing challenges on individual levels
However, Laurie Campbell, director of client financial wellness for Bromwich and Smith, said even the small bump in the interest rate will ratchet up pressure on Albertans.
Article content
In November, Alberta surpassed 1,400 insolvencies for the first time since before the pandemic. There is a lag in reporting data, but Campbell expects this to be the beginning of a trend, especially as post-Christmas data is gathered.
"I am a firm believer that we're going to see increased insolvencies for the next 12 months to counter these issues that are going on in the financial lives of Canadians," said Campbell.
She said it will become a bigger issue as more people renew mortgages and face a bigger hit to their finances.
Bank of Canada hikes key interest rate by quarter point, says it plans to hold

After two years of steady increases, Calgary house prices will stabilize in 2023: CREB

Labor market at its 'hottest' in years; Alberta well-positioned to weather potential recession: report
According to LowestRates.ca, with a benchmark home price of $518,800 in Calgary in December, the bump in interest rate for someone with a variable rate of 5.25 per cent would have their mortgage payments go from $2,701 to $2,767 per month. For someone making the full jump of 425 basis points on a renegotiated fixed rate, it will be a shock to the budget.
Campbell said many people delay dealing with debt until it is too late, and the sooner they sit down with a licensed insolvency trustee the easier it is to avoid insolvency or filing for bankruptcy.
jaldrich@postmedia.com
Twitter: @JoshAldrich03