'We're thriving in real life…#GotMyCheck'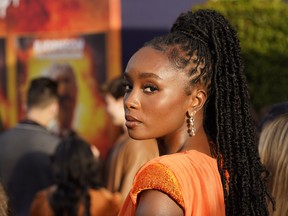 Article content
Kiki Layne, one of the supporting stars in Olivia Wilde's Don't Worry Darlinghas claimed that most of her scenes in the psychological thriller were cut from the film.
Article content
In an Instagram post, Layne poked fun at the drama-filled making of the movie when she shared a post alleging that she and her co-star/real-life partner Ari'el Stachel had many of their scenes dropped from the final cut.
Article content
"The best thing about #DontWorryDarling is that I was lucky enough to meet @arielstachel," Layne captioned her post. "They cut us from most of the movie, but we thriving in real life."
"Love you Ari," she added, including several heart emojis and using the hashtags #GotMyCheck, #GotMyMan and #EverythingHappensforaReason.
Article content
Fellow cast member Gemma Chan commented on Layne's post with a single heart emoji.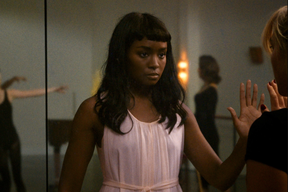 Don't Worry Darling has made headlines for a number of alleged behind-the-scenes feuds, including a screaming match between Wilde and star Florence Pugh, conflicting reports of Shia LaBeouf's dismissal from the film, and a social media-fuelled theory that Harry Styles, who is Wilde's real-life boyfriend, spat on co-star Chris Pine at the Venice Film Festival earlier this month.
In Don't Worry Darling, Pugh plays Alice, a housewife who comes to the realization her husband (Styles) might be harboring a dark secret. Layne appears a supporting role as one of the couple's neighbours
Forty members of the film's crew refuted a report by Vulture that Pugh and director-star Wilde got into a "screaming match" in January 2021.
Article content
"As a crew, we've avoided addressing the absurd gossip surrounding the movie we're so proud of, but feel the need to correct the anonymous 'sources' quoted in a recent article," they said in a statement to PEOPLE.
"Any allegations about unprofessional behavior on the set of Don't Worry Darling are completely false… there was never a screaming match between our director and anyone, let alone a member of our cast.
"We are happy to put our names on this, as real people who worked on the film, and who have witnessed and benefitted from the collaborative and safe space Olivia creates as a director and leader."
Pugh also downplayed the drama with her own social media post expressing her gratitude for working on the film.
Article content
"This film was such an epic story on such a large scale to shoot, all while during peak COVID times," she wrote on Instagram. "For that I will always be grateful. To all of you who helped make this, your dedication and love was seen daily – thank you."
Article content
Wilde also celebrated the release of the film, sharing a photo of her and Pugh smiling on the set with Styles and screenwriter Katie Silberman. "Don't Worry Darling is officially open," she wrote in an Instagram post. "Aaahhhhhhh!!!!!!!"
But the seemingly endless headlines have helped the film at the box office. Don't Worry Darling scored $19.2 million in its opening weekend.
"While no studio wants to have external forces impacting the marketing message of their movies, in this case, the drama swirling around Don't Worry Darling only served to amp up the must-see factor for the film," Paul Dergarabedian, a senior Comscore analyst, told variety.
Reps for Warner Bros. and Wilde have yet to address Layne's accusations.
mdaniell@postmedia.com
Olivia Wilde publicly backed by more than 40 crew members over 'Don't Worry Darling' controversy

'INSANITY': Olivia Wilde opens up about bikini scenes in 'Don't Worry Darling'

'Don't Worry Darling' shrugs off drama, opening with $19.2M at box office