"He's there," head coach Martin St. Louis said of the first overall draft pick. "He's strong physically, good speed, he pushed people back. He can win battles."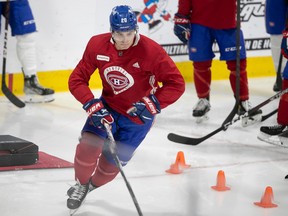 Article content
Rookie Juraj Slafkovsky had his first opportunity to show off his skills in Montreal and was an immediate hit as he led Team C to a 5-1 win over Team D in the second of two scrimmages Friday in Brossard.
Article content
The 18-year-old man-child used his 6-foot-3, 238-pound body to full advantage, impressing the fans, the media and, most importantly, Canadiens head coach Martin St. Louis.
Article content
"He's there," St. Louis said. "He's strong physically, good speed, he pushed people back. He can win battles. It was nice to see him play against some NHL guys."
Slafkovsky, the first overall pick in this year's NHL entry draft, didn't score, but he assisted on a pair of goals by Rafaël Harvey-Pinard, who showed he knows his way around the net. The Slovak was also on the ice when defenseman Arber Xhekaj opened the scoring and he finished the scrimmage at plus-3.
Evgenii Dadonov and rookie Lucas Condotta scored the other goals for Team C, while defenseman Corey Schueneman converted a backhand feed from Jonathan Drouin for the losing team's only goal.
Article content
The first scrimmage Friday featured only a handful of NHL-caliber players on each team and was tied 0-0 after two running-time periods. Rem Pitlick and Kirby Dach scored in a shootout to give Team B the win.
St. Louis said he was happy with the hockey produced in the first two scrimmages. He created four teams of three lines and five defenseman so everyone would get plenty of ice time in the two, 20-minute running time periods.
"It was fun hockey (and) I was happy with the brand they were playing," St. Louis said. "There were youngsters who haven't been there and we have veterans that we have to bring along, but I thought we were all on the same page. I don't know if it was veteran guys who were pointing things out to the guys, bringing concepts that we used last year to their attention, but it was very encouraging to see the kind of hockey we were playing out there."
Article content
Slafkovsky wasn't the only big-bodied newcomer who caught St. Louis' eye. Xhekaj, the 6-foot-4, 238-pound rookie defenseman, was a one-man wrecking crew in the rookie tournament last week in Buffalo, but he wasn't about to unload on his teammates and St. Louis said it was a chance to evaluate his other assets.
"Historically, guys who play like him don't have all the defensive attributes like the feet that he has," St. Louis said. "For me, to watch a big guy like that make plays, feel comfortable on the blueline, be good with the puck and be mean, that's exciting.
"Sometime those guys, they know (being physical) is a big part of their game and they almost play that game with too much aggressiveness, where they look at that and forget the rest, and you get in trouble.
Article content
"Watching him today just play hockey was really good," St. Louis added. "I know it's part of his game to be physical and aggressive and we have to control it. I'm a big believer, especially with young guys, in looking for their ceiling. I don't care about the floor. If we concentrate on the ceiling, we can fix the floor. With Xhekaj, the floor will get higher if he plays the game in front of him and not look to run around because he'll just get in trouble."
phickey@postmedia.com
Stu Cowan: Jeff Gorton's path to Canadiens began as a Bruins intern

Canadiens training camp: Savard takes defenseman Guhle under his wing

Jeff Gorton believes Canadiens will surprise people this season