But executive vice president of hockey operations will be patient as he looks to build a consistent Stanley Cup contender in the future.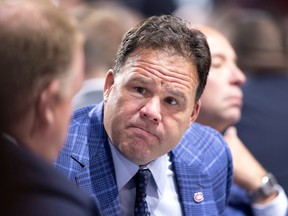 Article content
Jeff Gorton believes the Canadiens will surprise people this season.
Article content
"I just think the way Marty (St. Louis) coaches, the way some of our players with their mentality and the way they're approaching the season I think is really competitive and I think we're in a position where people are looking at us to see what's next," the team's executive vice president of hockey operations said during a one-on-one interview Thursday afternoon at his office a the Bell Sports Complex in Brossard. "So I just think our group is going to approach it by getting better every day.
Article content
"We have a lot of young players that can all say that they can keep getting better," Gorton added. "I think there's a little bit of a chip on our shoulder. Players never want to hear the word rebuild or reset or anything like that. They're just worried about this year and next game kind of thing. I find our group is really focused on getting better all the time. I think they prepared the right way. They're just ready to try to show everybody that we're not as bad as everyone thinks we are."
Article content
The Canadiens were the worst team in the NHL last season with a 22-49-11 record so there's nowhere to go but up.
While Gorton believes the Canadiens will surprise people, he's also going to be patient as he looks to rebuild the team so it can become a consistent playoff team and Stanley Cup contender in the future.
The Los Angeles Kings were able to surprise people last season in what was supposed to be a rebuilding year for them. They finished third in the Pacific Division with a 44-27-11 record before losing in seven games to the Edmonton Oilers in the first round of the playoffs.
"There's a lot of new players, so there's a huge adjustment right now going on to everybody in the organization, whether it's on or off the ice," Gorton said about the Canadiens. "Just hopeful that it all kind of comes together. Everyone wants a timeline on when things are going to change. I always tell everybody the same thing. Listen, we're worried about tomorrow and getting better there and then the next game after that.
Article content
"I feel like we're moving in the right direction," he added. "If you're around this building right now I just feel like there's a ton of energy and people are feeling good about what's happening."
Gorton also believes Canadiens fans are willing to be patient during a rebuild. A sign of that was the team getting a standing ovation from fans at the Bell Center following the final game last season, a 10-2 win over the Florida Panthers in which Cole Caufield scored three goals.
A standing ovation for the worst team in the league — in Montreal. But the Canadiens became fun to watch after St. Louis took over as coach and fans appreciated that.
The Canadiens had a 14-19-4 record after St. Louis replaced Dominique Ducharme. Caufield scored only one goal in the 30 games he played with ducharme as head coach, but exploded with 21 goals in 37 games with St. Louis behind the bench.
Article content
"It's definitely a market that I can see the first thing that they want is work ethic," Gorton said. "They want their players to try and give everything they have and I think that we were getting that whether we were winning or losing at the end of the year. I think some of the moves we made and some of the trades and changes, I feel like the fans got behind it a little bit and could see that there's a plan. I think as long as we're moving in the right direction and they can see the plan, I do think that Montreal is looking forward to it. They want to win. When I get stopped by people and fans talk to me all they ever talk about is winning and however we do it that's our focus. Trying to build a winner.
"I just think there's so much turnover with our group right now and there's so many question marks to see how people will fit in," Gorton added. "Who's going to fit where. I just think with so many things going it's exciting to see how it's going to play out. We don't know. We can pretend like we know. We can put names on the board and say this will be us … but we got a (training) camp, we got eight exhibition games. We're going to learn a lot about our players. The guys that have been here before, we'll learn more, and the guys that are new I'm really excited. Buffalo (rookie camp) was great. It was nice to see some of our young players play well and see some guys we didn't expect play well. So I feel really good."
Article content
Gorton said the most important lesson he has learned as a hockey executive is to always look ahead.
"Don't think about anything that you've done or that you've felt successful for," he said. "I think it's always what's next. I think that's the key to our business. There is always something next. Whether it's the draft that's followed by free agency and then it's something else and then you're thinking about building your team and it's training camp and that's evaluating your team. Then you get to a certain point in the season and you evaluate your team again. What do we need next? It's always something… trade deadline.
"It's just thinking ahead. Don't think too much about what's in the past."
scowan@postmedia.com
Stu Cowan: Jeff Gorton's path to Canadiens began as a Bruins intern

Stu Cowan: Survival of the fittest as Canadiens take to the ice