Executive vice-president of hockey operations talks about his work as GM of the Rangers and much more in exclusive one-on-one interview.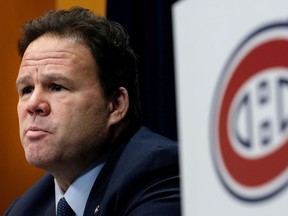 Article content
Jeff Gorton has experience when it comes to rebuilding an NHL team.
Article content
Four years ago, the New York Rangers sent a letter to their fans explaining their plans for rebuilding the team. The letter was signed by team president Glen Sather and Gorton, who was GM of the Rangers at the time.
Article content
"We began the process of reshaping our team this past summer, when we traded for assets that we believe will help us in the years to come," the letter, written on Feb. 8, 2018, stated. "As we approach the trade deadline later this month and into the summer, we will be focused on adding young, competitive players that combine speed, skill and character. This may mean we lose some familiar faces, guys we all care about and respect. While this is part of the game, it's never easy. Our promise to you is that our plans will be guided by our singular commitment: ensuring we are building the foundation for our next Stanley Cup contender."
Article content
Last season, the Rangers became a Stanley Cup contender, finishing second in the Metropolitan Division with a 52-24-6 record before losing to the Tampa Bay Lightning in six games in the Eastern Conference final.
Gorton wasn't there to watch the Rangers last season.
Shockingly, Rangers owner James Dolan decided to fire Gorton and team president John Davidson on May 5, 2021, two days after they had been eliminated from playoff contention with a 6-3 loss to the Washington Capitals that dropped their record to 26-21-6 in the COVID-shortened season. The Rangers had the youngest roster in the NHL at the time with eight rookies in the lineup. Davidson and Gorton had preached patience, but Dolan felt things were moving too slowly and decided to fire them both and promote associate GM Chris Drury to GM and president.
Article content
Last November, Canadiens owner/president Geoff Molson hired Gorton to rebuild the worst team in the NHL, giving him the title of executive vice-president of hockey operations.
Was Gorton shocked to get fired by the Rangers when his rebuild seemed to be working?
"Yeah, I was," he said Thursday afternoon during a 25-minute, one-on-one interview in his office at the Bell Sports Complex in Brossard. "I think it's pretty well been stated. It was a rebuild. I feel like we were moving pretty quickly in that. You saw it last year with how good they were. I would say that it wasn't something I expected or thought would happen. I figured last year would be a year we'd probably have to perform. It was probably time to deliver and make the playoffs. But, listen, I don't own a hockey team and I don't make those kind of decisions."
Article content
Molson does own a hockey team and Gorton admits he was surprised when he got the first call from him about possibly joining the Canadiens.
"Yeah, of course," Gorton said. "When you think about the Montreal Canadiens, you think of Original Six again and a Canadian team in a predominantly French-speaking market. So you kind of don't know if that's ever going to be an opportunity for you. So, yeah, when I got the call from Geoff I was honoured and really surprised at the same time."
Here's some more of what Gorton had to say during Thursday's one-on-one interview.
What was his original mandate or mission statement from Molson?
"I think one of the things I wanted to do and we wanted to do as we moved forward was to bring the organization into more of a modern place. I think it's been pretty well documented to build an analytics department, player development, to have a little more of an emphasis there. Just to maybe get up to speed a little more into modernized hockey a little bit. That was sort of the first goal, sort of speak."
Article content
On starting out on that mission:
"Certainly, the first few weeks when I was here I think there was definitely a time where you were like: OK, wow, this is the Montreal Canadiens. This is another level of fan interest, of media interest, of everything that goes along with this organization. You think you're prepared and you're ready and you kind of understand it from being around the league and coming to Montreal and knowing a little bit about the history of it. But until you come here and you live it a little bit I think you could never really understand."
On his working relationship with Molson:
"Honestly, it couldn't be better. We talk almost every day. He's extremely normal, a normal person, easy to deal with, easy to talk to. It's been great. So far the relationship has been really good."
Article content
On reports that NHL commissioner Gary Bettman recommended Gorton to Molson:
"I don't really know the answer. I've heard that, I've read that, but I didn't really ask Geoff and I haven't asked Gary, either. So if he did, honestly I feel pretty good that Gary would do that for me."
What's the biggest difference between rebuilding the Rangers and the Canadiens?
"A good question. I think in New York when I started as GM we were a pretty established team. We had gone to the (Stanley Cup) final and we were in the conference final a couple of times, so we were trying to keep that going as long as we could before we turned to a rebuild. Here, we have a lot of young players so we're trying to figure out who's going to be here and what's next. But similar. Before I got here these guys were in the Stanley Cup final, so there's still a lot of good players here. We're just trying to add as many pieces as we can and trying to keep pushing it."
Article content
Does he see a similar timeline for rebuilding the Canadiens as to what happened with the Rangers?
"I think what worked best in New York was not having a timeline and just with this focus of developing your players. Drafting, developing, acquiring as many good players as you can and hopefully, aggressively, turn this thing around. That's the focus. Timelines … I don't really want to come up with one. I just want that hopefully we have a great camp, people are further along than we hoped and we go from there."
On the recognition factor he faces in Montreal compared with New York:
"There's always a segment of people in New York that recognize you. But here it's a larger population of people that understand who works for Montreal, who plays for Montreal, who's coaching Montreal, whatever it is. To me it's a privilege. I'm in a market where people love hockey, they love the Montreal Canadiens. They're fully supporting everything that's going on in the organization, so I feel lucky. My biggest mistakes are if I go to dinner with Marty (St. Louis). That will draw a crowd. But if it's me with my family or something like that it's a little easier to hide. But Marty is obviously a big draw."
Article content
On hiring St. Louis to replace Dominique Ducharme last season despite the fact the Hall of Fame player had no professional coaching experience:
"Listen, you have those conversations so it's certainly something we talked about at length. One thing besides the obvious — when you talk to Marty you can see all the attributes. But the one thing that stuck out to me is that he was willing to come and just do it for the rest of the year and show us. I think that kind of put everything aside about the inexperience. Listen, we were 32nd in the league, so it wasn't a huge risk I don't feel like on our part. I feel like the risk was on his end. He was coming in and putting himself out there and we were going to evaluate and decide. And that's what we did. Marty, like his whole life, he put his cards and his chips on the table and, as always, there's success behind what he's doing. (GM Kent Hughes) and I talked a lot about it. Dom, it was a year that was kind of a perfect storm. It's not all laid on his feet. When Kent and I talked we felt we just needed a change. The building in general, the players, everybody needed something different to change to lead us into the summer and say: OK, this is how we're going to do things going forward. Once in our minds we came to the decision that Dom probably wasn't going to be part of it going forward I think we just felt like maybe we owe it to him and to the players and let's just change it."
Article content
On his relationship with goalie Carey Price, whose career could be over because of a knee injury:
"A lot of time he's been in rehab mode, so you tend to leave guys alone. You just talk to them to make sure that everything's good with them and they're keeping their spirits up, that kind of thing. I have a lot of respect for him having been around the league his whole career. Certainly for a long time if not the best goalie in world, right there with them. I'm hopeful that things get better for him but, at this point, we'll let him work it out. I don't think we're going to see him this year playing. But you just never know with these kind of things. We'll see. I wouldn't want to forecast what's next for Carey. That's probably unfair to him. So we'll just let him work through it and hopefully he has some health in his future."
Article content
On former Boston goalie Gerry Cheevers being his favourite player while growing up in Melrose, Mass., as a huge Bruins fan and a high-school goalie:
"He had so much personality when he played. He didn't just stand there. He was active in the game. He was so smart. He just read the play so well. He wasn't the most gifted athlete, but when the puck went side-to-side he was always there. He read the play so well and then the mask (with all the black stitch marks painted on it), the whole thing. Growing up in Boston and being around and playing hockey, you'd go out and you'd see these guys out and they were real-life characters. We used to see him and I played against his son, so there was just like sort of personal attachment to him, seeing him out and seeing the throngs of people that wanted to meet him because he just had this personality. Meeting him when I worked with the Bruins and to see what a jokester he was and what a character he was it kind of all made sense."
Article content
On living in Montreal now:
"Montreal's a fun place. It's a great place to be. I could see in the summer how active it is. There's always something going on and when the good weather's here there's a lot of people out enjoying themselves, whether it's eating or socializing. It's been fun. Of course, coming here with other teams you always love going out to dinner here and being out in the city. It's Montreal. But having lived here and being out in the city it's a pretty cool spot."
scowan@postmedia.com
Stu Cowan: Jeff Gorton's path to Canadiens began as a Bruins intern

Jeff Gorton believes Canadiens will surprise people this season