"It's important to take a stance on (sovereignty), because it defines the type of leadership you'll have for Quebec," Anglade said.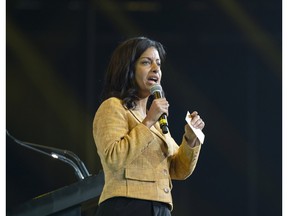 Article content
Quebec Liberal Party leader Dominique Anglade believes François Legault owes Quebecers a clear answer on how he would vote should there be a sovereignty referendum in the province.
Article content
Legault dodged the question during Thursday's leaders' debate, saying only that he considers independence legitimate and that a referendum would divide Quebecers.
Article content
Speaking to reporters on Friday, Anglade said she believes the Coalition Avenir Québec leader should answer the question directly.
"Of course it's important to take a stance on it, because it defines the type of leadership you'll have for Quebec," Anglade said while campaigning in Montreal.
"There are two parties for who it's clear: Québec solidaire and the Parti Québécois. For the Conservative party, we don't know. And for Mr. Legault, we know even less."
A day after the final leaders' debate of the campaign, Anglade stuck to a busy schedule Friday, speaking at a convention in Montreal before attending a climate march and then heading for campaign stops in Gatineau.
Article content
Despite the emphasis she has put on climate change during the campaign, the climate march was not initially part of the Liberal leader's schedule.
When questioned why it wasn't, Anglade said there were time constraints because of her schedule, but insisted it was important for her to be there.
"For me, it was a stop that was essential — I committed to doing it and when I commit to something, I do it," she said.
Whereas Coalition Avenir Québec candidates were hounded out from the march, and Québec solidaire candidates were heralded, Anglade received mixed reactions.
The crowd initially greeted her with a spattering of boos, but Liberal supporters did approach her during the march to talk and pose for photos.
Asked what message she hoped to send by attending, Anglade said she wanted to show that climate change needs to be tackled together.
Article content
"We're able to make Quebec carbon neutral by 2050," she said. "There's nothing stopping us from doing that besides true political will and the necessary vision."
Earlier, while addressing the Fédération québécoise des municipalités, Anglade vowed a Liberal government would allow Quebec's regions to set their own immigration targets and give local elected officials more decisional power.
"What I want to have in Quebec is a collaborative leadership," Anglade told the conference. "To ensure that we're listening, can make decisions together and respect the needs of each of our regions and municipalities."
The Liberal party's platform pledges to set the province's threshold to 70,000 immigrants per year, all while allowing the province's regions to determine their own immigration needs.
Article content
At the moment, the party says, less than 30 per cent of immigrants settle outside of the greater Montreal area.
"Immigration needs to be done with the regions," Anglade said on Friday. "(Regions) can decide the number of people they want to welcome, because they know the needs in terms of housing, schooling, and daycare."
Afterward, Anglade also addressed comments Legault made about Quebec Conservative Party Leader Éric Duhaime on Friday.
Legault told reporters he feels Duhaime's opposition to health regulations imposed during the COVID-19 pandemic disqualifies him from being premier of Quebec.
But Anglade wouldn't go that far.
"We live in a democracy, and all ideas have their place, like (Duhaime) had his place at the leaders' debates," Anglade said in response. "But what's important is choosing what kind of government we want, what kind of person we want leading Quebec."
"We should fight ideas, not people," she added. "I'll leave those comments to Mr. legal."
jfeith@postmedia.com
Twitter.com/jessefeith
Party chiefs to woo Quebec municipal leaders as election campaign enters final stretch

Liberals remain best choice for anglophones, Anglade tells Gazette editorial board

Quebec election: Anglade says it's 'full steam ahead' for the Liberals