Though he didn't pick up football until age 14, Antwi is playing the marquee position of tailback — a spot generally reserved for US players.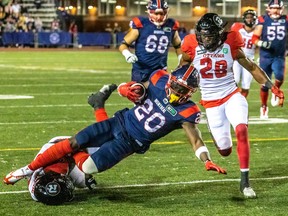 Article content
Athletes who don't begin playing a sport until age 14 aren't supposed to become professionals. Nor are they expected to turn pro when they don't get drafted until the sixth round.
Article content
But don't tell that to the Alouettes' Jeshrun Antwi, who not only made it to the CFL but, as a Canadian, is playing the marquee position of tailback — a spot generally reserved for US-born players.
Article content
"Have faith and trust," said Antwi, 24. "When given the opportunity this season, I've put on tape that I can be a featured back in this league. As long as I'm here, I'm going to keep trying to represent for the next generation."
While it took a fractured ankle suffered by William Stanback in the first game this season to thrust Antwi into this role — one he shares with import Walter Fletcher — the Israeli-born, Ghana-raised, 6-foot, 220-pounder has proven more than capable.
Heading into Friday's home game against Hamilton, Antwi, the Als' leading rusher, had 82 carries for 487 yards in 12 games. With an average of 5.9 yards, it can be argued Montreal doesn't lean on him enough; certainly not as much as they relied on Stanback, last season's leading rusher and East Division nominee as most outstanding player. While Antwi has yet to score a touchdown, he has had ample opportunities, including a 70-yard run against Calgary and a 55-yarder against Ottawa.
Article content
"Canadian tailbacks in this league are gold to me," said André Bolduc, Antwi's position coach and the Als' assistant head coach. "He can play fullback, tailback. He catches well and runs well, fixes his protection if it's wrong.
"It's a good story. That's what Canadians should be in this league. Get them young. He's only 24, but has already had three training camps with us. All the quality reps he gets right now, he could end up starting somewhere down the road. I had no doubt starting him and I've enjoyed it. I'm very proud of him."
But there's so much more to the story of Antwi, who overcame the odds through diligence and hard work.
After his family emigrated from Ghana to Calgary, and while in high school, Antwi decided to try football. Volleyball was his first choice — his mother not keen on the violent aspect of football. A phys-ed teacher convinced Antwi he could succeed at football if he learned to run through people, delivering, not absorbing the punishment.
Article content
Antwi's mother, who worked in the hotel industry and as a caregiver, instilled the importance of having a strong work ethic and pouring his heart into everything he undertook.
Antwi credits his high school principal, Kate Miller, and her husband, Kevin, who took him into their home and helped him get into the University of Calgary and aided financially as well, removing much of the burden from his mother.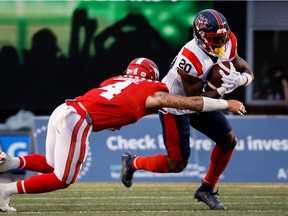 Antwi was a star with the Dinos — a perennial successful program — and he graduated with degrees in education and sociology, his focus on criminal deviance. Antwi contemplated becoming a police officer had pro football not worked out, and spends his off-season at a Calgary high school, teaching social studies and phys-ed, along with helping coach the basketball team.
Article content
Antwi relies heavily on his journey while in the classroom, believing his age is what potentially separates him from his peers, better assisting the teacher-student relationship.
"I tell them everything that's happening right now, in a few years it won't matter," he said. "They may or may not remember it. Every feeling you have will pass. It comes and goes. The world's not going to end, simply because you fail an exam."
Just as Antwi's career didn't end after two crucial fumbles last season in the final game against Ottawa, when a victory would have kept alive the Als' dream of finishing second in the division and hosting a playoff game. The following morning, Antwi went to Bolduc's office to apologize, believing he had disappointed his coach.
Article content
"That game was tough," Antwi remembered. "We would have won the game if I get a first down. I was trying to be the hero of the game. Let the plays come to you. Make the play.
"I'm my own worst critic. Focus on the moment. You can't overthink everything. Last year, I was playing tight."
While Antwi said he was devastated seeing Stanback injured, he also quickly realized this would become his opportunity to shine, showing he could be more than just another Canadian playing on special teams.
There aren't many non-imports thrust into this role — Toronto's Andrew Harris, Winnipeg's Brady Oliveira and his backup, Johnny Augustine, Edmonton's Maleek Irons and the Tiger-Cats' Sean Thomas-Erlington are some of the exceptions. And while Antwi's career path might eventually take him back to Calgary, where non-import Jon Cornish spent nine seasons as the Stampeders' featured tailback, he's cognizant the door has been opened.
"I never take any of this for granted," Antwi said. "There's no better job than this one, coming out here with teammates I'm going to cherish forever."
hzurkowsky@postmedia.com
twitter.com/HerbZurkowsky1
Alouettes come off bye week to host Tiger-Cats in pivotal game

Canadian tailback Jeshrun Antwi has big cleats to fill in Alouettes' backfield

Alouettes lose game, but injury to star tailback William Stanback is bigger loss