Analysis: The party promised to deal with the housing crisis by investing an unprecedented $7 billion to build 114,000 units within 10 years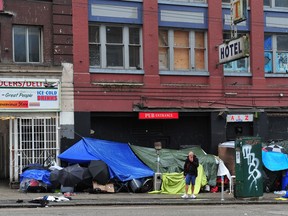 Article content
BC Housing Minister Ravi Kahlon is putting a brave face on the "challenges" he faces, especially when the New Democrats have failed miserably to deal with housing affordability and homelessness.
Article content
The party promised in the 2017 election, a pledge renewed during the 2020 campaign, to deal with the housing crisis by investing an unprecedented $7 billion to build 114,000 units within 10 years.
Article content
It was a tall order. And after five years, only 15,000 units have been built and another 11,000 are under construction — a total of 36,000.
"We have made considerable progress, and I'm confident we're going to continue making progress and meet our goals," Kahlon insisted after less than two months on the job.
Like his predecessor, now-Premier David Eby, Kahlon disingenuously blamed former BC Liberal administrations.
"Just in context of the considerable size of investment — in 2016, the housing budget was $24 million, and we've increased that now to $1 billion of investment across the province," he said in an interview, trying to gild a weed.
Article content
Housing, though, is far more expensive than when his party took office, and more people are homeless, living in vehicles, camping in parks, or sleeping on the street.
"Every community coming out of the pandemic is dealing with these challenges," Kahlon maintained. "We're not getting the units built that we need. … So I'm focusing on speed, supply and synergy between the different governments."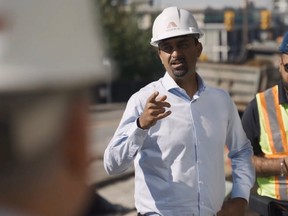 The NDP unfortunately has until now targeted middle-class renters and those who can afford to enter the housing market, not those who are in need and who can't even dream of buying a home.
"One of the challenges we deal with, same as the private sector, is getting through permitting and approvals," Kahlon said. "That said, we have a lot of units online and we're going to see a number of supportive housing units coming online."
Article content
Perhaps.
The government recorded a $1.3 billion surplus last year and is projecting a $5.7 billion surplus this year.
Despite the windfall — enough to give the RCMP nearly $300 million, double-digit wage increases for civil servants, raises for nurses, bonuses to family doctors, and funding for forest companies — there has been little for the most vulnerable.
The party promised to build 11,000 units of social housing every year. However, the agency that provides such government-funded accommodation is a shambles.
Scores of BC Housing staff have left, complaining the organization is dysfunctional and adrift.
Shayne Ramsay, who spent 26 years with the agency and became CEO in 2000, also quit last fall, saying he feared for his life, couldn't sleep at night because of the threats, and was no longer able to do the job.
Article content
Eby fired the board earlier in the summer and ordered a forensic audit, which is due soon.
Much of the homeless population in the province is not only poor but many also have mental illnesses, problematic substance use, a history of physical handicaps, criminal records, and other disabilities.
Still, some 7,000 are living in century-old Single Room Occupancy hotels that once housed lumberjacks and miners who were then the backbone of the economy.
Just about half of such buildings are privately owned, the remainder are owned and operated by government or non-profits. Many are at the end of their lives and rancid.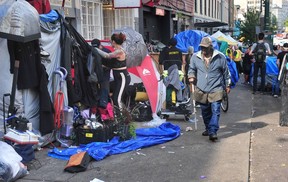 Filthy communal washrooms, insect infestations, and a lack of elevator service plague many of the facilities. Sometimes for months, residents with ailments that restrict their mobility have been forced to remain in their rooms or painfully use the stairs.
Article content
"People were offered an option of another place to go and 10 people chose to take that option," Kahlon said of one whose elevator has not worked for months and would not be fixed until April.
"In those other cases, we certainly have work to do to fix up those SROs. I'm not suggesting we don't have work to do. There is a lot of work to do."
It's almost impossible to properly maintain and manage these buildings when welfare rates remain unconscionably low in one of the most expensive cities in Canada.
Rents in many private SROs — that range from about $600 to $1,000 a month — are already out of reach.
"There are challenges," Kahlon repeated.
In 2019, Eby and then-Vancouver Mayor Kennedy Stewart agreed the decrepit buildings should be replaced and private SROs transferred to public ownership, which could cost upward of $1 billion.
Article content
Eby said many people living in tent cities had rooms in SROs, "but the rooms weren't livable, so those folks went outside."
The city asked the province and the federal CMHC to form an intergovernmental working group to develop a coordinated investment strategy to replace or redevelop them.
There's still no plan.
"We're working on a plan right now," Kahlon assured. "We have 700 (social housing) units coming online just this year. … But we have to ensure that people have somewhere to go as an alternative before major actions are taken."
The 700 units are a drop in a bucket when so many are living in SROs and hundreds more are homeless.
"We have a real housing crisis," Kahlon conceded. "We're not the only jurisdiction that's dealing with it. But we're one of the only jurisdictions that brought a historic amount of dollars to the table to build new units. Now we're asking local governments to speed up the permitting process so we can get new units built faster."
He added: "We've made significant increases to support people who are struggling. … Yes, there needs to be a lot more. That's why I've been advocating the federal government as well to get in the game, to work with us to build the level of housing that we need. … It's a major challenge."
imulgrew@postmedia.com