Habitat for Humanity survey finds people believe housing affordability would solve a range of problems in the country.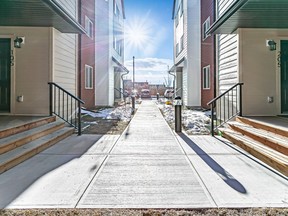 Reviews and recommendations are unbiased and products are independently selected. Postmedia may earn an affiliate commission from purchases made through links on this page.
Article content
A new survey by Habitat for Humanity found housing affordability tops the list among Canadians when it comes to making their lives better.
Article content
The poll of 1,501 respondents found 75 per cent indicated more affordable housing would solve a range of problems in the country. At the same time, it revealed that among Albertans less than half (46 per cent) noted home prices in their communities are unaffordable.
Article content
That's compared with the national average of 74 per cent.
Still, eight in 10 Alberta respondents noted they are worried about having less to spend on food, savings, transportation and debt payments to continue to afford their current housing situation.
By comparison, the national average was 78 per cent.
As well, the Habitat for Humanity survey found that 40 per cent of Albertans are concerned about paying their rent or mortgage in the next 12 months, on par with the national average.
Article content
By age group, Generation Z and millennials were most concerned about making payments for housing at 51 and 50 per cent, respectively, versus 23 per cent of baby boomers.
Among all respondents, 90 per cent stated Canada has an affordable housing shortage with four in 10 indicating a lack of supply is the biggest reason. That ranks ahead of other contributors like foreign buyers at 40 per cent and investors buying homes at 36 per cent.
Yet more than half noted a NIMBY — not in my backyard — sentiment was a key barrier in building more affordable homes, while 71 per cent agreed with the statement: "people worry about the impact of affordable housing on their property values ​​and neighbourhood."