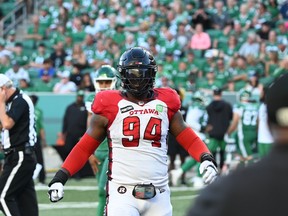 Article content
VANCOUVER – Somehow, some way, through defeat after defeat, the Ottawa Redblacks have to sell their players on hope.
Article content
Hope they can find their way out of a funk that's lasted most of the season. Hope they can turn field goals into touchdowns. Hope they can win their last four regular season games. It just doesn't seem likely any of the above will happen.
In the wake of yet another loss – their 11th in 14 games – the Redblacks insist they still believe. While there's a chance at a playoff position, and somehow there still is, there will be no white flag waving, no surrender. But having hope is one thing; following through on it is another. The Redblacks, at this point, look fractured. Beat down. Worn out. In Friday's 34-19 loss to the Lions at BC Place, the Redblacks were never really in the game. Stats really can lie.
"When you sign up for this game, you know there's going to be a loser, you know there's going to be a winner," said defensive lineman Lorenzo Mauldin IV, one of the bright spots of the season. "You stick it out, give it everything you've got. There's still a lot of football to play. But it's more than football, it's your pride, it's your integrity. So, you don't give up."
Article content
"I've been on teams where there is no hope," said quarterback Nick Arbuckle, who passed for 363 yards Friday. "My junior year of college, we went 1-11; we wanted to go to a bowl game, win the conference. Eventually it became clear that wasn't going to be a possibility when we still had games left. It's tough when all the goals you had for the season disappear and you still have to go out there and risk your bodies. Hope is tough to find when you're in a dark place like this – with our record – but you have to find a way to get there. The feeling of a locker room going out to play a game with a sliver of hope and a team that has no hope is drastically different. You don't want to be on the latter end of that."
Ottawa has a bit of a break before playing Montreal on Thanksgiving Day, then the Als come to Ottawa. The Redblacks have home-and-home games with Hamilton to end the regular season. And, yes, if they won all four games, it's possible they could be in the playoffs.
Article content
"It's on to Montreal," Arbuckle said. "Mathematically, we're going to need some help if we're going to play more than four more games this season. We at least have four more opportunities to play together as a team, have fun and go get the win, try to win our last four in a row."
For much of the season, the Redblacks look like they're playing to not lose, rather than playing to win. It just never seems like they play loose and confident. A week ago, not far from midfield, the Redblacks chose to kneel down (and waste a timeout doing it) rather than heave the ball downfield on the final play of the half. When that happens, you're playing scared, afraid of making a mistake, afraid to take a chance. Friday, the Lions, in a similar situation, didn't kneel. QB Vernon Adams Jr. heaved the ball downfield for a 34-yard catch by Keon Hatcher. On the final play of the half, the Lions kicked a field goal. Kneeling down (and calling the timeout) made no sense a week ago and makes less sense now. The "what-have-we-got-to-lose" mentality is absent. Take the game to your opponent, don't let the game come to you.
Article content
This is the third straight season of bad Red Blacks football. They went 3-15 under coach Rick Campbell in 2019. With Paul LaPolice as the head coach the past two seasons, they've gone 6-22 (3-11 in 2021 and 3-11 so far this season. So much for # FliptheScript, how about #RipUpTheScript?
"I think we are a good football team," Arbuckle said. "But we haven't played good together at the times we needed to long enough to win more games. Looking around the CFL, I don't think there is a bad football team. Even the teams with the worst records have all-stars and guys you know are great players.It's about finding the ways to win at the end and sticking together, making those critical plays at critical moments in a game. Unfortunately, there have been too many instances where as a as a team, we haven't gotten that done."
Article content
THE REPORT CARD
Offense B-: The stats jump out; they look good. Except for one thing: Just one touchdown. QB Nick Arbuckle completed 27 or 36 passes for 363 yards. That's good. He was also intercepted. That's bad. Too many drives stalled. Running back Devonte Williams ran for 59 yards on 12 carries. In his return to the Redblacks lineup, probably a week or two too late, receiver Justin Hardy had five catches for 94 yards. Put into a starting role with an injury to Nate Behar, Tevaun Smith had seven catches for 77 yards and a touchdown.
Defense C-: Needing the offense to step up more, the defense was also picked apart at times. Lions QB Vernon Adams Jr. had 305 yards passing, with two touchdown tosses. Backup QB Antonio Pipkin ran for two touchdowns. Lorenzo Mauldin IV had two more sacks and is now up to a league-leading 14 on the season. Cleyon Laing, Avery Williams and Patrick Levels also each had a sack.
Special Teams C: Lewis Ward successfully made four of five field goal attempts. Punter Richie Leone didn't have his best game, with a 34-yard net average. DeVonte Dedmon had a 24-yard punt return.
LOSING GROUND: Ottawa Redblacks fall to 3-11 after loss to Lions

'A GREAT HUMAN BEING': Pruneau mourns death of former Redblacks teammate Beaulieu-Richard