With plays like Frozen River, artists are trying to educate the next generation about continuing issues of truth and reconciliation.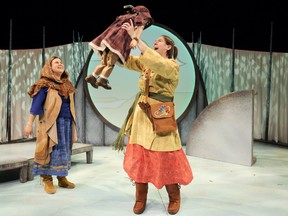 Reviews and recommendations are unbiased and products are independently selected. Postmedia may earn an affiliate commission from purchases made through links on this page.
Article content
Frozen River (nîkwatin sîpiy)
Article content
When: Sept. 28-Oct. 16, various times
Article content
Where: Waterfront Theatre, 1412 Cartwright St., Granville Island
Tickets/info: carouseltheatre.ca
Grandmother Moon begins her story with two 11-year-olds born during a total lunar eclipse or Blood Moon.
Wâpam is Cree and Eilidh is Scottish, and they're located in different parts of the planet. One day, the pair meet in a forest in what will one day become known as Manitoba, forming an instant kinship despite their differences.
However, after a promise is broken, there will be ramifications felt by future generations until a resolution is reached.
Co-written by Métis artist Michaela Washburn, Anishinaabe/Miami artist Joelle Peters and Carrie Costello, Manitoba Theater for Young People's Frozen River (nîkwatin sîpiy) is a timely theater work for children ages five-and-up.
Presenting complex issues around environmentalism, community interconnection and issues of reconciliation, the show incorporates terms from the maskeko-Ininiwak (Swampy Cree) language. At its February 2022 premiere in Treaty 1 Territory/Manitoba, The Winnipeg Free Press noted the "warmth and kindness" in the play's message.
Article content
The playwriting trio received the Playwrights Guild of Canada's 2021 Sharon Enkin Plays for Young People Award for their efforts.
Carousel Theater for Young People presents the West Coast premiere of the Manitoba Theater for Young People production directed by Katie German and starring Krystle Pederson as Grandmother Moon, Keely McPeek as Wâpam and their descendant, and Mallory James as Eilidh and her descendant.
Writing topical work that addresses such issues as reconciliation and environmental stewardship was an interesting journey for the creators. Tackling contemporary topics around life lessons from our ancestors carrying into today necessitated a time-traveling tale.
"We were writing an actual real historical play when we first started in 2018, and it was all going to be in the past," said Carrie Costello. "But Michaela was the one who kept on bringing up the fact that we couldn't leave it there, because it would have no hope. For the next 150 years things just didn't get any better and we couldn't leave the kids with that."
Article content
So a third act came about. With moving the story through history, the narrative found its own place in the very active debates around relations between Indigenous and settler communities. Given the situation in present day Manitoba involved so many Scottish people displaced by the Highland clearances coming to Canada to then displace the traditional inhabitants of the area, there were a lot of topics to explore.
"The third act is all in the present day and asks about how, as a young individual, you can find your part to stop this crazy train wreck being perpetuated right up to today," said Washburn. "We are talking about relationships, agreements, promises and reconciliation, and understanding different world views while still being able to embrace our sameness. I believe we always have something that can bring us together and there are some beautiful parallels between the Indigenous and Scottish character about thriving after displacement."
Article content
Behind the promise broken between the two young main characters lies all of a host of other issues around the history of international relations and their echoes into the present. A teaching guide has been developed for classes attending the production to use as a jumping-off point for developing continuing dialogue.
Jennica Greinke, Carousel Theater for Young People's co-artistic and managing director, says Frozen River represents an exciting new direction for work that is both educational and entertaining. It's a fine dance between nuanced treatment and the kind of bludgeoning message-based young people's theater many of us grew up with.
"Programming a show like Frozen River, and I expect for the people writing it, you are trying to do a few things," Greinke said. "You want to provide a vehicle to experiment with thoughts and other people's ideas in a way where you aren't too vulnerable yourself. From the comfort of a dark corner in a theatre, you can experience it without committing yourself and we have developed a lot of ancillary events here at Carousel and around the island in support of further dialogue."
Article content
These include teacher workshops using the educator resource guide developed by Carousel, the Manitoba Theater for Young People and the play's creators, as well as working with 3 Crows Productions on the best way to present the material. Greinke said it's all about giving the complex conversations around truth and reconciliation that require more than the standard after-show-artist-talk-back. She sees this as a new development in art for audiences and presenters.
The opening performance of Frozen River falls on Sept. 30, the National Day of Truth and Reconciliation and Orange Shirt Day. On that day, there will be a series of community events in partnership with CMHC Granville Island, the Vancouver International Children's Festival, the Vancouver Writers Fest, the Vancouver Fringe Festival, and 3 Crows Productions. The opening-night celebrations will feature local Indigenous musicians and vendors, and a writing workshop for teens and more.
For a full list of events visit carouseltheatre.ca and granvilleisland.com.