Article content
On this date, Sept. 23, history:
Article content
In 63 BC, Roman emperor Augustus Caesar was born.
Article content
In 1122, the Concordat of Worms was reached in Germany between Pope Callistus II and Holy Roman Emperor Henry V. It settled the controversy over who had the right, bishop or emperor, to choose church positions. The emperor was guaranteed the free election of bishops and abbots by the church and the Pope granted Henry the right, in Germany, to be present at elections and to invest those elected with their lay rights and obligations before their consecration.
In 1578, English explorer Sir Humphrey Gilbert sailed from Plymouth, England, in search of the Northwest Passage.
In 1595, Spain began a missionary campaign in southeastern North America. During the next two years, about 1,500 Indians were converted to Catholicism.
Article content
In 1780, British spy John Andre was captured along with papers revealing Benedict Arnold's plot to surrender West Point to the British.
In 1787, the site of Toronto was purchased from the Mississauga Indians.
In 1789, the United States Supreme Court was created.
In 1806, the Lewis and Clark expedition returned to St. Louis more than two years after setting out for the Pacific Northwest.
In 1817, Spain signed a treaty with Britain to end the slave trade.
In 1846, Neptune, eighth planet from the sun, was discovered by German astronomer Johann Galle.
In 1871, Louis-Joseph Papineau, leader of the French-Canadian patriotes and organizer of the Rebellion of 1837, died at age 84. Although Papineau is known as the godfather of liberalism in Quebec and one of the forefathers of the Parti Rouge, he was not actually present at the uprising and fled to France in 1839.
Article content
In 1873, the first convention of delegates from labor unions from Toronto, Hamilton and Ottawa met in Toronto to form the Canadian Labor Union. The Ontario-based organization strove to improve the working conditions of employees. It disbanded in 1878 after failing to become the national federation it set out to be.
In 1908, the University of Alberta opened in Edmonton with 37 students.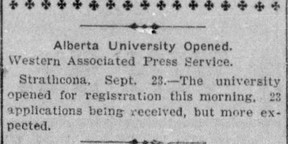 In 1926, Gene Tunney scored a 10-round decision over Jack Dempsey to win the world heavyweight boxing title in Philadelphia.
In 1939, Sigmund Freud, founder of psychoanalysis, died in London at age 83.

In 1973, Juan Peron was elected President of Argentina.
In 1985, federal Fisheries Minister John Fraser resigned over the "tainted tuna" affair, in which he authorized the sale of rancid tuna over the objections of his department's inspectors. Fraser was elected Speaker of the House of Commons the following year.
Article content
In 1987, free trade negotiations between Canada and the United States were halted. Ottawa disagreed with the US positions on culture, regional development and settling trade disputes. Negotiations resumed and the deal was signed by US President Ronald Reagan and Prime Minister Brian Mulroney on Jan. 2, 1988. (The deal took effect Jan. 1, 1989.)
In 1987, Saskatchewan became the first English-speaking province to ratify the Meech Lake accord.
In 1998, a team of European and Australian surgeons performed the world's first arm and hand transplant in Lyon, France.
In 1999, British and American scientists announced they had found a way to reverse menopause through ovarian tissue grafts that would let older women bear children.
Article content
In 2007, famed Canadian artist Ken Danby died at age 67 while canoeing in Ontario's Algonquin Park. Danby was recognized as one of the world's foremost realist artists and was best-known in Canada for his hockey painting, At The Crease.
In 2008, a 22-year-old gunman killed 10 people at a school in Kauhajoki, Finland, the country's second such attack in less than a year.
In 2009, a Supreme Court judge in BC threw out polygamy charges, the first in Canada, against leaders of two rival factions, Winston Blackmore and James Oler, in the community of Bountiful in BC's interior, saying the government did not have the authority to pursue them. (In August 2014, a special prosecutor approved polygamy charges against the two.)
Article content
In 2010, movie renter Blockbuster Inc. filed for bankruptcy protection in the United States. (It was bought by Dish Network Corp. in April 2011 for US$228 million in cash. Blockbuster Canada was placed into receivership in May and closed 146 locations in June. In early September, it announced the remaining 253 stores were scheduled to close after failing to find a buyer willing to invest in the business.)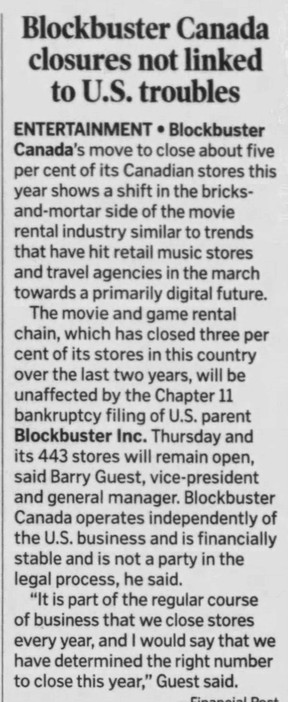 In 2011, ABC aired the final episode of the daytime soap opera All My Children after more than 40 years. (It was reborn online on April 29, 2013 but was canceled later that year.)
In 2017, the Invictus Games Toronto 2017 got underway. The international sports competition was founded by Britain's Prince Harry as a way to inspire and motivate wounded soldiers on their path to recovery.
Article content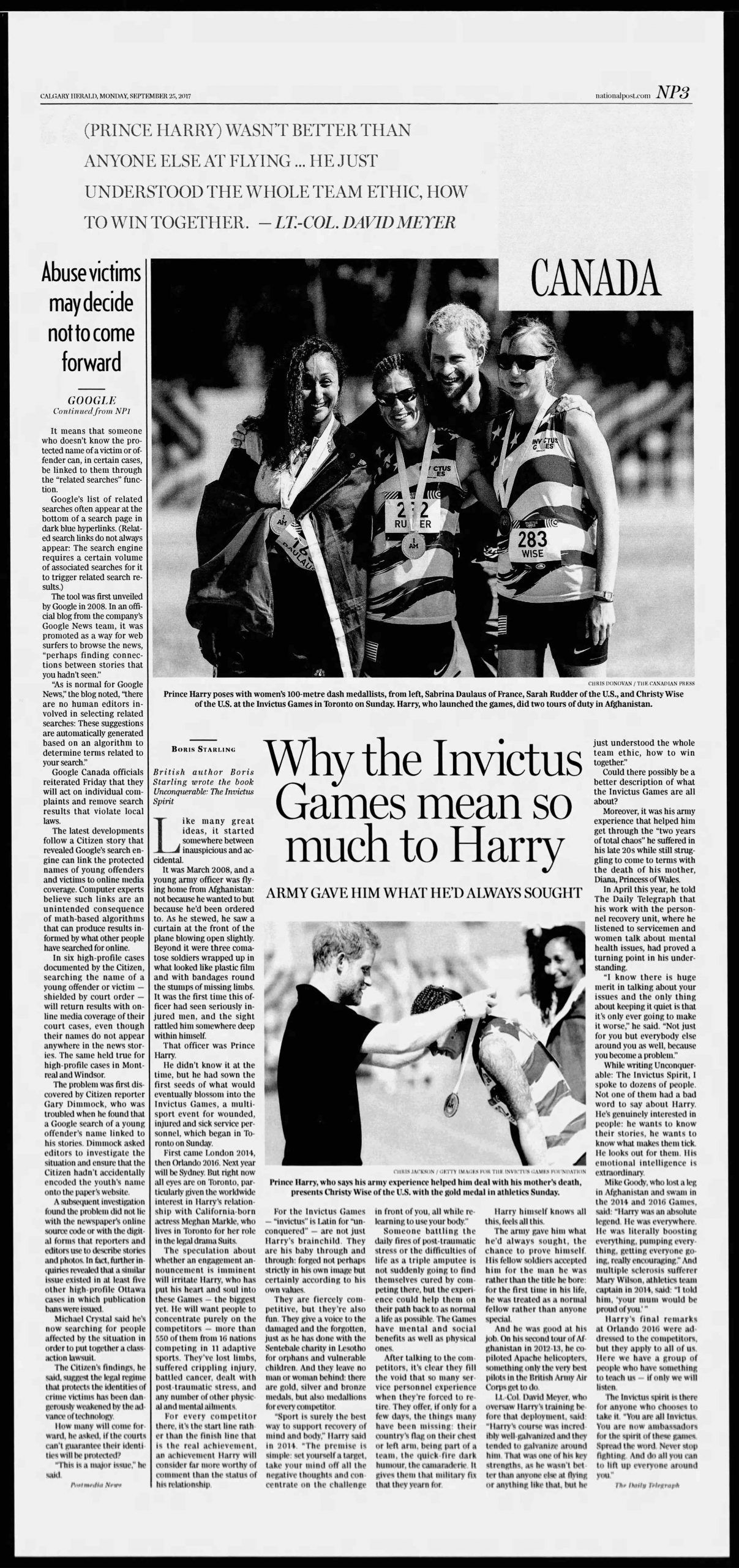 In 2019, British tour operator Thomas Cook fell victim to multiple setbacks including shifting travel habits, the rise of online booking sites, the sinking pound and even unusually hot weather that encouraged fewer Northern Europeans to travel.
Specific problems of its own, like a 1.6 billion-pound ($2 billion) debt pile, made it less able to react to change. It all added up to a perfect storm that led the 178-year-old company to cease operations, stranding hundreds of thousands of travelers. Analysts said Thomas Cook, which rode a package holiday boom that started in the mid-1980s, was too slow to react as consumers moved away from buying trips at bricks-and-mortar stores. The company did push into online business, with 48 per cent of its bookings from the internet as of last year. But not fast enough. Online rivals, meanwhile, didn't have to bear the costs of owning 200 hotels, 500 travel agency shops and 105 airline jets, but acted as middlemen.
Article content
In 2019, The man who wrote the poetic words for many of the Grateful Dead's finest songs died at 78. Robert Hunter played a number of instruments but never appeared on stage with the group. His lyrics featured on some of the band's most memorable songs, including "It Must Have Been the Roses," "Terrapin Station," "Cumberland Blues," and "Friend of the Devil." The family did not release a cause of death.
In 2020, Hall of famer Gale Sayers, one of the best all-purpose running backs in NFL history, died at 77. Sayers was also celebrated for his enduring friendship with Chicago Bears teammate Brian Piccolo during Piccolo's battle with cancer. Their story was made famous in the 1971 movie Brian's Song, starring Billy Dee Williams as Sayers and James Caan as Piccolo.
Article content
In 2020, the throne speech from the Liberal government promised to introduce or greatly expand COVID-19 benefit programs and supports for nearly every sector of society. Among them, extending the federal wage subsidy program into 2021 and targeted support for businesses hardest hit by the pandemic. The Conservatives said the plan has no measures to control government spending and they would not support it.
In 2020, in an address to the country, Prime Minister Justin Trudeau said the second wave of COVID-19 was already underway. He said families won't likely be able to gather for Thanksgiving, but it was not too late to save Christmas. (Cases continued to rise throughout the fall and winter, leading officials to discourage Christmas gatherings as well.)
Article content
In 2021, the Canadian Hockey League confirmed the 2022 Memorial Cup will be hosted by the Saint John Sea Dogs in New Brunswick. The COVID-19 pandemic had forced the cancellation of the tournament for the past two years.
In 2021, a former Nazi death-squad member died in the midst of his Canadian deportation hearing. A lawyer for Helmut Oberlander recently asked the Immigration and Refugee Board of Canada for an adjournment in a hearing on whether Oberlander could remain in Canada or be deported to Germany. The 97-year-old, who had been living in Waterloo, Ont., was a member of a Nazi death squad that operated behind the German army's front line in the eastern occupied territories during the Second World War.
In 2021, charges were laid against two former SNC-Lavalin executives for allegedly paying bribes to obtain a contract. The Quebec engineering giant's international business arm was also facing multiple fraud and conspiracy charges.
***