Aaron Rand, Bill Brownstein and Lesley Chesterman debate everything from sitting on Santa's lap to Elon Musk's Twitter takeover.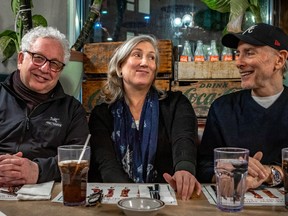 Article content
Aaron Rand, Bill Brownstein and Lesley Chesterman come together for another fun episode of The Corner Booth. This week, the hosts get heated about Canada sending two ministers to Qatar for the World Cup, the Elon Musk Twitter takeover, what to do about visiting Santa with COVID-19 still spreading in the community and — last but not least — iceberg lettuce.
Article content
Rand's love of pre-packaged salad bags got the hosts fired up about food choices, with iceberg lettuce taking a lot of the hits. Called the "lesser lettuce," Brownstein jokes about how stores used to practically give it away.
Article content
"Buy some dog food and they'd give you an iceberg lettuce."
On more serious topics, the hosts opine on whether Canadians are too focused on American politics and say more attention should be paid to what's going on at home, even though our politicians don't seem as sensational (there's always Pierre Poilievre).
A notable local mention from the episode: "bocce-gate." Members of a local bocce club, many of whom are over 75 years old, protested against the city's decision to defund their club's rental space. In a turn of events, Mayor Plante decided to play ball.
More episodes of The Corner Booth
Mistake No. 1 was putting him in handcuffs'| The Corner Booth

Watch: Eric Duhaime on The Corner Booth podcast

Projet Montréal is playing dirty with bocce proposal, opposition charges