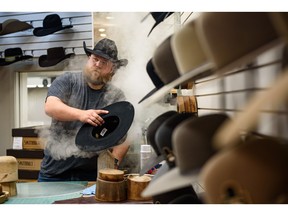 Article content
Could you possibly imagine a debate every 10 years in Venice to fill its canals, in Paris to raze the Eiffel Tower, in New York City to bulldoze its Central Park, or in Los Angeles to tear down the Hollywood sign?
Article content
Like clockwork, our constant debate about brand, the cowboy hat and what other people think of us is a uniquely Calgarian thing.
Article content
Growing up in east Calgary to an immigrant family, I'm the last one you'd describe as a cowboy. But even I can appreciate that most cities would pay a fortune to achieve a brand even remotely as valuable as ours.
When I served on city council, countless pollsters, marketers and communications specialists would come through my office to sell the latest strategy or pitch for rebranding. The Calgary White Hat in my office got at least a few stares.
I asked why, exactly, Calgary should give up its western roots for the latest fad. They came up short. Few could articulate the problem that they were trying to solve. Some arguments boiled down to "Calgary has a bad reputation," and "People don't want to come here."
Article content
They got it wrong.
People want to come here, and they have. Most consultants — usually from Toronto — were shocked when I described the Calgary I knew, represented and grew up in.
We are home to over 250 different ethnic origins and 120 languages. And most crucially, we are the top choice for "second movers," people who've immigrated but decided to relocate after they've been here a while.
Today, 44.6 per cent of Calgarians are a visible minority or of Indigenous identity. We are one of the most diverse cities in Canada. Within 10 years, we will be one of the most diverse in North America. This fact is in line — not at odds — with our western roots and hospitality.
Calgary looks, sounds and feels different than it did, even 15 years ago. And we're blessed for it.
Article content
Ken Lima-Coelho, CEO of Big Brothers and Big Sisters of Calgary and Area, describes brand as "not what you tell people you are," but rather, "what people tell each other you are."
If our community conversation about identity boils down to slogans or a debate about whether to keep the cowboy hat, we will have missed the opportunity. When it comes to our western roots, we must say "yes, and" rather than "either or."
Yes, let's celebrate and double down on an incredible brand rooted in friendship and hospitality. And continue Calgary's tenacity in tackling the toughest challenges until we solve them — even if that means uncomfortable dialogues around truth and reconciliation, under-representation and how not all have shared in our prosperity.
Article content
There is an important difference between our cowboy hat and the Hollywood sign. The iconic symbols of so many other cities are inanimate. Ours, however, speaks to adaptability, (imperfect) history and, most importantly, how we treat each other.
Let's keep it simple and build on what we know has worked. Regardless of where you're from, what you wear, or whom you love, you are welcome here to live a great life.
As for this kid from Dover, you can pry my cowboy hat from my cold, dead hands.
Jeromy Farkas served as a Calgary city councilor from 2017 to 2021, and recently returned from a 4,300-kilometre trek from Mexico to Canada in support of Big Brothers and Big Sisters of Calgary and Area (www.bbbscalgary.ca).