Canucks Family Education Center helped the Zamani family settle in BC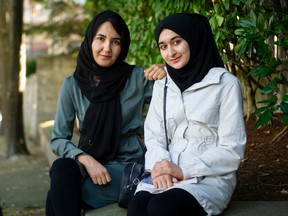 Article content
Three years ago, Maryam Zamani was hiding from the Taliban with her family in Kabul. Today, the 19-year-old is enrolled in an English program in Vancouver, preparing for university.
Article content
Maryam, her parents, and her three brothers were welcomed to Canada in April. The Canucks Family Education Center helped the family get into the country and make the transition.
Article content
"They helped us with our application, they helped financially," Maryam said. "Whenever we had a problem, the Center was there to help."
The CFEC already had a connection to Maryam's family through her aunt, Fatemeh Zamani.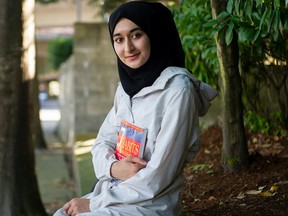 Fatemeh came to Canada in 2007 with no formal education, she was just 22. She started with CFEC in September 2017 and eventually got her Early Childhood Educator Assistant certificate. She now works part-time at the organization's Maywood's location in the Get Ready 2 Read program. The program is partly funded by The Vancouver Sun's annual Raise-a-Reader campaign, which has raised over $21 million since 1997.
Article content
"The Vancouver Sun's campaign has been an amazing contributor to the success of CFEC programs all the way along," said Jean Rasmussen, executive director of CFEC. "It's through our partners and supporters like Raise-a-Reader that we are able to continue to support children and families in need."
Fatemeh now has two children that live with her in Vancouver. She is currently enrolled in the ECE certificate program, offered in partnership with the Canucks Family Education Center and the Burnaby School District Community and Continuing Education ECE program.
"Education is the key," Fatemeh said. "In Afghanistan it was almost impossible for us to go to school. When I got here, I went to several different colleges to learn English. It didn't work out for me with my schedule. I had a child and I had to work. CFEC was very useful. It was part-time and we had lots of support that allowed me to continue and finish my English and enrol in early childhood education."
Article content
Prior to her arrival in Canada earlier this year, Maryam was a high school student but couldn't finish because of the Taliban.
"We had to leave Afghanistan because of our enemies," she said. "We had some security and safety problems there. We couldn't stay. It took us two years and six months for our application to be accepted. Now we are living here and enjoying our lives."
Maryam lives with her parents and three younger brothers in Burnaby.
"My parents' English is not very good. They're at a basic level and trying to improve."
Her brothers are in Grade 3, high school, and adult studies.
"My two older brothers, their English is going very well. My brother who is going to high school, he speaks constantly. He has no problem with communication. My smaller brother is just learning. I think there is a bright future."
Article content
Two weeks into her classes at Langara, Maryam says that "everything is just perfect. I've learned a lot of new things here that will help me a lot in my university studies."
Her fellow students are from Japan, China, Brazil, and Europe.
Maryam hasn't yet decided on a career but is "really interested in becoming a doctor," she said.
---
How to donate
Since its launch in 1997, Raise-a-Reader has provided more than $21 million to promote literacy in BC The literacy campaign supports programs across the province such as Partners in Education Plus, which is offered by the Canucks Family Education Centre. The Canucks Center offers literacy programs for families through intergenerational and lifelong learning support that are partly supported by Raise-a-Reader.
Article content
You can make a donation any time. Here's how:
• Online at raiseareader.com
• By phone, at 604.681.4199
• By check, payable to Vancouver Sun Raise-a-Reader:
1125 Howe St., #980
Vancouver, BC V6Z 2K8
facebook: facebook.com/raiseareadervan/
Twitter: @RARvancouver
---
Literacy is a tool everyone needs
The literacy skills of almost half of British Columbians aged 16 to 65 may make it difficult for them to understand newspapers, following instruction manuals, reading health information, filling out a tax return, reading a rental agreement or using a library catalog, according to Decoda Literacy Solutions, BC's provincial literacy organization.
And about half of the province's population of the same age may have difficulty calculating interest on a car loan, using information on a graph or determining medicine dosage, according to Decoda, which provides resources, training, funds and support for community-based literacy programs and initiatives in 400-plus BC communities.
Article content
Some 16 per cent of British Columbians (or 700,000) were at a Level 1 literacy or below in 2012, according to an international survey (the Program for the International Assessment of Adult Competencies) that 27,000 Canadians participated in.
Level 1 literacy means struggling with filling out a form at work, navigating a website, finding information in a list sent home from preschool, using information on a food label or comparison shopping.
It says improved literacy at home can help Canadians enjoy better health, manage their finances, understand their rights and responsibilities and legal proceedings and pass on their literacy skills to their children.
At work, it can also improve employment prospects, increase earnings, decrease work-related stress by being more efficient and accurate at work, and increasing their likelihood of participating in adult education and job-related training.
And in the community, it can increase community participation and volunteering, political involvement and increase the likelihood of inclusion in society.
Raise-a-Reader: Delta literacy program stresses the importance of reading to even the youngest

Raise-a-Reader has been raising awareness and funds for the literacy community in BC since 1997