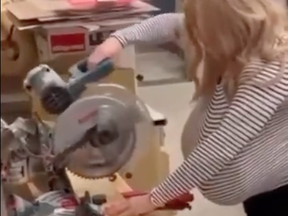 Article content
It's a positive sign that Ontario Education Minister Stephen Lecce is now calling for a review after the scandal surrounding an Oakville high school teacher wearing very large prosthetic breasts to class went viral.
Article content
The odd scene – which was discussed on news networks and talk programs around the world – was first captured by students at Oakville Trafalgar High School and posted to social media.
Article content
A teacher wearing the large prosthetics was seen walking around the classroom and even leading instruction with an electric saw in shop class, where the attire dangled dangerously close to the machinery.
The whole situation is just inappropriate. Everyone can see that. It's plain as day.
Yet the school and the school board seemed incapable or unwilling to deal with the problem. The teacher should have been asked to offer a more professional presentation or be placed on leave.
Employment lawyers have confirmed such an option was indeed available. Instead, the administration's response has been to call it a personnel matter and to make it about gender rights, as the teacher identifies as transgender.
Article content
But Minister Lecce disclosed on Friday that the Ontario College of Teachers has been asked to review its standards for professionalism.
"In this province, in our schools, we celebrate our differences and we also believe that there must be the highest standards of professionalism when in front of our kids," Lecce said Friday.
"And on that basis, I've asked the Ontario College of Teachers to review and to consider strengthening those provisions with respect to professional conduct, which we think would be in the interest of all kids in Ontario."
No kidding. Creating an education system that's in the best interests of the kids should be the goal. Yet sometimes we lose sight of that.
Oakville teacher's attire warrants professional standards review: Lecce

Oakville's Trafalgar High School target of 'anonymous' bomb threat

FUREY: School board goes silent on viral teacher, citing 'personnel matter'
What happened just wasn't conducive to a professional learning environment. It was clearly a distraction. As the sun reported, students were apparently drifting away from attending the class due to the uncomfortable situation.
This situation was an extreme one and hopefully a one-off. But it can still serve as a lesson to school administrators about what not to do.