Published by Véhicule Press, the collection of essays — from the popular column in Maisonneuve magazine — strikes chord after chord.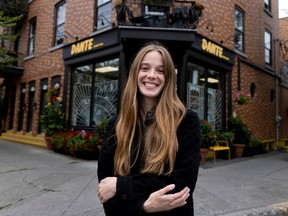 Postmedia may earn an affiliate commission from purchases made through our links on this page.
Article content
There are 8 million stories in the naked city, and 50 in Letters From Montreal: Tales of an Exceptional City.
Article content
The whimsical, occasionally profound and highly entertaining new book, published this week by Véhicule Press, is a collection of essays from the popular column that has run for over a decade in the back of Maisonneuve magazine.
Article content
"It's always been a favorite of readers," Maisonneuve editor in chief Madi Haslam said Wednesday. "People often flip to the back page and read it first — especially Montrealers."
It's easy to see why. Succinct, snappy and steeped in an ambling spirit of adventure, the tales read like postcards from disparate corners of this strange, intoxicating place we inhabit.
"The column is short and playful," Haslam said. "It's meant to capture what it means to live in this city, or in a specific part of the city at a specific moment in time. They really are love letters to Montreal, without romanticizing it or glossing over the challenges of living here — whether it's politics of Bill 21 or something more personal, like someone's messy dating life.
Article content
"It's meant to give an intimate glimpse into the lives of mostly anglophone Montrealers, celebrating their unique experiences here. It can be absurd at times, but there's a sense of wonder to them that is unifying."
Haslam sets the tone in the introduction, with an odd image that any Montrealer can appreciate: "When I first moved to Montreal, I watched the sun set in the north. I knew this simply does not happen. And yet, there it was dipping below the horizon like a shrunken Orange Julep."
From there, we follow along as Melissa Bull drifts between relationships on a sticky day in Parc La Fontaine; Crystal Chan plays morbid games with her French class comrades; Bernard Rudny takes us on a historical tour of Montreal street names; Jessica Wei traces her family's deep roots in Chinatown; Deborah Ostrovsky marvels at the poise of the children of French expats; Kyle Carney skateboards all over the city as a rite of passage; fresh arrival Eva Crocker gets bored in Westmount before finding "freaky Montreal" via a fake orgasm choir in Parc Ex; and Selena Ross recalls an unusual job interview at the since-departed Simcha's grocery store on St-Laurent Blvd.
Article content
There are flirty drinks on rooftops at dawn, close ones die, cats are befriended, bicycles get mangled.
"I think every day living in Montreal can be a surreal experience," Haslam said. "In any city, there's a surprise waiting around every corner, but I feel that's particularly true of Montreal."
There is a youthful bent to many of the anecdotes — perhaps a reflection of the demographic of Maisonneuve's writing pool. Arcade Fire's Win Butler (the subject of recent sexual misconduct allegations) is mentioned more than once, including in author-to-be Sean Michaels's wry The Battle of the Bands, from 2012.
"It's unfortunate the allegations came out two weeks after we went to print," Haslam said. "We would have treated those stories differently or had conversations about how to handle them had the allegations come out earlier."
Article content
While the majority of the stories are taken from the magazine over the past 10 years, there are also a handful of commissioned essays, including novelist Heather O'Neill reminiscing on the subversive allure of long-gone NDG landmark Cinema V in her youth.
"There are parts of Montreal everyone knows and associates with the city," Haslam said, "from the mountain to St-Viateur and the tam tams, as well as so many cultural references near and dear to people who live here, like the thin walls neighbors share, potholes and construction, or the gestures anglos make when trying to communicate with francophones while learning French."
The result is a page-turner that strikes chord after chord. Even when the stories don't directly echo one's personal experience, they combine to create a warmly familiar buzz that feels very much like home.
tdunlevy@postmedia.com
twitter.com/TChaDunlevy
T'Cha Dunlevy: Can Arcade Fire recover from sexual misconduct allegations?

Crisis puts Quebec's smaller literary presses in a tight bind

A staple of the Mile End community, Zoubris stationery store marks 40 years