Work is projected to start in the spring of 2023 with final completion in 2028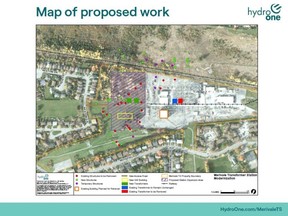 Article content
Spectacular damage to the Merivale transformer station from the 2018 tornadoes plus a need to better protect it against other extreme weather events are key considerations in a proposed modernization project — but so, too, are population growth and increased demand for electricity.
Article content
The station adjacent to Merivale Road is one of two facilities belonging to provincial power utility Hydro One that supplies about 60 per cent of Ottawa's electricity. The other is near Hawthorne Road.
Article content
Hydro Ottawa, owned by the City of Ottawa, feeds the power it gets from Hydro One into its network along with what it receives from an affiliated generating company, Portage Power — which has enough capacity to power 107,000 homes annually, plus three connected Madawaska River hydroelectric generating stations and one on the Ottawa River whose contributions peak during spring due to their run-of-river generating systems.
The 2018 tornadoes caused a reported $10 million in damage to the Merivale station, and repairs took 12 weeks.
Article content
The Merivale project includes removing an aging transformer — one of two currently on site — installing two new transformers, realigning transmission lines, replacing the current control building with a new structure, building a new emergency access road and a 1.7-kilometre temporary bypass line along Cedarview Road to ensure continued power supply during construction, and "select vegetation removal."
"Ottawa's growing, so we're replacing a lot of the aging infrastructure at the station to increase capacity so that more customers can come online," says Daniel Levitan, vice president of stakeholder relations for the provincial utility company.
"It's also important that our stations are further hardened against that type of weather that we've seen over the past few years. The modernization of our stations is also something that's going to help future-proof against what we have seen from climate change, so far."
Article content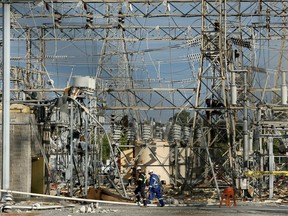 Asked how well-protected the electrical system feeding Ottawa is now compared to 2018, or further back to the Ice Storm in 1998, Levitan says Hydro One has learned from those events as well as the derecho wind storm that cut a swath of devastation and killed at least five people in the capital region in May.
"It's an important point," Levitan says. "Weather patterns are changing, and we just have to make sure that we stay ahead of that with a project like this as well as repairs and the like."
It was plans for "vegetation removal" as part of the project that drew Tom Badenoch to a public information session earlier this month.
"I'm going to be affected by the new construction that's going in and the construction activities, and I wanted a better understanding of what the intentions were," said Badenoch, one of several dozen area residents who attended the session in an airport- area hotel conference room Nov. 15.
Article content
"I think further down, I'm going to want to see their detailed plans for the remediation of the trees they take down for some of the green areas."
The proposed changes would also expand the station's footprint within its existing property. Two other Nepean residents, Lindsay and Steve Laroche, took note of that as well as the project's extended timeline, with new equipment coming online in 2026, followed by reconfiguration of existing infrastructure, site clean-up and removal of the temporary bypass line into 2028 .
"It's a big disruption in our community, and it's going to be loud and noisy," Lindsay Laroche said.
"In the long run, it will be interesting to see if we stay there for the entire duration," Steve Laroche said.
Article content
"What's the end game here? What is it going to look like? How's it going to impact our community in terms of the visual aspect of it? And what are they going to do once they do have to remove a lot of the trees and vegetation? Are they going to add more? Are they going to replant?"
The final cost of the Merivale project isn't yet known. Levitan says some engineering work and other processes are yet to be completed, but Hydro One did include this work in the capital investment section of its 2021 "Joint Rate Application" to the Ontario Energy Board, which has yet to issue a decision.
"The most efficient way to spend those dollars is to try and harden a system against an event rather than to repair it after one," Levitan says.
A July 2021 media release from Hydro One said modernizing the Hawthorne Transformer Station had cost $85 million. That project included the replacement of five transformers and 15 breakers along with protection and control upgrades.
The Nov. 15 public session was part of a Class Environmental Assessment screening process, with results to be submitted in December for review by the Ministry of the Environment, Conservation and Parks. Another open house featuring pre-construction updates is expected in early 2023, with work projected to start next spring.
Ottawa vigil held for victims of mass shooting at LGBTQ bar in Colorado

'Purse Project' kicks off 2022 campaign for personal hygiene products Author of the article: