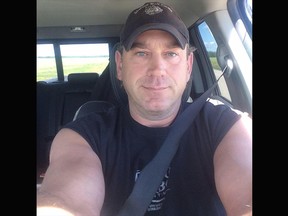 Article content
Manslaughter suspect Victor Braima was merely "middling" a cocaine sale and had no idea his friend, Sharmarke Mohamed, would rob and shoot a Saskatchewan tourist, his lawyer said Friday.
Article content
Defense counsel Andrea Urquhart argued the evidence doesn't support Crown's theory Braima was in on plans by Mohamed to rob Sheldon Wolf after the Saskatchewan farmer indicated he was looking to purchase cocaine.
Article content
"He's merely middling a hook-up between a guy who wants to buy drugs and a guy who wants to sell drugs," Urquhart told Justice Alice Woolley.
Urquhart said there was nothing in the evidence before the Court of King's Bench judge suggesting Braima had any animosity towards Wolf or was drawing him into a robbery plot.
She said Braima's claim he agreed to drive Wolf from Chinook Center to the downtown Sandman Hotel and on the way Mohamed, who was on speaker phone with the accused, heard the Saskatchewan man express a desire to purchase cocaine sounded incredible.
Article content
"The court might have some concerns about the believability of that happening," Urquhart conceded.
But she said those crucial details were corroborated by Wolf's widow, Jessel, who was with him on the ride downtown.
"There's no planning of a robbery that's happening between these two parties on the way downtown," Urquhart said.
The widow earlier testified she was angry at her husband for drinking and then expressing a desire to purchase cocaine.
Urquhart said her testimony gave credence to her client's evidence he had no idea Mohamed intended to do anything other than sell cocaine to Wolf.
After dropping the widow off at the downtown hotel and trying to get Wolf to leave his vehicle, Braima said he waited for Mohamed to be driven to the area to consummate the sale.
Article content
When the SUV in which Mohamed was a passenger drove by without stopping, Braima said he assumed the sale wouldn't go ahead, but Wolf persisted and the accused sent a text indicating the purchaser had sufficient cash to make the buy.
But his lawyer said Braima's text saying Wolf had an eight-band, which he said meant $800, was simply an attempt to convince Mohamed to finish the sale.
"He didn't think anything of it, he thought it was a drug deal," she said.
"His understanding is Sharmarke is going to … sell Mr. Wolf cocaine."
'Dude has a lot of money': Accused says text wasn't a plan to rob Saskatchewan farmer

Man accused of killing Saskatchewan farmer testifies he had no idea drug deal would turn fatal

Random ride outside Calgary restaurant led to Saskatchewan farmer's killing, court told
Braima testified he was shocked that after handing Wolf some drugs Mohamed, who was named by police as a person of interest, but has not been found, pulled out a gun and demanded "everything he had."
During an ensuing struggle, Mohamed shot Wolf, Braima told court.
KMartin@postmedia.com
On Twitter: @KMartinCourts