Cree Lumber's factory has a maximum capacity that would create enough lumber to build 2,000 houses a year in Waswanipi.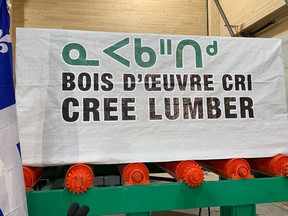 Article content
WASWANIPI — Amid a housing crisis hitting many Indigenous communities, a company owned by the Cree First Nation of Waswanipi in northern Quebec wants to produce its own lumber to accelerate construction of housing on its territory.
Article content
Mishtuk Corporation announced Thursday the creation of Cree Lumber Limited Partnership, in collaboration with Chantiers Chibougamau. The federal and provincial governments are offering financial support of $4.7 million and $8.3 million, respectively.
Article content
The project is a way to offer hope to the youth of Waswanipi, said Cree Lumber chair Paul Gull. The community of 1,400 people is about 140 kilometers west of Chibougamau.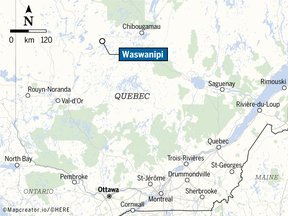 "We have to give something back to youth," Gull said. "We won't all be hunters or fishers. We can't all live in the past, but we can have something that will support our community."
Cree Lumber's factory has a maximum capacity that would create enough lumber to build 2,000 houses a year.
The nine Cree communities of Eeyou Istchee, including Waswanipi, estimate they need to build 5,250 new single-family houses over the next 15 years.
Article content
The Cree are not the only people facing the consequences of a housing shortage. Mandy Gull-Masty, Grand Chief of the Cree Nation of Eeyou Istchee, said there are numerous obstacles to building homes in northern Quebec communities.
"First of all, we didn't have the funding for projects like this. The cost of construction in the north is very high, almost double. There was also a labor shortage."
About 18 per cent of the 667,000 Indigenous homes in Canada in 2022 have housing needs, according to a report by the Parliamentary Budget Officer. In Quebec, it's about 12 per cent.
The lack of housing, which forces multiple families to live together in the same residence, has consequences on public health. In a report published in October, coroner Geneviève Thériault linked the deaths of 10 infants in Nunavik communities to the lack of safe social housing. In the 10 cases, having too many people living in a home was a recurring risk factor.
Article content
Pierre Fitzgibbon, Quebec's economy minister who has also taken on the energy portfolio, said he is "very sensitive" to relations with Indigenous peoples, though many First Nations representatives spoke during the recent provincial election campaign to denounce his government's ignorance of issues affecting their communities .
Fitzgibbon said he did not know Gull-Masty before meeting her in October when the provincial cabinet was sworn in. Since then, the minister has held meetings to discuss several files.
"We spoke for an hour and a half together to talk about other projects in the region that will be important for Quebec's economic development," he said Thursday. "We looked at which natural resources projects can be integrated into our battery strategy. We talk about critical minerals. We talked about how renewable energy can help with the decarbonization of Quebec."
At 22, Quebec's youngest mayor aims to address 'old mentalities'

Hundreds join walk to support housing project for Indigenous families

'If every child matters, then show up': Montrealers to march for reconciliation