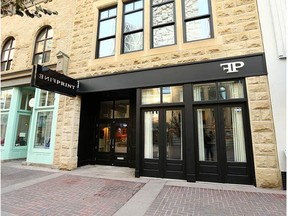 Reviews and recommendations are unbiased and products are independently selected. Postmedia may earn an affiliate commission from purchases made through links on this page.
Article content
Calgary doesn't always do a great job of remembering restaurants of days gone by. You can't really blame us, so many places have come and gone even over the past 20 years and there's almost always something new and exciting to take a former favourite's place. But Divino Wine and Cheese Bistro is still fresh in many Calgarians' memories even five years after it closed, something that restaurateur Brad Taylor wanted to honor when he and his Beltline Hospitality Group opened its new restaurant FinePrint earlier this fall.
Article content
FinePrint lives in the former Divino location on Stephen Avenue (which it moved to from its original digs in the Grain Exchange Building over 20 years ago) and is steeped in restaurant lore, but the 1893 sandstone building also happens to be the former headquarters of The Calgary Herald, dating back to the early 1900s. Taylor says that his designer, Anna-Maria Wurz of Avid Interior Design took all of that into account when conceptualizing the new restaurant.
Article content
"The history of the space was very important to us from day one," Taylor says. "We knew we wanted to honor the historic nature of this building and pay homage to what was here before, while still creating enough separation so that it feels new."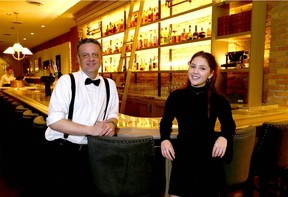 The bones of Divino are still there, with a long swanky bar on the right side of the narrow 80-seat room and gleaming open kitchen to the left — but while the layout may look similar, everything is new. Wurz kept some keepsakes: pieces of the original bar surface have been transformed into champagne tables and the water fixtures from Divino's washrooms are in the new fleet of single-occupancy bathrooms. The restaurant is lighter in color and tone, with cheeky print-themed artwork, including old pages from ancient copies of the Herald and original pieces by artist Cory Nespor.
Article content
Taylor, who is also the guy behind Briggs Kitchen and Bar, has a long relationship with chef Xavier Lacaze, who was tapped to develop FinePrint's menu. Following that theme of homage, Lacaze came up with his versions of Divino's famed tempura green beans and bison tartare, with the rest of the menu comprised of contemporary creations combining local seasonal ingredients and regional French inspiration and global flair. Head chef Francis Martinez has been charged with executing the initial menu but will collaborate on future dishes as it evolves.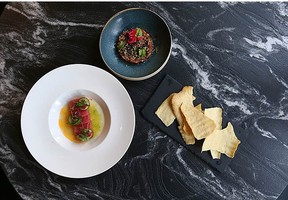 The menu is broken down like sections of a book, with "forward" (appetizer) selections like a tuna crudo that bursts with flavor thanks to pickled ginger and a yuzu dressing ($22) and a très fancy caviar on brioche toast with crème fraîche and egg yolk ($32), and "main story" entrees including a silky pan-seared sablefish in orange miso butter ($43) and roasted garlic gnocchi in a prawn bisque ($33). Since FinePrint sits on the main drag of Stephen Avenue's business lunch zone, there's also a tight lunch menu with favorites such as steak frites ($35) and a Parmesan-crusted chicken sandwich ($24).
Article content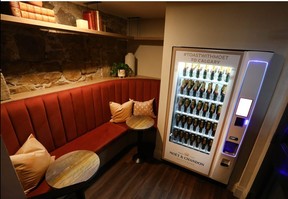 In the tradition of the room, FinePrint has a strong wine list and, for those who like a bit of flash, a rare champagne vending machine in the downstairs waiting room. Breeze in a half hour or so before your reservation to buy individual bottles of bubbly, accessed with tokens purchased from serving staff (liquor laws prohibit buying directly from the machine). Speaking of downstairs, a mysterious door in the waiting lounge will eventually lead to Heavily Redacted, a still-under-construction invite-only restaurant designed to offer bespoke experiences for guests with a connection to the restaurant.
FinePrint is located at 113 8th Ave. SW and can be reached at 403-475-5655 or fineprintyyc.ca. The restaurant is open Tuesday through Saturday from 11:30 am to 2 pm for lunch and 5 pm onwards for dinner.
Article content
***
Speaking of Divino, the Herald ran a piece last week about the recent passing of local restaurant legend Witold Twardowski, but I wanted to add a few more words in the context of this column for readers who may have missed it. Twardowski's first restaurant, Manna opened in 1972, before I was born, and I was a young teenager with no concept of hip dining when the undisputed jewel of his career, Mescalero, launched in the early '90s. That said, I can safely say that Twardowski's vision and ability to design restaurant spaces that enchanted all the senses well beyond the tastebuds has revolutionized the way Calgarians see restaurants in this city today.
Trends like open kitchens, thoughtful outdoor dining spaces, and all of those meticulous little details that make modern restaurants magical wouldn't have come to Calgary so soon or in such a big way if it wasn't for his work on places like Cilantro, the original Divino, Mescalero, and more than 50 others. Raise a glass and think of Twardowski next time you're admiring the design of your favorite restaurant – his influence can be felt in every corner of the city.
Elizabeth Chorney-Booth can be reached at elizabooth@gmail.com. Follow her on Twitter at @elizaboothy or Instagram at @elizabooth.